When you look at the rafters from the press box in Giant Center on a game night, you see the two most recent banners on the right, Hershey's 2008-09 and 2009-10 Calder Cup championships.  The 2009-10 team could easily be the most remarkable Hershey Bears season of all-time, setting an AHL record with 60 regular season victories followed by an amazing postseason run resulting in their second straight AHL championship.
The team also set an AHL record with 123 standings points, finishing with a 60-17-0-3 record. During that season the Chocolate and White had unparalleled success at home, winning 24 straight games at Giant Center, from November 29th to March 19th, a team and AHL record. Their largest win streak overall was 12 games that season, running from December 12th to January 9th, another team feat that has yet to be matched.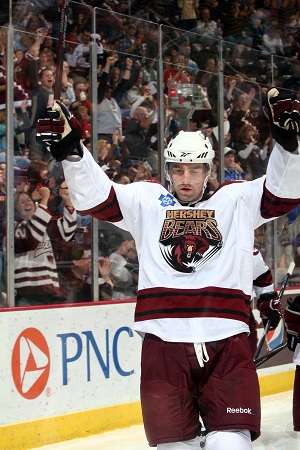 The team featured marquee scorers, most noticeably their 2nd highest postseason scorer in team history in forward Alexandre Giroux. The now 32 year old forward posted sixty and fifty goal seasons respectively from 2008-2010 to lead the Bears' offense. Giroux contributed a career high 103 points in 69 regular season games in the 2009-10 campaign for Hershey, followed by a 27 point postseason in 21 games.
"We had a really good group of guys," Giroux told The Hockey Writers. "All were nice guys on the team, we use to all hang out together and we knew when it was time to have fun and time to go to work. More technically, we had some great young players coming up (Karl Alzner, John Carlson, Mathieu Perreault. Michal Neuvirth and Braden Holtby) and a mix of great veterans. A perfect set up to win championships.
Giroux appreciated the coaching and personal skills from then head coach Mark French, who after not getting his contract renewed by the Washington Capitals, joined KHL Medveščak as their head coach.
"I loved playing for Frenchy and I still keep in touch with him," the former Hershey Bears forward explained. "First he is a great guy, he is really respectful toward his players, easy to go talk to and he's honest with you so you know what he wants from you. He tries to get the best out of every player."
Giroux talked about the success of Hershey's Calder Cup teams during his time there, stating the appealing atmosphere of playing in front of the Bears faithful.
"When you win two Calder Cups, win 60 games in a season it's hard to say it wasn't fun to play there," said Giroux. "I made some lifetime friends on that team (Andrew Joudrey, Boyd Kane, Greg Amadio, Bryan Helmer, Keith Aucoin) just to name a few. The fans were just awesome to play in front of. Sold out almost every game and nearly 10,000 fans for AHL team is just amazing."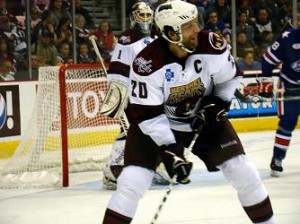 His dynamic wrist shot gave Hershey an elite power play during his time with the most historic AHL franchise, with center man Keith Aucoin often setting Giroux for his patented one timer from the right circle.
"With the experience you know where to put yourself on the ice," Giroux said of developing his wrist shot to one of the best in the league. "You play a lot more, the penalty kill plans to go around you, the passer looks for me. All these combination make things easier, but I know I still have to put the puck in the net. If not somebody else will."
After his two championships earned in Hershey, Giroux looked for a different challenge. He joined the Edmonton Oilers organization in hopes of becoming an everyday NHL player, playing in eight games during the 2010-11 campaign. However, like it was in Washington, Giroux spent the majority of his time in the American Hockey League. He finished that season with 78 points in 70 regular season games. The following season he joined the Columbus Blue Jackets, playing in nine games and contributing one goal.
After his time flipping between the NHL and AHL, Giroux decided to make a big change. For the first time in his professional hockey career, he decided to play overseas. Giroux joined Dinamo Riga of the KHL, recording 16 goals and five assists in 47 games during the 2012-13 campaign.
"It has been really different but overall a great life experience," he said. "The hockey , the life style, I decided to come overseas because I think  I needed a new challenge, something different of what I was used to in North America."
Giroux said that Washington did make an effort to re-sign Giroux, but the .91 point per game AHL forward decided to join the Oilers organization, eventually followed by joining the KHL with Dinamo Riga. He's playing for Ambrì-Piotta  of the NLA, a professional hockey league in Switzerland.
"If I remember correctly I think we did talk with Washington, but I was looking for a chance to crack a lineup somewhere in the NHL and at that time i thought Edmonton was my best shot. It had nothing to do with the Hershey organization. I think they did understand my situation."
Giroux talked about the difference of the KHL and NLA, comparing the league in Switzerland to American style of hockey.
"Two different styles of hockey and two really good leagues," Giroux explained. "I think KHL has more individual skills (four lines), but Swiss has more structure to the game plan. Swiss reminds me a bit more of back home then the KHL."
He has enjoyed his time playing overseas and is living in the moment, but is leaving the door open to a return to the American Hockey League.
"I love my situation here for now, but I don't close any doors."
You can follow Matthew on twitter @m_speck and email him at mspeck21@yahoo.com with any questions or comments.
Matthew Speck covers the Washington Capitals organization for The Hockey Writers. He provides coverage of both Washington at the NHL level and prospect related content. Matthew also covers local sports for the Lebanon Daily News in Central Pennsylvania. You can email him at mspeck21@yahoo.com with any questions or comments.