Following the Hershey Bears' 4-0 shutout loss to the Wilkes-Barre Scranton Penguins Wednesday night, the Washington Capitals announced that Adam Oates, along with coaches Calle Johansson, Tim Hunter and Brett Leonhardt will head back to Washington D.C. following a 16-game run in Hershey.
After the announcement, Bears coach Mark French spoke to the media about Oates leaving Hershey, a move that gave French and assistant coach Tory Mann control of the team. You can view my column on Oates leaving Hershey here.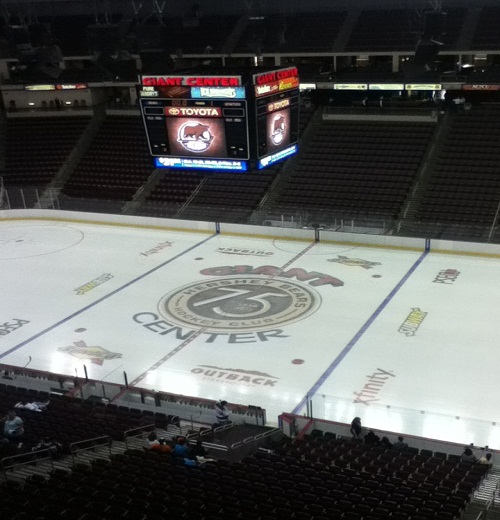 The interview includes his thoughts on Adam as a coach, future communication, the systems he put in place and when he knew about the decision to have Adam leave the Hershey Bears coaching staff.
Q: What are your thoughts on Adam going back up [to Washington] and you and Troy [Mann] taking the team back over full time?
French: "I think everyone learned a lot in the time that we were together. I thought all four individuals made it work as best as it possible could."
Q: On tweaks on the new systems implemented by Adam Oates
French: "The systems that Adam put in place are the identity of the organization  Adjustments are always made. We make adjustments from game to game. If there are adjustments that need warranted, we'll make those adjustments. Certainly not an overhaul."
Q: Did the change come as a surprise to you?
French: "I knew probably a few days ago. I was aware of it, it was shared with me of what the plan would be. It came to fruition tonight."
Q: On future communication with Adam Oates
French: "That was once nice thing, you get to develop relationships with him [Adam Oates] and Calle [Johansson]. There both very good coaches and very professional. Personally I hope those relationships continue as well as professionally."
Q: Was there any aspect that Adam Oates was strongest at?
French: "His attention to detail especially in teaching the individual position. Whether it's on a power play or penalty kill, he has great attention to detail. He's got a very good eye for those things. Almost everyday that he would pick out. He certainly thinks outside the box."
You can follow Matthew on twitter @m_speck and email him at mspeck21@yahoo.com with any questions or comments.