By Mike Miccoli, Boston Bruins correspondent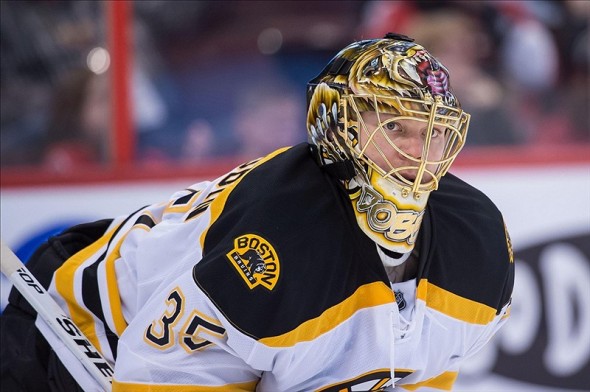 There's a lot to say about Anton Khudobin, the Russian netminder who will serve as Tuukka Rask's backup once the NHL season resumes.
For one, the small sample size of games he has played in the NHL have been remarkably impressive. Khudobin has only started in one game for the Boston Bruins, a 3-1 win over the Ottawa Senators, where the goalie stopped an impressive 44 of 45 shots. His other six games came as a member of the Minnesota Wild where he served as an AHL emergency-call-up for starter Niklas Backstrom and backup goaltender Josh Harding.
In his two seasons with Minnesota, Khudobin tallied a 4-1 record in six total games, allowing a total of six goals and posting a shutout against the Vancouver Canucks along the way. Aside from one ugly game against the Colorado Avalanche, each of Khudobin's starts have been good enough for the former 7th round pick in the 2004 Entry Draft to earn a job in the NHL.
So why has it taken so long?
Khudobin has had the uncanny luck of serving as a third-tier netminder behind two different teams with a solid one-two punch in the crease. In Minnesota, it would have been difficult for Khudobin to win a starting job over a strong veteran like Backstrom or to push Harding away from his backup duties. In Boston, it'd be even more difficult to crack the tandem of Tim Thomas and Tuukka Rask in their prime. With Thomas out of the picture, Khudobin finally has a chance to turn some heads in the NHL.
Of course, his career stats in the AHL might say otherwise.
With the Wild and the Bruins' minor league affiliates, Khudobin's numbers have been mediocre. He's been good enough to be a starter on teams like the Houston Aeros and Providence Bruins but has never touched the 30-win plateau and his save percentage has always been below .920.
After a promising 2008-09 AHL playoff campaign where, as a rookie, he backstopped the Aeros to the Conference Finals, Khudobin posted ordinary stats during the 2009-10 season that wouldn't have been good enough for a full-time role in Minnesota, taking the place of Harding. Still, Khudobin would serve as a call-up for injuries and successfully play his intended role.
In his past two seasons with Providence, Khudobin's stats began to streamline. In 60 games played with the P-Bruins between the 2010-11 and 2011-12 seasons, Khudobin has a 30-23-4 record with three shutouts, a .919 save percentage and a 2.51 goals-against average.
Since the lockout, Khudobin has been playing in the KHL with the Atlant Moscow Oblast. His 3-11-2 record in 17 games and 3.09 goals-against average is close to some of the worst in the league, but as with his records between the NHL and AHL, more pressure could mean better results for the Russian netminder.
Consistency will be a crucial part of Khudobin's success going forward. No longer being used as a call-up and currently on a one-way contract with Boston, Khudobin will have a chance of really stealing the spotlight away from Rask if injuries continue to pile up. If his performance continues from past NHL games, he could seriously challenge Rask for the starting job. While it could be a stretch, Bruins coach Claude Julien is a fan of riding whichever goalie has the hot hand.
With Khudobin, there is the unique possibility that he could excell under pressure in the NHL, even though his statistics in the AHL and KHL suggest otherwise. If he does catch fire, it could be deja vu for Julien and the Boston Bruins.
Follow Mike on Twitter for more Bruins news, updates and commentary.