Free agency gets underway at the NHL and AHL levels today, with the Washington Capitals organization set to make some important signings and transactions. The Capitals have still yet to find a coach for their AHL affiliate, the Hershey Bears as development camp nears in Washington, D.C. The Hockey Writers takes a look at the Hershey Bears offseason, with a focus on their impending free agents and possible free agent targets that could play for them.
Next Coach
The Hershey Bears appear to be closing in on their next head coach after Mike Haviland left for Colorado College earlier this summer. One option is Claude Noel for the next bench boss, who was last coaching with the Winnipeg Jets. He previously played for the Hershey Bears as a player and has a good relationship with Barry Trotz.
"We will finalize all our interview processes this week," Bears President-General Manager Doug Yingst told Tim Leone of the Patriot News prior to the NHL Draft. "And, hopefully, if everything goes according to plan, we'll arrive at a decision by Saturday."
Washington's Restricted Free Agents
Barring any trades, these Washington's RFA's will be retained. Whether which player accepts the qualifying offer or signs a multi-year deal is unknown, but the four players listed below are near locks to re-sign.
Cameron Schilling (D): Received a qualifying offer, provides solid first pairing minutes at the AHL level. He benefited greatly from playing with veteran Tyson Strachan. Schilling is a strong penalty killer, but hasn't risen to the level Caps' brass had hoped when they signed him out of Miami University of Ohio.
Nate Schmidt (D): This former University of Minnesota product also received a qualifying offer from Washington and saw sizeable playing time at the NHL level this season. He'll likely see time with the Hershey Bears in the 2014-15 campaign and needs work on the power play and other facets of his game.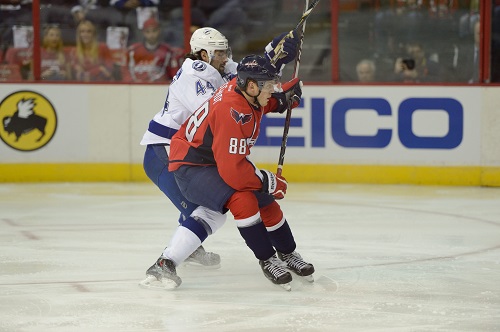 Michael Latta (C): Acquired in a trade from the Nashville Predators in the Filip Forsberg trade, Latta, like Schmidt, saw minutes in Washington last season. He received a qualifying offer from the Capitals and could slot in as the number two or three center in Hershey next season.
Eddie Pasquale (G): The Capitals made a draft day for the 23 year old Pasquale, who is set to backup Philipp Grubauer at the AHL level this season.
Washington's Unrestricted Free Agents
Goalies: David Leggio
With the addition of Pasquale to the Capitals organization, Leggio will test free agency and sign with another team. The Hockey Writers previously reported Leggio's desire to get an opportunity at a backup role at the NHL level on June 18th.
Defensemen: Chay Genoway, Julien Brouillette, Tyson Strachan, David Kolomatis and Brett Flemming
Flemming didn't receive a qualifying offer from Washington and effectively joins the rest of Washington's UFA blue liners. Strachan and Brouillette should be candidates to be retained under an NHL deal. Strachan mentored Schilling to form a potent defensive pairing for the Hershey Bears, along with a strong penalty killing unit. One of Strachan and Brouillette should be kept to provide minor league depth. Both are able to step in for the Capitals for a few games rather than using a prospect that's not ready.
Forwards: Brandon Segal, Joel Rechlicz, Matt Watkins, Ryan Stoa, Nicolas Deschamps and Peter LeBlanc (signed in Sweden)
Deschamps and LeBlanc didn't receive qualifying offers from Washington and won't be returning to Washington in all likelihood as they become UFA's. LeBlanc signed overseas and Deschamps could be in line for a two-way NHL deal. Segal finished third on the team in scoring with 44 points including seven power play goals, second for Washington's AHL affiliate. He's a strong forward who works the cycle well down low and could be a nice veteran to retain, however the team should look to sign him to an AHL deal, rather than signing him to an NHL contract. Stoa would like to return to the Capitals organization and is a versatile player who can play center. If the team is interested in Rechlicz, they should look to sign him to an AHL contract.
Hershey's AHL Free Agents
Goalies: Riley Gill
Defensemen: Patrick Wellar, Michal Cajkovsky
Forwards: Jeff Taffe, Ryan Potulny, Derek Whitmore, T.J. Syner (signed in Sweden), Tyler Reugsegger and Josh Brittain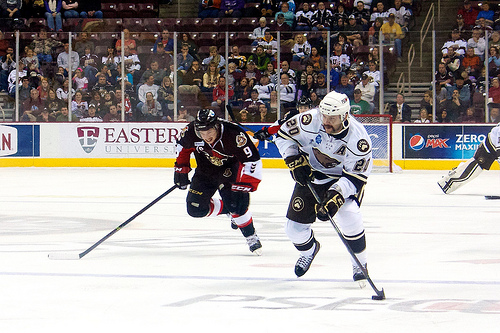 Taffe is the only free agent on an AHL contract that makes sense to return to the Bears. He could slot in as the number one center for Hershey, a position they're in desperate need of heading into free agency. Potulny has lost a step offensively and his speed is diminished. The fact that he's a veteran will force him to sign with another club.
Free Agent Targets
The Bears have a few needs heading into free agency, including a number one center along with a few impact defensemen. Finding an offensive blue liner who can improve Hershey's power play would be a big positive too.
"We have to address our center position," Bears President-GM Doug Yingst told the Patriot News. "We're going to have to sign a few quality centermen and left wingers. We have Dane Byers coming back. And if [Chandler] Stephenson moves to the middle, we need to find left wingers and two D."
Evan Rankin (F): This University of Notre Dame product torched Hershey with a hat trick last season and is an interesting non-vet option. He totaled 30 points in 62 games and is a speedy 6'1" forward who could be a third line forward for the Bears. He's coming off an AHL deal and if Hershey can sign him to the same type of contract he'd fill in nicely as forward depth in the bottom six.
Kelly Zajac (C): This impending free agent is another option like Rankin that could help fill out the Bears bottom six forward group. He's a non-vet and likely could be had on an AHL deal. Zajac produced 12-32-44 in 67 games for New Jersey's AHL affiliate after just 14 games at the AHL level last season.
Kael Mouillierat (C): Like the player listed below, Mouillierat had a strong year for St. John's and is in line for an NHL contract. He's had two great back-to-back years for the IceCaps including a 53 point campaign this season along with a 13 point postseason performance. Mouillierat is another non-vet candidate and could conceivably slot in as Hershey's number one center. Washington should look to sign him to a two-way deal. He's another player with upside to be considered.
Will O'Neill (D): Another college product, O'Neill is coming off an entry level deal with the Winnipeg Jets. He's another non-vet option for Hershey and is a 6'1" left handed defenseman. He produced 9-26-35 for the IceCaps in 68 games last season along with a strong 16 point postseason for St. John's. He'll be in search of a two-way contract and Washington should view him as a target with upside.
Andy Miele (C): Miele is the top free agent center on the market at just 26 years old, along with being a non-veteran. He contributed 72 points for a struggling Portland Pirates club last season, but could be in line for an NHL deal. Washington should give him a call, but he'll likely sign for the best opportunity.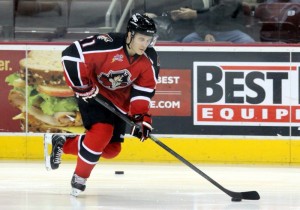 Garnet Exelby (D): An AHL veteran of over 400 games, Exelby would provide physical defense to the Bears' blue line. He totaled 18 points for the Norfolk Admirals last season as Captain, but will be tough to pry away from Norfolk. If Hershey can add him on an AHL contract they should do everything in their power to do so.
Zach Redmond (D): Redmond is the third St. John's player on this list and is another option for the Capitals. He's coming off his entry level contract and is a non-vet at 25 years old. He contributed 25 points in 40 games for the IceCaps this season, including a 14 point postseason from the blue line. He's averaged .49 points per game in 153 career regular season games.
Stay tuned at The Hockey Writers for more news on the Hershey Bears as their offseason begins.