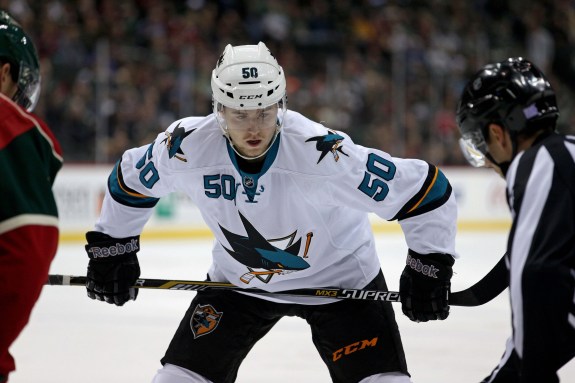 A Half-Season of Experience
Over the past ten games, few San Jose Sharks have performed as well as center Chris Tierney. The 20-year old skater has shown incredible improvement in his play since his most recent call up from the American Hockey League. If all goes well, he should end the year with 43 games played, giving coaches half a season worth of data to help develop him into an even bigger force on the third line. This young skater may be a crucial piece of this franchise in the years to come.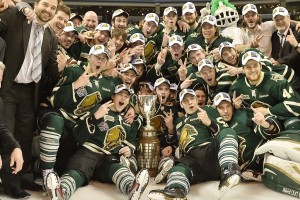 Spending time in the AHL during the season looks to have seriously helped Tierney adapt to the speed and physicality of the game. The minors are not as brutal as the National Hockey League, but it is definitely a step up from the Ontario Hockey League he played in before. Since his most recent stint in "The Woo," Tierney has looked more comfortable on the ice; his passes are better, he is more aware of his surroundings, and his shot selection is brilliant. The smartest player in the OHL is living up to his expectations.
Stumbled on the Starting Line
Tierney showed great promise during the 2014 NHL preseason while centering a third line with Barclay Goodrow and Nikolay Goldobin (eventually replaced by Tommy Wingels). However his play turned cold a couple of weeks into the regular season. In his first 15 games with the Sharks, he earned just two points and was a minus-2 rating. For Tierney, this was a drastic turnaround. After all, he was coming off a season where he received 89 points in 67 games with the London Knights. His exhibition play may have been good, but his regular season performance was not up to speed.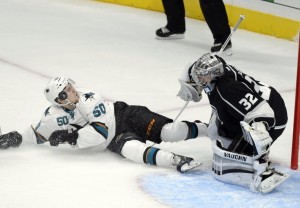 He also struggled in the faceoff circle during his first visit to the NHL. The potential third-line center had an atrocious 43.9% success rate on the draw, making him one of the worst centermen on the team at the time. For comparison purposes, fourth-liner Andrew Desjardins is 50% in the circle while James Sheppard– the man Tierney was essentially trying to replace on the third line– has won 50.2% of his draws this year. This horrifying statistic wasn't going to cut it for the organization and was probably a reason for him being sent down in the first place.
A Fire Ignited
Somehow, Tierney has found a way to be one of the most consistent players on the roster in recent weeks. He has recorded seven points in his past ten games, despite 80% of those contests being against playoff bound teams such as the Montreal Canadiens, Nashville Predators, and Chicago Blackhawks.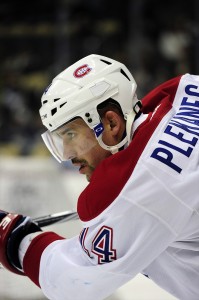 I admit that there is probably a large amount of luck involved in this recent spurt in point production. 0.7 points per game is on pace with the likes of Marian Gaborik and Tomas Plekanec, so I am skeptical that he will be able to keep this pace up for any extended period of time. Plus, no opposing goalie has stopped one if shots in over a week, meaning he either has the greatest shot selection in NHL history or he has had some good karma come his way.
But even though points may become slightly more scarce in the future, Tierney's skill has improved in other ways. Remember when he went 43.9% on faceoffs to start the year? That number has jumped to an astonishing 57.3% in his last ten games, thus helping his team gain valuable time with the puck in a possible (though improbable) playoff push.
No. 50 in teal has also turned himself into an impressive playmaker capable of playing down low and making tape-to-tape passes that lead to goals. The following two tallies by Tomas Hertl and Matt Nieto are prime examples of these skills.
He's so good at dishing the puck that even his passes end up in the back of the net.
I'm not expecting him to be the next Joe Thornton, but having a good centerman and competent playmaker on the third line is a good asset to any team. If he can keep this kind of play up, Tierney may become one of the deadlier bottom-six players in the league.
Solving the Center Dilemma
Anybody who follows my colleague, Andrew Bensch, is aware of San Jose's third-line center issue. This spot in the lineup is a crucial one because it determines how much depth your team has, which directly correlates to how far a team can go in the postseason. As Bensch has pointed out, the Sharks have played their best hockey with Pavelski centering the third line. The team has consistently elected to overload their top two lines though, historically forcing James Sheppard to fill this position. Sheppard is a good hockey player, and he will be missed in the Bay Area, but he was not cut out to be a third-line center on this team.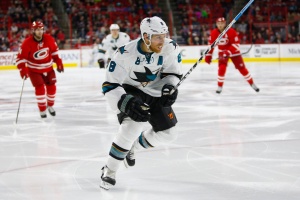 If Tierney can continue to escalate his level of play into next season, then perhaps the Sharks could get away with using their infamously top-heavy lineup. Granted, the kid isn't nearly as good as The Big Pavelski. But with continuous improvement and the help of competent linemates like Wingels and Hertl, he can become a potent player with the ability neutralize or overtake some of the best bottom sixes in the NHL.
His season stats are mediocre, but Tierney has shown glimpses of being a great depth player in the last ten games. It is a small sample size in an unpredictable league, but it is something. Only time will tell what the 20-year old from Ontario will develop into during his tenure with San Jose.
Drew Weber is a columnist for the San Jose Sharks at The Hockey Writers. He previously wrote articles and appeared on podcasts for Teal Town USA (formerly Pucknology) and contributed briefly to Fear the Fin. You can follow him on Twitter at @puck_over_glass.