Raw Rookies
The San Jose Sharks have played the majority of their preseason featuring an all rookie line. Neither 2014 first round draft pick Nikolay Goldobin, 2012 second round draft pick Chris Tierney, nor free agent pickup Barclay Goodrow have played a single NHL game. Thus far this preseason though they have shined together as a unit, lighting up the scoreboard and impressing the Sharks coaching staff. They all remain with the big club while an experienced forward like Freddie Hamilton has already been reassigned to Worcester. Hamilton, a 2010 fifth round pick, led the Worcester Sharks last year in scoring and played 11 NHL games last season.
Granted a significant amount of their offense has come against AHL players and prospects not ready for the NHL, but against the LA Kings on Tuesday the rookies faced a more or less regular NHL team. While they didn't play as a trio vs LA, neither of them looked significantly overmatched against the Kings big boys. Now given the makeup of the other Sharks lines, an all rookie line could make some sense to start the regular season. And even if Goldbin were eventually sent back to the OHL, the Sharks can see him play for nine regular season games before reassigning him to junior so his entry level deal doesn't kick in. Doing so would allow coaching staff a better indication of how ready the teenager is for NHL action. As for Tierney and Goodrow, with Raffi Torres, James Sheppard, and Tyler Kennedy on the mend, there is a good chance these two "older" rookies make the opening night roster.
Furthermore, while yours truly is a staunch supporter of the Pavelski at third line center movement, he is valuable in the top-6. Not often do you see third line players score as much as he does. If the Sharks had a true third line center that was strong at both ends, then Pavelski in the top-6 would make sense. Problem is they haven't had one. Michal Handzus wasn't the answer, and neither is Sheppard. Perhaps Tierney can be that guy that gives the Sharks a strong third line center that's not Pavelski, something the Sharks haven't had since Manny Malhotra in 2009-10. Tierney was voted as the smartest player in the Western Conference last year by OHL coaches. He certainly seems to have the makings of a strong two-way third line center.
"Easy" Minutes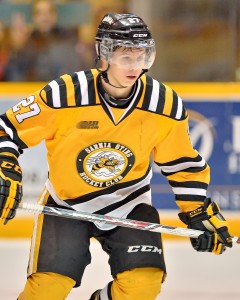 The reason the Sharks rookie line makes the most sense is that San Jose is perfectly set up to shelter them in offensive minutes. San Jose's top two lines of Tomas Hertl, Joe Thornton, Joe Pavelski, and Patrick Marleau, Logan Couture, and Matt Nieto can handle all the big minutes against the opponents top-6 players. The rookie line could be deployed in all sorts of favorable situations. Plus, if the Sharks go this route, they could field an excellent fourth line to back the rookies up. The "fourth" line could be Tye McGinn, Andrew Desjardins and Tommy Wingels. In this case the Sharks would finally have a fourth line that would be better than terrible. This trio could end up as one of the best fourth lines out there.
When it comes to playing heavy teams like the Kings, the Sharks in this case could always mix and match with a stronger fourth line. Instead of subjecting the rookies against the LA third line with Jarret Stoll, and Dustin Brown, a "fourth" line (really 3b line) of McGinn, Desjardins, and Wingels could match up. Thus allowing the rookies a more favorable matchup against Mike Richards and LA's fourth line wingers.
Unfortunately for Sharks fans, the team is bound to play their fourth line fighters like Mike Brown, John Scott, and Adam Burish significant minutes over guys like McGinn and the rookies. These three will bring the club down big time as they are all absolutely awful possession players. Not to mention their physical presence does little to make a difference when McGinn, Desjardins, and Wingels are all physical and can actually string multiple passes together.
However the Sharks decide to open the regular season, the future is brighter than many outsiders give the organization credit for. Both in terms of young NHL established players and within the system.