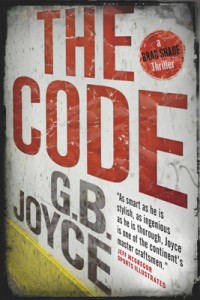 The Code [Paperback] [2012] (Author) G.B. Joyce
There have been books about hockey scouts before. And there have been more than a few great murder mysteries written. But novels about hockey scouts who get caught up in a murder mystery? They come few and far between.
Enter The Code, a murder mystery revolving around the life of a fictional NHL scout with the Los Angeles Kings.
Brad Shade is a retired pro hockey player, one who lived the life of an NHL journeyman. He had spent time with the legendary Montreal Canadiens, and lived the high-life in Hollywood as a member of the Kings. He'd had the celebrity wife, and been in all of Hollywood's tabloids.
Following a 14-year career, Shade hung up the skates and found himself a job evaluating talent. When a charity alumni game in Peterborough, Ontario ends up in a couple of questionable deaths, he finds himself unable to resist the temptation of figuring out exactly what happened.
Joyce and Shade take the reader into dressing rooms, meeting rooms, and even bedrooms, all to uncover a killer's identity. As with all great mystery novels, the name of the murderer isn't obvious at the start, but eventually the reader's given the pieces to solve the puzzle.
"Hockey is such a strange subculture crowded with people whose values are distorted by envy and ambition and lust for money, and in any sort of subculture like that bad things will happen, and in this book a very damaged individual commits an awful crime and my guy solves it," Joyce said of the novel.
Check out an excerpt from the novel below where Shade discusses his background:
I played with a bunch of names you'd recognize: Gretz, Mess, Mario. I played against all the others who mattered. I didn't last long in the league: 457 career games. One year near the end I got called up from Hartford for a single game and was told I was being sent back down before I untied my skates. You can buy my rookie card for a nickel. For every league game I played, I played two in the bus leagues. My last four seasons I spent on a European tour—Germany, Switzerland, Russia, and Finland.

One sportswriter tagged me "the Journeyman's Journeyman," a pejorative squared. They always said I was "good in the room." I was just being pragmatic. I wasn't good enough on the ice to have an attitude. Gifted, I wasn't. I had to think my way around the ice, and I took the same approach off it.
While writing the book, Joyce woke up at hours similar to what many of today's young players do on weekends.
"I'd get up at four in the morning and try and write four, five hours before breakfast," Joyce said of writing The Code. "Those are my best hours, that's when you're least distracted. I'd go out to the Tim Hortons or something and sit there for hours at a time sulking up time and space in a 24-hour establishment just so I wouldn't go back to sleep."
As much as this is a hockey book about a guy who has lived in California, it's also full of Hollywood-like suspense. Fittingly, the book has its own trailer.
For any hockey fan who also enjoys picking up a captivating novel, The Code fits your needs. Joyce writes a novel that's hard to put down, not just because of the action, but due to its ability to rope in the reader with its characters. Shade's a protagonist who sucks in the reader to find out more, and he forces them to keep turning the pages.
Though some critics feel the novel starts out a little slow, hockey fans should be at least mildly interested by Shade's description of his athletic background.
Add it to your wishlist. The Code is one of the best fictional hockey stories out there, and it's certainly worthy of finding a place on your nightstand.
David O'Connor is a managing editor with the Sunbelt Hockey Journal. His writing has been on the Los Angeles Times' website, among other places. O'Connor also does some scouting work for the local Junior B hockey club. Please feel free to contact him at davidoconnorhockey@gmail.com.