When it comes to hockey in the District of Columbia, there is plenty to be excited about; the Washington Capitals are one of the premier teams in the National Hockey League. Led by perennial 50+ goal scorer Alexander Ovechkin, the Caps have found a way to be considered prime contenders for hockey's richest prize – the Stanley Cup. While having an upper-echelon team to root for is exciting in and of itself, Washington fans can also take pride in what their team does off of the ice in the community. Let's take a look at what makes the Capitals organization so special.
Ovie's Crazy 8's
There is no denying that Ovechkin is one of the most dynamic players in the NHL. I feel sorry for goaltenders who have to oppose him, especially when he is dancing around on the powerplay. Aside from being a terror on the ice, 'Ovie' is also one of the league's most outgoing and charitable characters. In just his second season, Ovechkin created Ovie's Crazy 8's, an initiative to give back to members of the armed forces and their families. Service members and their families are given the opportunity to attend Capitals games free of charge as the Capitals captain donates a specific amount of season tickets to the Most Valuable Kids (MVP) organization for distribution.
In addition, the organization also distributes tickets to kids aged 18 and under who are from lower-income and under-serviced households. Besides the ticket giveaway, Ovechkin has been known to hold clinics with the Crazy 8's, an event that has produced over 100 participants.
Besides his work with the Crazy 8's, Ovechkin is also heavily involved with the Make-A-Wish Foundation and has granted NUMEROUS requests for children with life-threatening illnesses that want nothing more than to spend the day with him and the Capitals. Love him or hate him on the ice, Ovechkin is one of the good guys and his willingness to go above and beyond for those who may be underprivileged or dealt unfortunate hands in life is  truly remarkable.
So Kids Can
So Kids Can is a movement that was created to benefit nonprofit organizations that focus on today's youth. Forwards Nicklas Backstrom and Brooks Laich have been involved with the organization since 2011, as has former Capitals' defenseman Mike Green. Since the program's inception in 2008, over $250,000 has been donated to various outlets. Some highlights include:
$30,000 donated to Pediatric Prosthetics in 2008, an organization that helps children who have lost limbs or have been born with limb deficiencies.
In 2009,  $65,000 was raised for Dr. Bear's Toy Closet at the Children's National Medical Center. The donation was used to spruce up a playroom as well as purchase toys, video games and associated consoles for the children to play with.
Since 2010, over $150,000 has been raised and used towards the assembly of Capitals-themed playgrounds in the Washington D.C. area.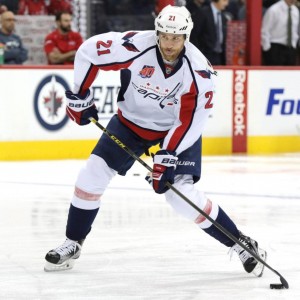 Players such as Backstrom and Laich have aided the donation process by raising certain monetary values based on personal performance. For example, the Caps fan-favorites have added together their goals and assists per year and each donate $100 per goal and $50 per assist. If the Capitals reach the postseason, the stakes are doubled with $200 donated per goal and $100 donated per assist.
Backstrom and Laich are cognizant that as professional hockey players, their salary's are higher than the norm. In a world with so much evil and pain, those with such resources can make a tremendous difference in the lives of children who have not been afforded the same opportunities.
Fans can join Nicklas and Brooks by donating to the So Kids Can movement as well. For more information, visit www.monumentalsports.com and make a difference today.
Ask any NHL athlete and they will tell you that the future of the game we love so much is today's youth. As such, it is so important to make sure these children are given the chance to succeed and fulfill their dreams. For those who may be less fortunate, the emphasis should be on allowing them every opportunity to enjoy all life has to offer.
The Washington Capitals care. Ovechkin, Backstrom and Laich care. Hockey Cares.
To continue to discussion, follow Zach on twitter @healedbyhockey