A guest post by the folks at Hockey Community.
Imagine how players train in other countries? How they skate so fast in Russia? Such quick hands in Sweden? Blistering shots in Slovakia? Now how about the players from Egypt or even Argentina?
Hockey Community, a Vancouver-based start-up has released their new iPhone app last Wednesday. It allows you to connect with players worldwide as well as help players track and flaunt their practice frequency among many other features.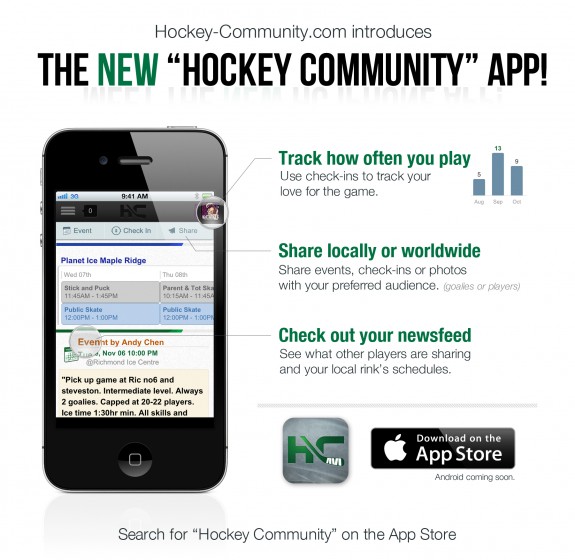 The Hockey Community team has been working on a powerful social network for hockey players with the goal of making the sport more accessible. Where ever you are on earth they will list you arenas, it's schedules and the top organizers who can help you access hockey within your area. It fits particularly well for players who are relocating or simply looking for a team.
Take a look at this post for example, a simple question like "What's your guys' fav stick??" got answered by players from in Sweden, Italy, Belgium, United States and Canada all share their point of view.
Ryan Samson, Managing Director, explains that one of their goals is to make hockey easier to access and it starts by reducing the cost of the sport. On HC, everyone can add their own event for free, whether it's a goalie camp, coach session or drop-in and get maximum of exposure at no cost. Hopefully this will create more opportunities for players to find cheaper ways to play.
We hear that Hockey Community is working on an Android app and other features tailored for hockey players and rink managers. We know that other companies are also working on new technologies. It will be interesting to see how they can help elevate the sport in the next few years.
You can download the HC app here: http://bit.ly/hcapp or sign up on their website at http://hockey-community.com