For the first time in twenty-four games, the Minnesota Wild are officially on a winning streak. Yes, I know it's only two games, but for this team, that's a huge accomplishment. The last time the Wild won two games in a row was back in November, when they won four straight against the Buffalo Sabres, Dallas Stars, Winnipeg Jets, and Philadelphia Flyers.
Ending Hockey Day Minnesota Right
After a full day of Minnesota hockey action, the Wild capped off the night with a well-deserved win. The team played a much more dominant style of hockey for most of the game and truly worked for these two points tonight. For the first time in a long time, this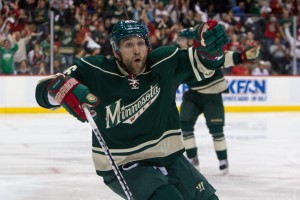 team looked like they were ready to play. Goals were scored by Charlie Coyle, Zach Parise, and Jason Zucker, but the real star of the night, and the past two games for that matter, has been newly acquired netminder Devan Dubnyk.
Dubnyk to the Rescue
Could this be the turning point for the Minnesota Wild? I don't want to get too far ahead of myself, because it has only been two wins, but two in a row is a gigantic step for this team.Minnesota has struggled just to win one game for so long and they finally have something to be confident about.
The only thing that's changed in these past games is who's been in the net and that's been Devan Dubnyk. Dubnyk, who was just recently picked up from the Arizona Coyotes in exchange for a third-round draft pick in 2015, has been solid for the Wild, allowing only one goal in his first two games. Dubnyk also became the first goalie in Wild franchise history to record a shutout in his debut, by blanking the Buffalo Sabres two nights ago.
Tonight, on top of earning another win, Dubnyk also managed to grab an assist on Jason Zucker's goal in the second period.
Devan Dubnyk has a #mnwild career Sv% of .977, perfect at 5v5, AND has an assist!!!!

— Embellished Opinion (@The_Noogie) January 18, 2015
Maybe these boys just needed a change – any kind of change – and Dubnyk provided a new face and a fresh start. I must admit, I was a bit skeptical when I heard about the exchange, but it's looking like a great move for Minnesota so far. If Dubnyk can keep playing like this and the rest of the team continues to play well in front of him, the Wild might just have a shot and turning the season around. Stranger things have happened. At least Minnesota Wild fans finally have something to be positive about on Hockey Day Minnesota- it's been long overdue.
The Wild face the Columbus Blue Jackets on Monday and have a good shot at extending their winning streak to three.