Los Angeles Kings' defenseman Drew Doughty might have been the last Kings' defenseman to hold the Stanley Cup after winning the 2014 NHL Stanley Cup Championship, but he certainly won't be the last.
Born on January 1, 1997, Chaz Reddekopp turned 19-years-old on the first day of the year. Here in Canada, it was also the first day he became the legal drinking age and making smart decisions was of the essence. This is where hockey IQ can play a big role off the ice. "We had a game on new years day and we were on the road in Kamloops," says Cameron Hope, President and General Manager of the Western Hockey League's (WHL) Victoria Royals. "I'm not even sure what he did, but I hope it wasn't too much, haha."
http://gty.im/493103504
President Hope has hope for Reddekopp and he doesn't sound too concerned about his office behaviors. There's a reason for trusting Reddekopp when the General Manager isn't in the room though and it's not just because of his quality character. There's an intelligence factor too.
Hockey IQ is one of many measures that will indicate a player's ability to perform now, as well as a projection of their performance down the road. Reddekopp was Drafted at the 2015 NHL Entry Draft by the Los Angeles Kings in round seven at No. 187 overall. He's a 6-foot-3, 218-pound defensemen who's been playing hockey with a high intellect ever since the beginning.
Some scouting reports have indicated that he has a low point production, but from where I'm sitting, Reddekopp's progress has been impressive, to say the least, and my point-of-view is derived directly from his stats.
Hockey IQ Points Reddekopp in the Right Direction
Reddekopp's point production has been steadily increasing, but the number of assists he's notched in his belt have doubled between the 2013-14 season and 2014-15 seasons. Although he still has 11 more regular season games to go this year, if he's anything like the other LA Kings' prospects, he'll perform better when the pressure's on… and the pressure is always on during crunch time. Assuming the Royal's make it to the playoffs this year, there's a pretty good chance he'll double his assists this season too.

"Every aspect of his game has grown the same way," Hope says confidently. "He's a better leader off the ice… Our message to him is to keep doing what you're doing… he's such a well-rounded guy. He hasn't got a deficiency in his game and that's been gratifying."
Although his game isn't deficient in any way and his biggest strength is his size, sometimes his size can work against him… sometimes… and not intentionally. "Sometimes he'll take penalty minutes," Hope tells The Hockey Writers. "Perhaps (his weakness) is picking and choosing his spots… but I can't even complain about that. He doesn't take stupid penalties."
Reddekopp picks and chooses his battles and he has the intelligence to know when it's appropriate to get physical and when it's not. Hockey intelligence like this also helps reduce the number of injuries a player will get.
Unfortunately for the LA Kings' and their current roster competing for a spot in the playoffs right now, their 6-foot-3, 223-pound Centreman Anže Kopitar and 6-foot-1, 205-pound right-winger Marián Gáborík have recently undergone injuries detrimental to the entire team. They could really use players with the same skill-set as Reddekopp right about now.
5 LA Kings' Prospected Defensemen with High Assisting Rates
There's a handful of other LA Kings' prospected defensemen currently playing in the Canadian Hockey League (CHL) and in comparison to each other, Reddekopp is doing just fine.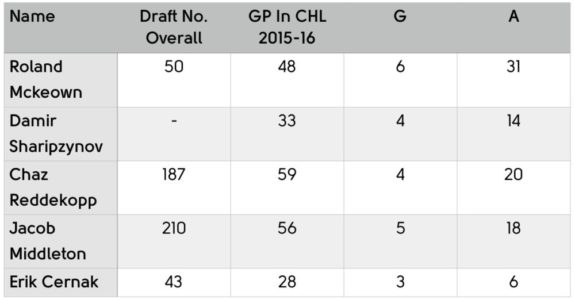 "He's a Quiet Leader & He Does It Naturally"
So what could be the reason for Reddekopp's increase in assisting his teammates? Perhaps he's had a role change this year? Is he on a new line? Is he having better chemistry with a new linemate? "Honestly, it's directly attributed to taking more leadership," says Hope. "He has lots of time on the power play… we rely on him so much in the penalty kill."
This year is the first year for Reddekopp being the team's Alternate Captain and it's "because of his leadership," Hope continues to say. "He's a quality leader. He has the experience, he leads by example, he commands respect."
The Royals drafted Reddekopp in the 2012 WHL Bantam Draft during the first round at No. 13 overall. Although Hope wasn't with the Victoria Royals yet, he does know what the team found so attractive when they drafted him. "It was the total package," he says. "At the Bantam level, he was a very effective offensive player. He had the intelligence."
"Overall, his strengths are that he's figured out how to use his size," says Hope of the prospected Kings' pick. "It's about taking penalties. Guys his size usually have trouble with adaptability. He's already a guy who came into the league with offensive ability – that's what got him drafted into the NHL."
Just like the rest of the Kings' prospects in the CHL right now, Reddekopp too, is working on his 200-foot game. "I think it's great," says Hope. "That's the thing about him. You can say that he's an offensive defenseman or a defensive defenseman, but he plays both ways." Although Hope isn't part of the conversations Reddekopp has with the Kings' organization, it looks like "they're telling him to concentrate on his defensive responsibilities. He's got natural offensive abilities. It's the same thing we're reinforcing and he does it."
Like every team who drafts a player at the age of 16, they're drafting him for the long haul and they have specific goals in mind for him. "We were hoping he would emerge as a top two defenseman and he's done exactly that." Of course, the Royals were able to project Reddekopp's potential back in 2012 and a lot of that has to do with the hockey IQ he showed, even at such a young age. Furthermore, it's no surprise that the LA Kings wanted a big boy with intelligence too.
So he was Drafted at No. 187 overall and he hasn't scored a lot of goals this year. There're two reasons why this is irrelevant. One, he's a Kings prospect and statistically speaking, he's going to shock the pants off everyone in the hockey world with unexpected  talent that 'came out of nowhere'. Two, he's focused on developing his 200-foot game and playing offensively just as well as he plays defensively. Therefore, he's doing exactly what he's been told to do and that's what ultimately matters to NHL managers.