Everyone wants to see it. They want to see William Nylander don the Toronto Maple Leafs jersey for an extended stretch this season. Well, I am here to tell you that it should not happen.
It's understandable why people want to see Nylander get the call to the big club. He has 16 goals and 26 assists for 42 points in 33 games. That is good enough for a tie for ninth in the entire AHL. What makes it more impressive is he has played less games than everyone ahead of him and is not far behind them. He is one of the top two Maple Leafs prospects along with Mitch Marner. However, no matter how good he is, the Leafs should not call him up.
Let Me Count The Reasons.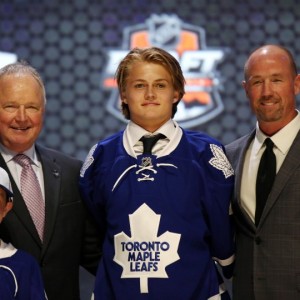 First, you have to consider the effect on the Marlies. The Leafs want the Marlies to win the Calder Cup this season with what they have done. Why call up Nylander and disrupt the run? A Calder Cup is more important than a few games with the Maple Leafs.
Second is the injury he suffered at the Winter Classic. He may have recovered from it (and the bout of appendicitis that followed), but the Leafs shouldn't take the chance. He'd be placed in a situation where nearly everyone is bigger. It would take one hit to the head to bring the concussion symptoms back. He'd also be playing on a dilapidated Leafs lineup. It's simply not worth it.
Lastly, the Leafs are in a season in which the aim is to finish as low as possible. No one will ever admit it, but if the Leafs don't end up selecting in the top three of the 2016 NHL Draft, it will be a disappointment. There have been some ugly games. The 7-2 shellacking handed to them by the Chicago Blackhawks recently is evidence of that. With the aim being to add another blue-chip draft pick to the prospect list, there's no reason to expose Nylander and other top prospects to the ugliness that the rest of the season will be, especially after the trade deadline.
If anyone is going to be called up, it will be players like Sam Carrick, Brendan Leipsic or Nikita Soshnikov. The highest-rated prospect that might get a chance with the Leafs is Connor Brown and even he is coming off an ankle injury that caused him to miss most of the season so far.
Nylander will get his chance with the Leafs. He will be a big part of their eventual resurgence, but that will start next season. There's no need for it to start this year.
Toronto Maple Leafs Writer At The Hockey Writers.