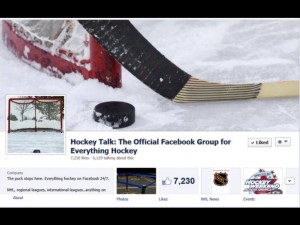 Hockey talk, we can't stop. And Jackie Soo and Chris Morrison are the clever minds behind utilizing our fixation with Facebook and created a page that combines our obsession with both hockey and Facebook called Hockey Talk: The Official Facebook Group for Everything Hockey. I've found it's a remarkably cool way to stay up to date on what's happening in the world of hockey in a quick and fun way while injecting humor into unique situations.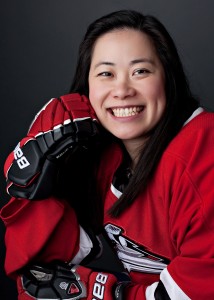 Based in Seattle, the two page administrators became friends after working together on another hockey-themed page. Jackie, a female hockey player born and raised in Calgary, is an avid Penguins follower, and Chris is a male native of Seattle who favors the Canucks. "After the Olympics in 2010, we brainstormed and thought we could use our combined skills to create our own page," says Jackie, "And that's how Hockey Talk: The Official Facebook Group for Everything Hockey was born".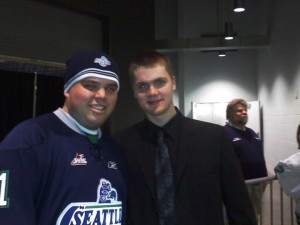 Capturing our love of Facebook, they have created quite a following with their smart and sometimes controversial posts. I find the page serves frequently as my hockey news ticker. Chris is excellent at following all the hockey news sources, so when a trade is made or talks are occurring and if I'm on Facebook, Hockey Talk is almost always where I see it first. Jackie typically provides the in-depth Canadian content, as well as the weekly 'Caption It' and 'Solve It' fun for fans.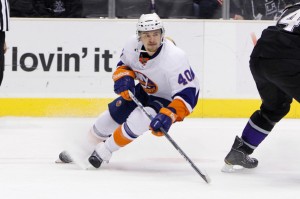 Chris comments, "We didn't set out to create any page. We try to offer a little more to our fan base. For example, in 2011, we did an exclusive Twitter chat with Michael Grabner as a perk for our valued fans." The admins also didn't just make a page to keep us in the loop, they also wanted to benefit the hockey world in any way they could. When the heartbreaking Russian plane crash and untimely loss of the talented Team Lokomotiv Yaroslavl members happened in 2011, Hockey Talk promoted the sales of the yellow bracelets to benefit the players' families. As an avid hockey player and supporter of causes in the local community, Jackie is a key organizer and a captain for the women's teams in the annual Ronald McDonald House Charities of Western Washington; Alaska Hockey Challenge event, which has been attended by numerous hockey legends including Pat LaFontaine and other celebrities such as Tom Arnold and Kiefer Sutherland. "Hockey Talk gives us a way to share online what we're doing in the community. We hope this inspires our fans and fellow hockey players to use the sport to give back to the community," adds Jackie.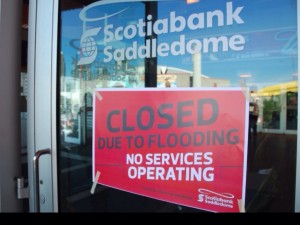 This past summer, Hockey Talk raised awareness for the devastating floods that hit Calgary and its surrounding areas. "Many of our fans were unaware of the destruction that was going on, especially as it directly affected the hockey world and the Calgary Flames' home at the Saddledome. When disaster hits the hockey world, it affects all. We're a community," says Jackie, "It was not only a personal cause for me as I lost a high school friend in the devastation, but our messages and efforts were very far-reaching. We even made friends with a gentleman as far away as Ireland, who made a kind donation because he found out about the flooding through our Facebook page."
Now one of the things that is awesome about their page is they have quite a fan base. They've been building it for three years now. The success has come as the two administrators are the perfect pair to work together. One is more serious, while the other has a definite sense of humor. I won't tell who, but one of the admins can be quite funny, even snarky. I love that about the site. Whenever you put anything out for the masses to read, someone's going to be offended, that's life. Having endured a major tragedy as my parents lived through an EF 5 tornado, humor is important.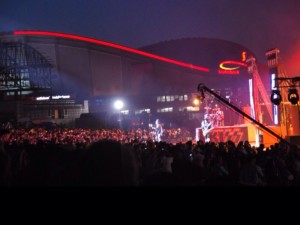 With any news, sometimes they throw in things that are a little controversial. It gets people interacting on the page. It's a good place for dialogue, and Chris and Jackie understand that sometimes people don't always agree. That's what makes the page interesting. They have learned by trial and error. They have to feel out their fans, monitor what people like and don't like. Their goal is to post what people will share and discuss with their friends, post images that go over well and make people talk. And they do talk! Right now they've got about 7,580 fans. It is a place to make friends, talk about everything related to hockey. They spend a lot of time working on it. I'm amazed at how often they post. It may be a picture, a trivia question, a news fact, a joke, anything hockey related, it's possible they'll post it at some point. They love hockey so much, it doesn't feel like work to them. It just feels like a profile page. All I can say is they set out to do a page well and they've done it quite right.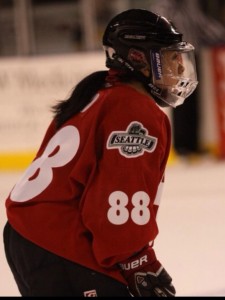 So, who are these fans of Hockey Talk? Guys, I have to tell you–women are just as big of a fan group as you are. So if your jersey goes missing, check your girlfriend's closet. In terms of demographics, the largest fan base is between the ages of 25-34. More than half of Hockey Talk's fan group are from the US, followed by Canada, with the United Kingdom, Australia and Finland rounding it out. Pretty cool that Australians are into hockey! I was also curious about which cities drew the most fans to Hockey Talk. "In the US, the top fan base comes from my favorite team's hometown of Pittsburgh. Yeah, I can be a bit biased because I know who's out there," laughs Jackie. Chicago fans are second-most represented, followed by New York, Los Angeles and Buffalo. Top Canadian cities respectively are Toronto, Montreal, and Edmonton. I don't mean to knock Edmonton, but when you get first draft pick practically every year and you've got a great following in hockey, there's a magician working in your club. I do have to admit I'm an American and sadly, we don't love a losing team. Canada's got something we don't have here, what's it called? Oh yeah, dedication. We could use more of that for sure. Well fortunately for us, dedication is something the great mind of Jackie Soo and Chris Morrison have tons of, in addition to a genuine love of hockey, and it shows on their page Hockey Talk: The Official Facebook Page for Everything Hockey. I encourage you to check it out. It's worth it.