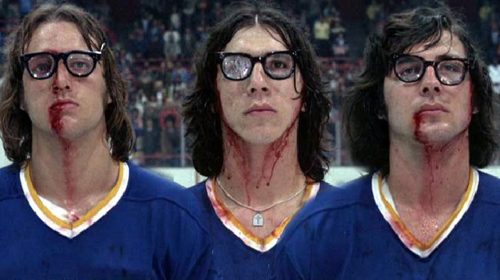 The language of hockey is rooted in both French and English Canadian and as well as Russian, with a little bit of Swedish mixed in occasionally. The American influences didn't come until much later.
For a newcomer or for hockey fans in Americans cities where the majority of the population couldn't identify a hockey puck in the Pepsi taste challenge, hockey terminology can be difficult. Here are some common hockey words & expressions you will come across.
The NHL
Any frozen body or water, or any slightly frozen body of water. It all depends on your interpretation of "KEEP OFF THE ICE" signs.
Small Canadian city, west of Toronto where all the parks, highways, schools, libraries, hospitals, and arenas are named after Wayne Gretzky.
Hockey rink.
To engage in trash talk. Which will more than likely lead to fighting.
A hockey stick. A child will normally receive its first twig in their early childhood years, during a trip to the local Canadian Tire.
If the child is American, it will normally receive its first twig after it has disregarded every other major North American sport.
Eric Lindros' mom
Beauty. Beaut. Beautician
One of the hockey's highest honors.  While, a Beaut might not be the best player on the pond, he embodies the spirit of hockey in its entirety. Think Paul Bissonette, Patty Kane, Tyler Seguin and the Hanson Brothers.
Patty Kane 15 minutes after the 2010 Stanley Cup finals game ended.
Patty Kane
The best golf team in the NHL
We aren't sure yet.
 Don Cherry's Rock'em Sock'em Hockey collection
24 VHS tapes collecting dust in your mom's basement.
The original beauticians.
The official hair style of the NHL, AHL, OHL, WHL, among others, from 1979 to 1997 (1979 to present in the WHL).
The Hockey Sweater/Le chandail de hockey
The Canadian Bible: "We lived in three places – the school, the church and the skating rink – but our real life was on the skating rink."  Roch Carrier 1:01
– Part two coming soon (unless the lockout ends and I have better stuff to write about).