Just a few miles from the US-Canada border, Montreal Canadiens' prospect Alex Galchenyuk, an American slated to star for Team USA in the upcoming 2013 World Junior Hockey Championships in Ufa, Russia, entered the Christmas break on an absolute tear after recording five goals and eight points in his two weekend games. In a 7-4 win over the Kingston Frontenacs Saturday night, the Sarnia Sting captain was an absolute beast in what could be his best OHL performance ever when he scored a hat trick of goals and added a pair of assists in a 5-point effort to propel his team to a seven point lead in the West Division standings.
The Galchenyuk Show (5-point game on December 15, 2012)
Producing gaudy offensive numbers has not been a problem lately for the third overall pick in the 2012 NHL Entry Draft.  Since the start of November, the 6-foot-1 Galchenyuk has formed a potently dangerous line with New Jersey Devils' prospect Reid Boucher and the undrafted Charles Sarault causing havoc for all opposing teams.  Galchenyuk has been a model of consistency all season long as he has only went pointless in six games over his 33 played this season. The Sarnia Sting have relied heavily on Galchenyuk's production and he has went above and beyond, especially in his last 17 games where he has tallied an impressive 19 goals and 40 points to complement his shiny plus-14 rating.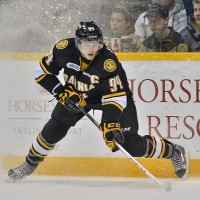 From all early accounts, the Montreal Canadiens appear to have had an extremely successful draft in 2012 but their third overall selection of Alex Galchenyuk may have been one of their biggest steals. After missing all but two regular season games last year with a devastating preseason knee injury, Galchenyuk has returned quickly to full form and that speedy recovery can be attributed to his remarkable work ethic, on and off the ice. In his draft year, Galchenyuk remained one of the top ranked skaters all season long despite playing sparingly and his recent dominance certainly supports the advocates that even had Galchenyuk ranked first overall ahead of Nail Yakupov.
As with most serious knee injuries, there was plenty of concern surrounding Galchenyuk's health and his rehabilitation. A closer look at Galchenyuk's post-draft season shows that those cautious followers can breathe easier now. Galchenyuk's skating shows no signs of weakness and his stride and power could be considered better than his pre-injury stride. His ability to change the pace with a few powerful strides is one of his best assets and he utilizes these short bursts of power to attack quickly. Galchenyuk can often be seen employing his elite puck protection skills with his long reach using his body to shield away opponents and then quickly cut to the middle of the ice to rip a shot past opposing goaltenders or find a teammate with a pass on the back door step.
Galchenyuk has played mostly on the right wing this season, a change from his usual centre position, and it has added another element of versatility to his game.  The change to wing has been implemented by Coach Jacques Beaulieu to keep Galchenyuk and Sarault together on the same line, forming one of the Canadian Hockey League's top trios with Boucher on the left wing. The Montreal Canadiens would surely love to have Galchenyuk as their future number one pivot but his success on the wing this season cannot be overlooked. With an elite ability to work off of the half-boards and cycle the puck down low, Galchenyuk can utilize this rare skill equally as well on the wing. Furthermore, Galchenyuk has shown a tendency to attack from the off-wing as he likes to trick defenders with a fake wrist shot on the rush as he toe drags through their legs and blasts by them with a few short powerful strides.  Galchenyuk has used this attacking move quite often this year and it has come with great success, mainly because he keeps defenders honest by sniping goals in a similar fashion with his quick wrist shot using the defender as a screen.
Goal scoring has never been an issue for Galchenyuk. His shot features pin point accuracy and a release that develops the velocity necessary to make opposing goalies look foolish. Take a look at a few of Galchenyuk's most recent goals and it is clear that his shot has elite elements. At the half-way point of the OHL season, number 94 sits tied in OHL goal scoring with 27 goals, just four back of his career high (31) that he set as the OHL's top rookie in 2010-11. As good as Galchenyuk's goal scoring ability is, his vision and playmaking skills remain his most impressive talents as he has a deceiving ability to find open teammates and thread extremely difficult passes with great accuracy at the drop of a hat. Defending teams have to ensure perfect gap control on Galchenyuk as he can quickly take an inch of open ice and turn it into a prime scoring chance with his elusive in-close puck handling skills. Montreal Canadiens fans will quickly learn that Galchenyuk has an element of unpredictability as he can either employ his sharp shooting abilities or feed a streaking teammate from a position where no one expects a pass from.
Galchenyuk with 2 goals and 1 assist (December 14, 2012)
Galchenyuk undresses defender Alex Gudbranson (December 9, 2012)
Coach Jacques Beaulieu has used Galchenyuk in every situation this season and his increasing confidence is becoming a dangerous weapon. On the penalty kill, Galchenyuk has shown great positioning, good anticipation, a tricky stick and a willingness to block shots helping the team win games and produce one of the OHL's top penalty killing units (5th – 83.8%). Moreover, the Sarnia Sting have the third ranked power play unit (26.4%) and Galchenyuk's seven power play goals and 11 power play assists have been a big factor in that success. There have been a number of great surprises in Sarnia Sting land this season including exceptional goaltending from JP Anderson, an increase in special teams performance and the improved ability to compete as a team; but, it is safe to conclude that Sarnia's success would not be as great without the strong play of Captain Alex Galchenyuk.
As the NHL continues to be locked out, Galchenyuk will gladly continue his torrid pace playing in the OHL; however, if the work stoppage comes to an end soon, it is expected that Galchenyuk would report to the Montreal Canadiens immediately, if the franchise requests his services. Galchenyuk is ready to play in the National Hockey League and would add an element of offense to the Canadiens' attack if General Manager Marc Bergevin feels it is worth burning a year off of Galchenyuk's entry-level contract for three months of his services.
The former first overall selection in the 2010 OHL Priority Selection Draft sits just one point back from OHL leading scorer Ryan Strome after Galchenyuk's 5-point effort as both players head to Ufa, Russia to compete for the respective countries. Galchenyuk has factored in on 49.2% of the Sarnia Sting goals scored this season whereas Strome has seen his name attached to 48.4% of the Niagara Ice Dogs' 128 goals.
The Sarnia Sting leading scorer is set to fly out for the 2013 World Junior Hockey Championships with teammate Connor Murphy as Team USA prepares to improve on a disappointing seventh place finish at last year's tournament. USA Head Coach Phil Housley will lean heavily on Alex Galchenyuk as a source of offense, an area that the Americans have struggled with in the past few championships.  It will be the first time that Galchenyuk has represented the Americans in an IIHF sanctioned international tournament and expectations are extremely high for this budding offensive prospect.
The Sarnia Sting will be without their team captain's services for likely five games (December 28th vs. Brampton, December 31st vs. London, January 1st @ London, January 4th vs. Windsor and January 5th @ Erie) and will look to Charles Sarault, Nikolay Goldobin and Reid Boucher, who was a surprise omission from the Team USA WJHC roster), to provide the scoring in his absence.
As Alex Galchenyuk departed Saturday, the classy young men sent out quick message via twitter,
@AGally94 Great first half of the season! Very proud of all the guys! #sarniasting #HappyHolidays
Who would not want this gentleman as the potential face of your franchise?
Good luck to Alex Galchenyuk at the 2013 World Junior Hockey Championships as he continues on his bright path to become one of the National Hockey League's future stars.