On Monday, Feb. 26, multiple reports surfaced that the Pittsburgh Penguins were closing in on an extension with right wing Patric Hornqivst. The terms, as reported by TSN's Bob McKenzie, are five years with an AAV of $5.3 million. This is a sizable raise from the $4.25 million cap hit his current contract has. However, considering his contributions during his Penguins tenure and his impact in the past two postseasons, he has great value as a player.
Hornqvist extension in PIT is expected to be for five years with an AAV of $5.3M: https://t.co/fxDHbGa39t

— Bob McKenzie (@TSNBobMcKenzie) February 26, 2018
Hornqvist's On-Ice Value
In the three-plus seasons since his trade from the Nashville Predators for James Neal, Hornqvist has eclipsed the 20-goal mark in every season and is on-pace to do so this season. He has averaged .32 goals-per-game (GPG) and .67 points-per-game (PPG) with the Penguins, higher than the .29 GPG and .60 PPG averages he had with the Nashville Predators. At 5-on-5, he has been a possession monster with the Penguins, with a Corsi-For percentage above 50 percent each season. Additionally, in each of his three full seasons in Pittsburgh, the Penguins controlled over 60 percent of goals when Hornqvist is on the ice.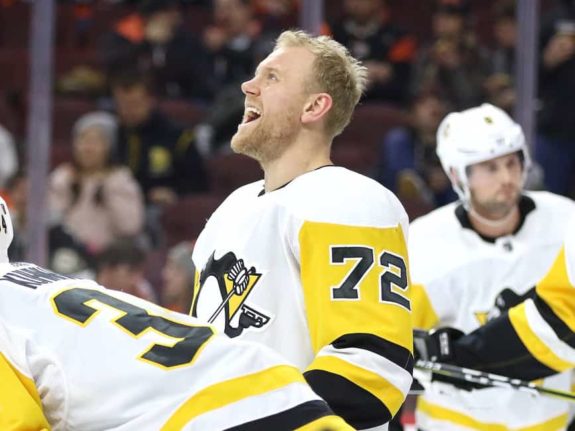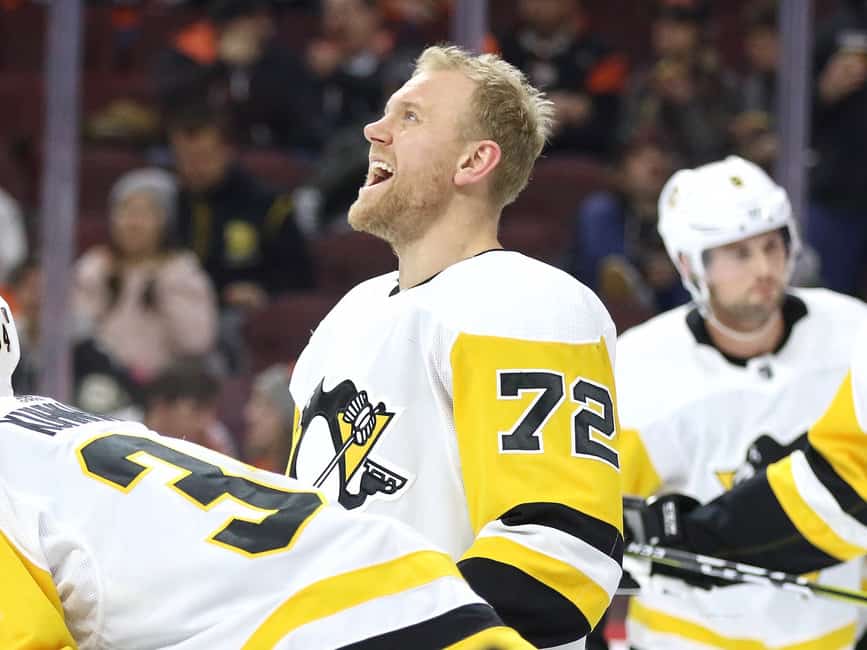 As a Penguin, Hornqvist has been a regular on Pittsburgh's power play. He has been among the team's top five players in minutes on the man advantage every season. This is in line with his time in Nashville where he was a key contributor on the power play. Following the trade, he replaced Neal, the player he was traded for, on the power play. The result of spending time on the power play, Hornqvist has increased his power play goal output each season with the Penguins. His shooting percentage on the man advantage has gotten better each season as well.
There is no way to better understand Hornqvist's value than what he has meant to Sidney Crosby. In each season with the Penguins, Hornqvist's primary center has been Crosby with Chris Kunitz or Conor Sheary on the opposite wing. When Hornqvist and Crosby have played together at 5-on-5, they have had a Corsi-For above 54 percent each season. In the 2015-16 season, when they played over 670 minutes at 5-on-5 together, the most of any season, they had a Corsi of 57.6 percent, their highest together. That season was also when Hornqvist had his biggest impact on Crosby.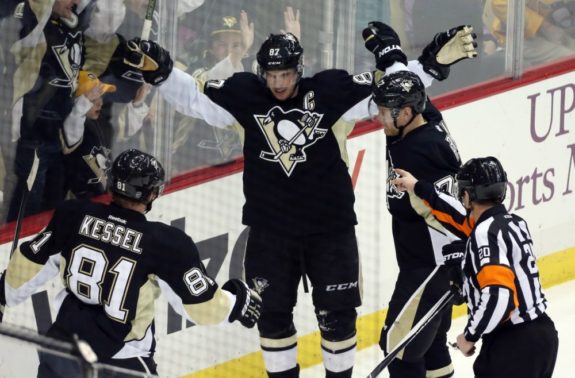 That season, when playing together, Crosby's control of Corsi, goals, scoring chances, and high danger scoring chances increased compared to Crosby playing without Hornqvist. The biggest effect occurred in control of high danger scoring chances. Together, they controlled 60.9 percent of chances while Crosby controlled 45.0 percent without Hornqvist.
Related: Patric Hornqvist Will Impress Penguins' Fans
The Aging Curve and Negative Trends
At the time of signing his extension, Hornqvist had just turned 31 years old with a New Year's Day birthday. With a better understanding of physical decline and aging, teams have been less inclined to sign players in their 30s to long extensions than ever before. Studies have shown that the physical peak for forwards is 28, and Hornqvist on the wrong side of that peak. For Hornqvist, a player who plays with a reckless abandon, his aging curve could be even steeper than the average player, given his past injury history.
Hornqvist has played just one full season in his career, the 2015-16 season, his second in Pittsburgh. He has one more season with 80 games and four additional seasons with at least 70 games played. Last season, he missed 12 games to injury, the same amount he has missed this season with a lower body injury.
When he has been able to play, there have been some downward trends in production. His 2.20 points per 60 minutes (P/60) of ice time in all situations are his lowest since the 2012-13 season when he played 24 games. Additionally, his assists per 60 minutes (A/60) have decreased every season since 2012-13, going from 1.54, a career high, to 1.03 this season.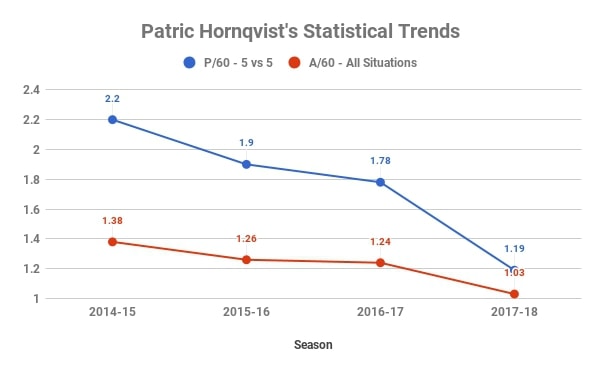 At 5-on-5, his P/60 have declined every season with Pittsburgh, starting at 2.20 his first season and down to 1.19 this season. This season's P/60 rate is well below his 1.80 career average. Also at 5-on-5, Hornqvist's shooting percentage has decreased compared to his first season in Pittsburgh. That season, he shot 10.20 percent and is shooting 5.17 percent this season. This decline has occurred while maintaining a level shot rate.
Impact on Pittsburgh's Salary Cap
Any time a long-term contract is signed, be it an extension or free agent signing, it is bound to have salary cap repercussions. This is the case for the Penguins, which have $4,782,500 according to CapFriendly in available cap space next season. This is relative to the current $75 million cap which is expected to rise to between $78 and $82 million next season. Largely the result of league expansion, all competitive teams will benefit from a potential $3 to $7 million increase. This is certainly the case for Pittsburgh.
Pittsburgh's projected cap space continues to increase moving forward while simultaneously having fewer players under contract. Next season, the Penguins have 25 players under contract while the maximum is 50. After this season, they don't have any major expiring contracts to make decisions on. Riley Sheahan, Bryan Rust, Tom Kuhnhackl, Jamie Oleksiak, and Tristan Jarry will need new contracts but all are restricted free agents (RFAs). Carter Rowney is also an unrestricted free agent (UFA) after this season.
The following year, the 2019 offseason, their situation becomes more interesting. Carl Hagelin and Derick Brassard are both (UFAs). They will also have Zach Aston-Reese, Jake Guentzel, Chad Ruhwedel, and Casey DeSmith as RFAs that offseason. After the 2019-20 season, Conor Sheary, Justin Schultz, and Matt Hunwick are all UFAs and Matt Murray will be an RFA.
Based on past and current production levels, all but Hunwick, Hagelin, Brassard, and maybe Schultz are due raises. This will give Pittsburgh GM Jim Rutherford numerous decisions to make. Sheary, Rust, Jarry, Guentzel, and Murray are all part of the team's current and future core and are likely retained depending on salary expectations. Guentzel and Jarry will be coming off their entry-level contracts and Rust will be due a sizable raise after his second contract. Sheary and Murray signed bridge deals in their last contracts and will be looking to earn market value in their next deals. Even if the salary cap continues to increase, the Penguins are going to have some tough decisions to make moving forward.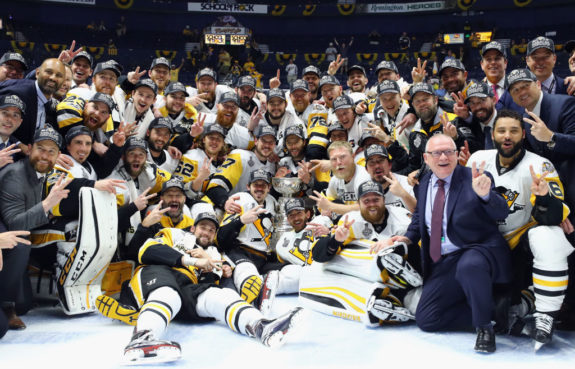 Looking at the way Rutherford has structured the roster, there is a window for winning. After the 2020-21 season, Evgeni Malkin and Hornqvist will be 34 and Phil Kessel, Kris Letang, and Crosby will all be 33. All of these players will either no longer be elite players or will be approaching that time. That doesn't take into account health, which all but Kessel have struggled with throughout their careers.
Re-signing Hornqvist was necessary for Rutherford and the Penguins. He has been and remains too important of a player for them to not re-sign. The team has identified its core and he is a part of it. Depending on what type of trade protection he received, the contract is also a good value for both sides. His current contract has a modified no trade clause and it is assumed that his new deal has at least that level of protection. Hornqvist's contract also allows the team to see what its future looks like and how they will compete in the next few seasons.
When Crosby, Malkin, and Kessel are no longer elite players, the Penguins will naturally be a less competitive team and will go through the down portion of the natural success cycle. But, for now, the Penguins remain a Stanley Cup favorite and will be as long as players stay healthy. Re-signing Hornqvist was a requirement for the team to remain a Cup favorite, but how it will affect Pittsburgh's ability to re-sign key young players remains to be seen.
*All stats came from Hockey-Reference, Corsica, and Natural Stat Trick