There's still a sizable portion of the NHL season remaining, but a certain celebration of food really signifies the start of more meaningful games. When Thanksgiving rolls around, the new car smell has officially worn off in the hockey world. Trades, free agent signings, prospects making their debut, and coaching additions are no longer a mysterious X-File. The truth isn't out there, it's here. Hockey teams begin to establish their character, while strengths and flaws are crystal clear to both the general public and the inner-circle of the NHL.
With that said, the Kings are an interesting case study. On one hand, a team that didn't qualify for one of 16 precious playoff spots (out of 30, keep in mind) is clinging right to the top of their division. On the other hand, have you seen this division? The Pacific looks like a blizzard went off in it, leaving teams and skaters in its disastrous wreckage. The Kings are not some up-and-coming young fighter having their first taste of stardom. They've won before, and they've demanded of themselves that they win again.
The city of Los Angeles may be a hodgepodge of cultures and customs, but their resident hockey club has a firm identity. As the Kings continue their quest for a third Stanley Cup, there will continue to be growing pains, miscues, and inevitable meltdowns at the worst possible times, all of which are common in the struggles of a full NHL campaign. But it's refreshing to note that this team knows what it has in a variety of on-ice areas, something very few clubs can honestly claim when they look in their figurative mirrors.
In the spirit of Thanksgiving, hockey, and food lovers with a weak sense of discipline, here is how the Los Angeles Kings set their Thanksgiving table. Offering a variety of dishes, this franchise has done a solid job of making the start of their 2015-16 season mildly delicious. Allow me to explain how.
Rolls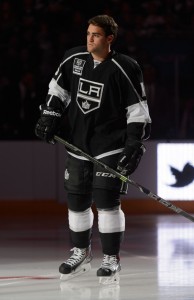 Speaking for the millions of Americans that like to eat the smaller items first, I can't stress enough the importance of a good bread roll in a Thanksgiving experience. They're fresh, new to the party, and set the table for heavier dishes that are on the way to your stomach. The Kings have their own Thanksgiving rolls, in the form of young talent. Tanner Pearson is firmly entrenched as a core member of this roster, Tyler Toffoli is a point producing machine, and Brayden McNabb has stepped into the key role of being Drew Doughty's defensive partner. There are eight players under the age of 25 on the Kings roster, a stunning display of youth for a team that is still hell-bent on winning now.
When L.A.'s veterans are slowed down by wear-and-tear or the sad effects of ageism, Sutter can trot out players like Andy Andreoff and Nick Shore to raise the tempo until the experienced folks are ready. Nothing satisfies a coach's short term needs quite like young and energetic legs on the ice, and similarly nothing will satisfy a stomach yearning for food quite like a bread roll. Wait a second while I go throw a batch in the oven.
Potatoes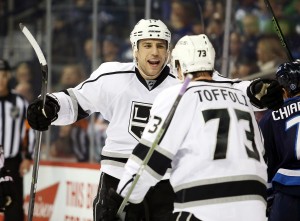 These are the most versatile of the Thanksgiving sides, having the ability to be cooked in a variety of ways. Some people like them mashed, sweet, or prepared more meticulously with cheese and other additives. That sounds oddly familiar to the roster makeup of the Kings. L.A. can trot out highly skilled forwards who play at a riveting pace (Anze Kopitar or Marian Gaborik) or take a more physically imposing approach (Milan Lucic, Jordan Nolan) up front. If the situation calls for snipers, Jeff Carter is at the disposal of the team. The Kings have won several tight games because of their willingness to adapt to individual game circumstances, in the same way that your family adapts to the potato desires of a "hangry (hungry and angry for the social novices)"crowd of relatives. Potatoes hold Thanksgiving together, and the ability to improvise and find new strengths each game has done the same for the Kings.
Stuffing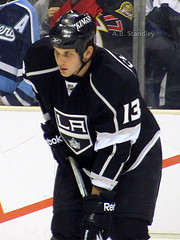 Underrated and underappreciated, stuffing is a no-nonsense delicacy. It's right there in front of you, starring directly into your soul as you look at flashier and less healthy options for a dinner plate that is quickly running out of space. When the going gets tough for the Kings, and certain areas of the strategic gameplan becomes compromised, there is always that one calling card. L.A. still has its physical presence, their "stuffing." This entire roster will throw the body around, and continues to sacrifice for the good of the team. Honestly, I don't think many players would see the ice too long on Darryl Sutter's watch without committing to forchecking and backchecking principles. The coach demands it, and his demands are met with open arms and or scared consent from players afraid of their leader's wrath. Whatever works.
And it's not just the Milan Lucic's or the Jake Muzzin's that throw hits. The message is received consistently by all it members, who understand that checks can help the Kings become fully engaged while producing feelings of frustration from the opposition. Take this example by Kings forward Kyle Clifford against the Carolina Hurricanes:
Clifford's hit on Hurricanes forward/Lollipop guild member Nathan Gerbe led to a fight that added a serious boost of energy to a game clearly lacking it (along with fans in attendance). I know the Kings lost, but a clean hit can be every bit as valuable as some magnificent stuffing, which will hopefully one day get its just due.
Turkey
Despite all the different side dishes and nuances unique to each gathering, Thanksgiving dinners virtually all end with the same main course. I think it's a fair comparison to the game of hockey, which features thousands if not millions of slight variances that each organization can take in regards to their strategic approach to the game. In the end though, hockey is about two simple details: scoring goals on the opposition and not allowing them to do the same.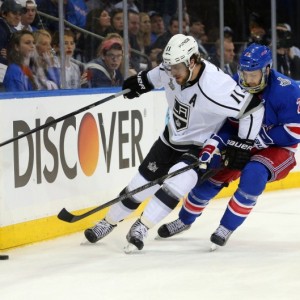 On the offensive front, the Kings are led by some seasoned gobblers that are established at lighting lamps in a variety of ways. The Kings rely on a puck possession over shot quantity approach, which in layman terms means that their coaches prefer extended periods of holding onto and passing the puck while waiting for a higher percentage scoring chance. Some people agree wholeheartedly, others think it's more boneheaded than leaving your young nanny around Gavin Rossdale. Regardless of personal beliefs, it's apparent that the Kings continue to adhere to their coaching staff's wishes in this department. They may go through periods of offensive inactive (or perceived inactivity) from time-to-time, but this approach maximizes the chances L.A. forwards are able to generate. Additionally, opposing offenses often remain stuck in neutral while they chase after the puck in their defensive zone like a poorly organized game of tag.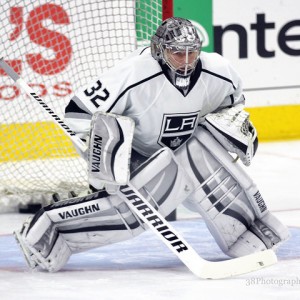 As for the other primary objective in hockey, I don't think the Kings could have a more seasoned turkey playing between the pipes. Jonathan Quick has his ups and downs every season, but seems to understand how to elevate his play during pressure moments. And as I previously touched on, he's a pretty intense bird. There's no doubting Quick's ability to rise up against great opponents, but his performance has proven to be shaky at times against teams many would deem to be mediocre. Look for improvement in this area, and also expect some added support and scoring from his teammates. There is no greater goaltending tradition than a locked in, charged up, focused Jonathan Quick. Just add gravy and enjoy.
Dessert
I like to consider sweets on Thanksgiving to be the unnecessary goodness that cements this holiday meal as an all-time great. Whether it's pies, cheesecake, or any form of baked awesomeness drenched with frosting, desserts are often made with details that are unique to a specific gathering. The Los Angeles Kings have many strengths that other NHL club's can also claim, but there is only one Drew Doughty. Averaging over 26 minutes of ice time per game, Doughty is the ultimate hybrid defenseman who can shut down opposing all-stars while generating instant offense himself. Watching him fly around the ice is a scintillating experience, second only to watching his ridiculous mannerisms and general expressions. At 25, Doughty is the icing on this Kings cake. And I'm pretty sure this guy likes to eat cake.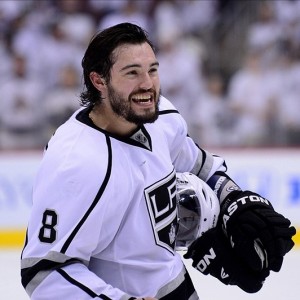 Looking at it from a much larger scale, L.A. is one of the rare NHL teams that can play with both style and substance. Darryl Sutter's Kings will always be able to grind out low scoring victories, but this season they have shown the ability to win offensively charged contests as well. Last season goal scoring was their Achilles heel down the stretch, but with the emergence of Toffoli, the acquisition of Lucic, and the continued growth of the up-and-comers, the Kings appear much more prepared to bury the puck. And as we've seen from time to time, they look good doing it.
Of course, too many sweets can be troubling, just as too many fancy moves can lead to negative consequences on the ice.  I trust Mr. Sutter enough to cut his hungry boys off from the dessert table when the time is right.
Enjoy your Thanksgiving, Kings fans.
Just a hockey loving American. I grew up in Cleveland, Ohio, and attended Saint Louis University where I skated for the Billikens. From 2013-14 I covered the St. Louis Blues for ESPN Radio St. Louis. I currently work in sports video production in Los Angeles, and will always show solidarity for stay-at-home defenseman.