After the chaotic rebuilding years, the Buffalo Sabres are heading down a path of continuous improvement. Buffalo's 54-point campaign during the 2014-15 season was historically bad but it positioned the club in the last place in the NHL. As a result, the team drafted forward Jack Eichel with the second overall draft choice in the 2015 NHL Entry Draft.
With Eichel added to a growing arsenal of young talent, the Sabres headed into the 2015-16 season with a renewed sense of enthusiasm. Buffalo finished last season with 81 points. The Sabres improved by a whopping 27-points in the standings but it wasn't enough to return to the postseason. However, the team finished strong and will use this momentum heading into the 2016-17 season.
The Sabres will begin 2016-17 with higher expectations than they've had in quite a few seasons. The next milestone for the club to strive for is to qualify for the playoffs. Buffalo has not seen playoff action since the 2010-11 season. The Sabres will rely on their surging young talent and veteran leadership to make their playoff dreams a reality. The roster has been reshaped by GM Tim Murray to accomplish the goal of returning to the postseason and each player has a unique tale of how they became a member of the team.
[See Also: Storied Sabres History of Jersey No. 21]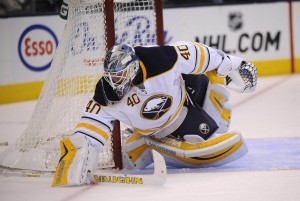 Buffalo Sabres Goaltenders
Robin Lehner: Goaltender Robin Lehner was acquired along with former Sabres forward David Legwand from the Ottawa Senators in June 2015. Injuries limited Lehner in his first season with Buffalo during which he appeared in just 21 games. Lehner won five games, logged a .924 save percentage and 2.47 GAA last season.
Anders Nilsson: In July 2016, Buffalo sent a fifth-round pick in the 2017 NHL Entry Draft to the St. Louis Blues for Anders Nilsson. Nilsson will backup Lehner this season. Similar to Lehner, Nilsson is a goaltender with a large frame. Buffalo will be Nilsson's fourth stop since the 2011-12 season. During his career, Nilsson has 19 wins, 3.09 GAA and .900 save percentage.
Linus Ullmark: With Lehner held out of the lineup from injury, Sabres fans got a glimpse of goaltender Linus Ullmark last season. The 23-year-old was drafted in the sixth round of the 2012 NHL Entry Draft by Buffalo. Ullmark won eight games with the Sabres in 2015-16 but he likely will spend much of the 2016-17 season in Rochester.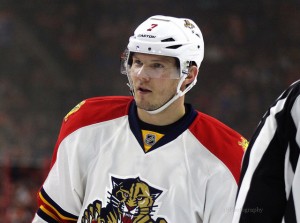 Buffalo Sabres Defensemen
Zach Bogosian: Defenseman Zach Bogosian was acquired in February 2015 as part of a blockbuster trade with the Winnipeg Jets. Bogosian finished the 2015-16 season with seven goals and 24 points. He is entering year four of a seven-year deal worth $36 million.
Justin Falk: Justin Falk signed with the Sabres in July 2016. The left-handed defenseman joins Buffalo after spending time with the Minnesota Wild, New York Rangers, and Columbus Blue Jackets. In 171 career NHL games, Falk has 2 goals, 23 points and 151 penalty minutes.
Cody Franson: Injuries sidelined Cody Franson during 2015-16. Franson signed with the Sabres in September 2015 but appeared in 54 games last season. Franson's size and cannon of a shot from the point will be an asset for his hockey club this season.
Josh Gorges: Gorges is entering his fifth year of a six-year deal. Buffalo acquired Gorges from the Montreal Canadiens in July 2014. After injuries in his first season with Buffalo limited him to just 46 games, Gorges played in 77 games last season notching two goals and 12 points. With the departure of Legwand, Gorges' veteran leadership will be relied upon even more this season to help mentor the Sabres' young core.
Dmitry Kulikov: Buffalo acquired defenseman Dmitry Kulikov and a 2016 second round pick from the Florida Panthers for Mark Pysyk and two picks in the 2016 NHL Entry Draft. Kulikov will wear No. 77 for the Sabres. He was selected in the first round of the 2009 NHL Entry Draft and, at age 25, the defenseman already has seven NHL seasons under his belt. The native of Russia has played in 460 NHL games scoring 28 goals and 138 points.
Jake McCabe: Jake McCabe was drafted by the Sabres in the second round of the 2012 NHL Entry Draft. He showed many positive signs last season and earned a regular role with Buffalo. McCabe finished the season with a plus-6 rating and he contributed on offense by scoring four goals and 14 points. There were some growing pains along the way but McCabe, on the whole, is developing into a solid NHL defenseman.
Casey Nelson: Nelson signed with Buffalo in March 2016 and played in seven games last season. The 24-year-old contributed on offense immediately notching four assists in his opening three games. Nelson was impressive in the few games he played in 2015-16 and he will work toward earning a regular role this season.
Ristolainen's agent said his client wants to skate with the team and Tim Murray has granted permission, so he will skate with the next group

— Paul Hamilton (@pham1717) September 29, 2016
Rasmus Ristolainen: Currently, Buffalo's premier defenseman is without a contract. Drafted by the Sabres with the eighth overall selection in the 2013 NHL Entry Draft, Ristolainen is poised for another big season once his new contract is finalized. Ristolainen played in all 82 games for Buffalo last season and scored nine goals and 41 points. The 21-year-old finished 10th in the NHL in time on ice per game with 25:16.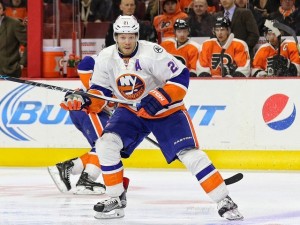 Buffalo Sabres Forwards
Nicolas Deslauriers: Deslauriers was acquired by Buffalo in March 2014 in a trade with the Los Angeles Kings. The 25-year-old played in 70 games for Buffalo in 2015-16 and his physical play made life miserable for the opposition. Deslauriers finished the season with 206 hits which led the team and ranked him 27th in the NHL.
Jack Eichel: The sky is the limit for Jack Eichel this season. Drafted by Buffalo in the 2015 NHL Entry Draft, Eichel had an impressive rookie campaign in which he led his club with 24 goals and he was second in total points with 56 in 81 games. The youngster is primed for another big season as he continues to refine his game at the NHL level.
Tyler Ennis: The Sabres drafted forward Tyler Ennis in the first round of the 2008 NHL Entry Draft. Injuries severely limited Ennis during the 2015-16 season. He played in just 23 games where he tallied three goals and 11 points. Ennis has reached the 20-goal plateau three times during his career. A healthy Ennis will provide more offensive firepower and help his club secure more victories this season.
Hudson Fasching: Buffalo acquired Hudson Fasching along with Deslauriers in a trade with the Kings in March 2014. Fasching signed a three-year deal with the Sabres in March 2016. The 21-year-old scored one goal and tallied an assist in seven games with Buffalo last season. Fasching will have an opportunity to earn a more permanent role with the Blue and Gold this season.
Marcus Foligno: A native of Buffalo, Marcus Foligno was drafted by the Sabres in the fourth round of the 2009 NHL Entry Draft. Foligno had a breakout season in 2015-16 setting career highs with 10 goals and 23 points. He also tied his previous career high with 13 assists. Foligno signed a one-year deal with the Sabres this past summer.
Brian Gionta: The Sabres signed forward Brian Gionta in July 2014. Buffalo's captain had scoring droughts at times last season but he finished strong with three points in his final four games. All told, Gionta scored 12 goals and 33 points in 79 games during the 2015-16 season. Gionta is entering his 15th NHL season and the final year of a three-year deal.
Zemgus Girgensons: Zemgus Girgensons was drafted by Buffalo in the first round of the 2012 NHL Entry Draft. Amid a historically poor season in 2014-15 by the Sabres, Girgensons performed well by scoring 15 goals and 30 points in 61 games. However, Girgensons' offensive production declined last season when he scored 7 goals and 18 points in 71 games.
"It's not a long opportunity, so you've got to take advantage of the chances you get." – Sabres' Derek Grant (three points) on camp so far

— John Vogl (@BuffaloVogl) September 28, 2016
Derek Grant: Buffalo signed Derek Grant in July 2016. He previously spent time with the Calgary Flames and the Ottawa Senators. Grant has made a name for himself at the AHL level and during the preseason with the Sabres. If he can continue his strong play, Grant could earn time in Buffalo this season.
Evander Kane: Evander Kane was acquired along with defenseman Zach Bogosian from Winnipeg in February 2015. Kane has been productive on the ice but he has had several off-ice issues since joining the Sabres. The 2016-17 season is another opportunity for Kane to right the ship. However, he is on very thin ice with Buffalo's management.
Johan Larsson: The Sabres landed Johan Larsson as part of the deal that sent forward Jason Pominville to Minnesota in April 2013. Larsson had a strong year in 2015-16 setting career highs with 10 goals and 17 points. The 24-year-old signed a one-year deal with Buffalo this past summer.
Matt Moulson: The 2015-16 season was very disappointing for Matt Moulson. Buffalo originally acquired Moulson in the Thomas Vanek trade in October 2013. The club later traded Moulson to the Wild in March 2014. Moulson returned to the Sabres in July 2014 signing a five-year deal worth $25 million. The veteran must improve his offensive production this season, which only reached eight goals and 21 points in 2015-16.
[See Also: Sabres Shootout Must Improve]
Kyle Okposo: Buffalo landed one of the big fish free agents in July 2016 when they signed forward Kyle Okposo to a seven-year deal worth $42 million. Okposo was glowing about his new opportunity in Buffalo and he will help spark the Sabres offense this season. In addition, Okposo is strong on the shootout and this is an area where Buffalo struggled last season.
Ryan O'Reilly: Ryan O'Reilly had an excellent 2015-16 season. O'Reilly was acquired from the Colorado Avalanche in June 2015. His offensive production combined with his leadership and work ethic earned him the respect of Sabres fans as well as many others across the NHL. He scored 21 goals and led Buffalo with 60 points last season. O'Reilly will join the Sabres fresh off of a World Cup of Hockey championship with Team Canada.
Sam Reinhart: Last but certainly not least, Sam Reinhart was drafted by Buffalo in the first round of the 2014 NHL Entry Draft. Reinhart finished second on the team in goals with 23 and third with 42 points. The 20-year-old always seems to be in the right place at the right time to generate offensive opportunities and he will be a big part of the Sabres' offensive attack this season.
Tim joined The Hockey Writers in July 2013. He began his tenure with THW by covering the Minnesota Wild and he now writes on the Buffalo Sabres. Tim completed his undergraduate and graduate work at the University at Buffalo. In addition, he is a published historian and a Baltimore Orioles Contributing Writer for LegendsOnDeck.com. Tim's work for THW has been featured on sites such as Yahoo.com. Follow him on Twitter @TOHockeyTHW