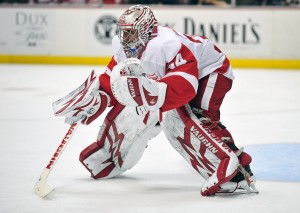 One goaltender is an established veteran, looking to bounce back from a season filled with injury and inconsistency. The other is a young, promising goalie looking to raise his stock. Jimmy Howard and Petr Mrazek will battle for the starting position for the Detroit Red Wings in 2015-16. While some would like to see the Wings trade Howard, perhaps the best course of action is to let the situation sort itself out. Detroit may have a two-headed, goaltending monster on its hands, and that's a good thing.
2015-16: The Year of Howzek? Err… Mroward?
OK, so we can work on the name later. Ken Holland seems content to run with both goaltenders for the 2015-16 season. Per Ted Kulfan of The Detroit News:
"Many within the organization believe Howard will be motivated to win back his job, and he doesn't have to worry about being traded — general manager Ken Holland said that won't happen anytime soon."
In general, the argument for trading Howard now lies in the idea that a poor season would do damage to his stock. Should Howard falter throughout the year, the return for the 31-year-old netminder might be much less than it would this offseason. Certainly, there's no way to predict what the market will look like next offseason, but the NHL just experienced a game of goaltender musical chairs throughout the past week. In total, seven goalies will have new homes going into next season. Granted, none of those players had a $5.3 million attached to them, but surely Detroit could find a suitor for Howard, should they decide to move him next offseason.
Related: Three Red Wings with Something to Prove in 2015-16
Changing Perceptions Regarding Goaltending
Sure, there are still several elite goaltenders in the league today – Carey Price, Pekka Rinne and Tuukka Rask (though, he struggled at times during the year) come to mind. What about goaltenders who seemingly come out of nowhere? Devan Dubnyk went from backing up Mike Smith for the Arizona Coyotes, to taking over the starting job in Minnesota and posting a 2.07 GAA and .929 save percentage. Andrew Hammond rose from the ranks of the AHL to lead the Senators' push into the postseason. When it comes to goaltending in the NHL right now, maximizing your options seems the best way to go.
According to Dallas Stars' general manager Jim Nill, the way the entire league looks at goaltending has changed. That's why he went out and traded for the rights of veteran goaltender Antti Niemi this past Saturday.
Nill on having both Niemi & Lehtonen: It's a two-goalie league, the Stars have cap room & team needed to get better at goalie position.

— Mark Stepneski (@StarsInsideEdge) June 27, 2015
The move gives the Stars two goaltenders that will, presumably, push each other and assume the role of starting netminder if the other struggles. The Red Wings' situation will likely be similar – both goaltenders will battle in training camp, with each goaltender receiving his share of starts until the situation works itself out. Some people may perceive the situation as a problem – if your team has two goaltenders, capable of playing as a starting goaltender in the NHL, that's a good problem to have.