The Carolina Hurricanes had a quiet offseason in 2020, with their lone signing being former New York Rangers' forward Jesper Fast. With the Canes looking unlikely to make a move before the start of the 2020-21 season, they must believe and expect improvement from within the organization.
Where can the Hurricanes anticipate improved play? With such a young roster, it's not unreasonable to expect players taking a leap, but which players are the most likely to show out for the Hurricanes in the 2020-21 season?
Ryan Dzingel
Starting off, the Canes need – and should expect – a bounce-back season from forward Ryan Dzingel. The 2020-21 season will be his sixth season in the NHL and his second full one in Carolina. Last year was a disappointing campaign for him, arguably playing his worst full season of hockey in the NHL. In 2019-20, Dzingel scored eight goals and had 21 assists for a mark of 29 points on the year, his lowest total since his 30-game rookie campaign in 2015-16 with the Ottawa Senators.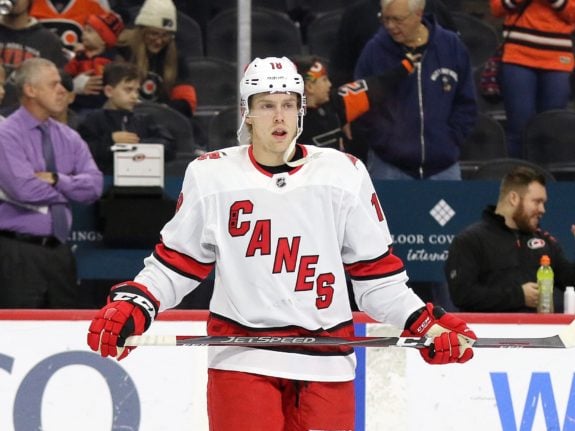 When Carolina signed Dzingel to a two-year $6.75 million deal in 2019, they were looking for the production and point totals that he had been able to put together in prior seasons. In the two years leading up to Dzingel's first in Carolina, he scored 56 and 41 points, respectively, making him a dangerous depth option as a forward.
There's still plenty of reason to be optimistic about Dzingel and his chances to be productive in the 2020-21 season. He's still in his prime at just 28-years-old, and the second season in Carolina's offense should see improved play from the American forward.
The Canes will need an improved season from Dzingel, especially when looking at the production Carolina got from their forwards outside the top line last season. If the team wants to improve for the upcoming season, they need better play from their depth forwards, and that starts with the play of Dzingel.
Martin Necas
Speaking of depth forwards, Martin Necas is entering his second full season in the NHL, and there were many positives to take away from his rookie campaign. Often overshadowed by the insane production from Carolina's top line, Necas put together a strong rookie season in 2019-20. Over 64 games, he scored 16 goals and dished out 20 assists to finish with 36 points, the fifth-highest mark on the team and fourth-highest among forwards.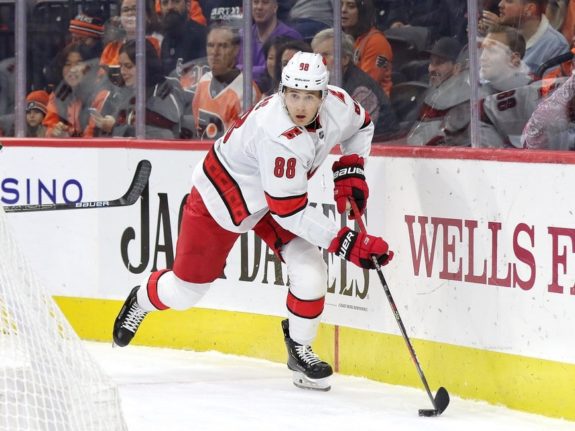 Necas is 21 years old, and barring a sophomore slump for the Czech native, he should be on for a jump in production. His career pre-NHL backs that up, as over the last two seasons, he has consistently hovered around being a point-per-game player. In 2018-19, he scored 52 points in 64 games in the AHL with the Checkers and scored eight points in eight games for the Czech Republic U20 National Team. In 2017-18, he had 17 points in 24 games for HC Kometa Brno in the Czech League and six points in nine games for the Czech National Team, as well as 14 points in 15 games for the Czech U-20 team.
Everything points to Necas improving in the 2020-21 season, and if he can, the Canes will significantly benefit from the increased production outside their top line.
Haydn Fleury
The Canes should see improvement from their forwards, but what about on the defensive end? The man to look for on defense is none other than 24-year-old Haydn Fleury. It was somewhat of a breakout season for Fleury in 2019-20, playing his way back into regular minutes for a deep Carolina defense after struggling to get on the ice in 2018-19.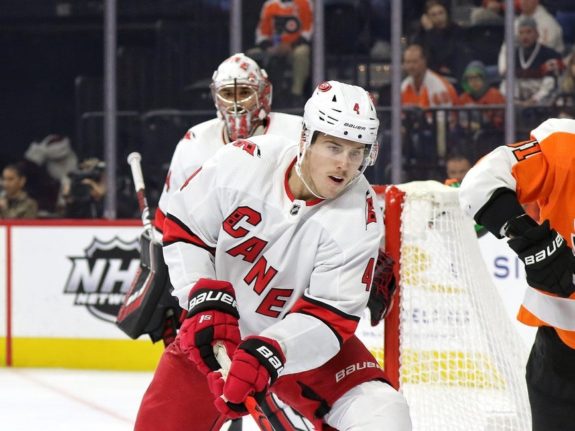 Fleury showed why he deserved those minutes once Carolina reached the playoffs. In the bubble, he was one of the most consistent defenders for Carolina, leading all defensemen in goals with two. He also played the third-most minutes among Hurricanes' defenders, at 130 minutes on ice, trailing just Jaccob Slavin and Brady Skjei.
Fleury is coming into 2020-21 looking to carry over his late-season success, and there is no reason to believe he won't be able to do that. While we are far from knowing anything for sure, he should be looking at a more significant team role, especially if Brett Pesce isn't fully healthy to start the season.
The Hurricanes have an excellent roster entering the upcoming season and have a lot to look forward to in 2020-21. However, without improvement from some of their pieces, they won't be able to take the step they need to become a Stanley Cup contender.
---
---