The Toronto Six made a splash with their latest signing, coming to terms with veteran forward Emily Fluke on Dec. 14. After trading away forward Kelly Babstock to the Metropolitan Riveters nearly two months to the day, the Six have finally found a replacement.
Fluke will be entering her fourth season as a pro. This past season she played for her hometown team – the Boston Pride – after suiting up for the Connecticut Whale in the previous two seasons. In 55 career regular-season games Fluke has amassed 49 points (16g-33a), which is good for ninth on the league's all-time scoring list. In three playoff games, she has put up three points (2g-1a).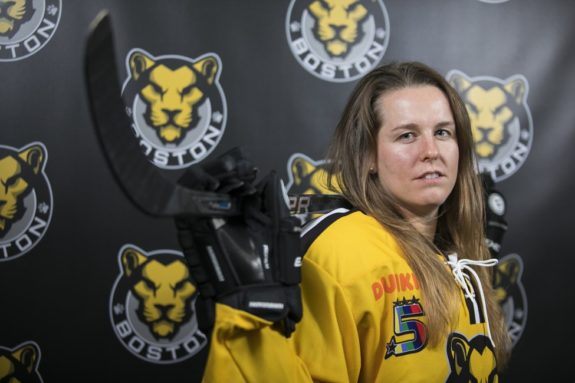 The 28-year-old Fluke had her finest season as a pro with Boston, setting career highs in points (27), goals (9), and assists (18). She was tied for third on the team in points and was fourth on the Pride in assists. She was one of seven players in the league that had multiple points during the 2020 postseason. Fluke scored the opening goal of Boston's 5-1 semifinal win against Connecticut (which can be seen when you scroll down).
Related: Q & A with Emily Fluke
In the season prior to joining the Pride, Fluke was the captain of the Whale and was selected by the fans to play in the 2019 NWHL All-Star Game in Nashville. She scored 11 points during each of her two seasons with Connecticut and in her NWHL career, she has only missed one game (Boston's first game of the 2019-20 season).
Heading North
Fluke joins forwards Shiann Darkangelo and Mikyla Grant-Mentis, and defender Emma Greco (her teammate in Connecticut) as the only players on Toronto's roster with NWHL experience.
"Emily is a seasoned veteran in this league, and she will play any role asked of her," said Six President and head coach Digit Murphy in the press release announcing the signing. "She is a winner both in life and hockey, and that is exactly what we want in a player."
"We are excited to have her as a part of our organization, and can't wait to have her on the ice to help with our quest for an Isobel Cup."
THW confirmed that Fluke was trying to catch on with another team after it was apparent she wasn't coming back for a second season in Boston. More than one team had a strong interest in bringing the feisty forward to their club, but in one instance it couldn't be worked out logistically and in the other instance, things couldn't be worked out monetarily.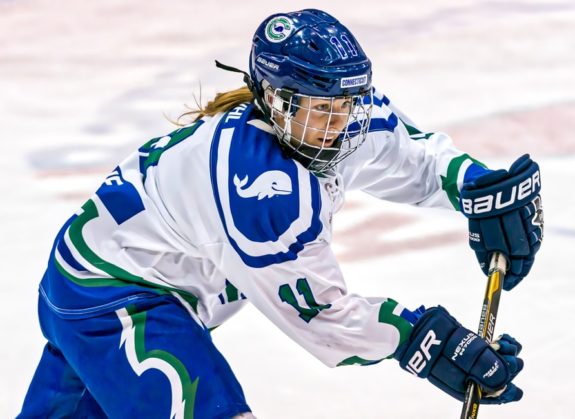 Once the abbreviated NWHL season was announced Fluke had reached out to another team and Murphy via email and hadn't yet heard back, but about a week later Murphy reached out to Fluke (without seeing the email) in a different way. The rest is history.
"Digit really got me fired up about the incredibly talented team and the amazing leadership group within the Six, and I couldn't turn down the opportunity," Fluke said in the press release. "I am beyond excited to be able to continue my professional career in the NWHL."
Debut Six
Here is how the Six roster looks as of Dec. 14:
Forwards (12): Taylor Woods, MacKenzie MacNeil, Breanne Wilson-Bennett, Emily Fluke, Mikyla Grant-Mentis, Brooke Boquist, Amy Curlew, Natalie Marcuzzi, Sarah-Eve Coutu Godbout, Shiann Darkangelo, Emma Woods, Jenna McParland
Defenders (4): Sarah Steele, Kristen Barbara, Emma Greco, Lindsay Eastwood
Goalies (2): Elaine Chuli, Samantha Ridgewell
*As of press time no Six players have officially opted out, which the NWHL gave the players who do not or cannot go to Lake Placid as an option – with full pay.