The 2020-21 NHL season is just days away, and training camp has begun. Players and prospects for the Carolina Hurricanes will compete for the limited roster spots before their first game on Jan. 14 against the Detroit Red Wings.
Every young prospect has a long road to the NHL, but a few have gotten a head start on showing why they belong. The 2021 World Junior Championship finally concluded after almost two weeks of hard competition where prospects around the world were given center stage to exhibit their abilities.
The Hurricanes had four prospects compete for three different squads in the tournament. Each one contributed well and made good cases for why they belong at the next level. Here is how each fared during the competition.
Ryan Suzuki
Carolina's 28th overall pick in 2019 was a bit of a surprise to make the final cut of Team Canada's impressive squad of players, but he showed early on that he fit in. Suzuki impressed in the first game, scoring one of 16 goals against Team Germany and finishing the tournament with two goals and four points in seven games. The 19-year-old centerman was the only Hurricanes' prospect to leave Edmonton with a medal, settling for silver after losing 2-0 in the gold medal game to Team USA.
Suzuki will not be eligible for the tournament next year due to him being over the age limit. He instead will now look to compete for an NHL spot this season. The young center is known for being a great puck handler with excellent vision and passing skills. Should he survive his second round of cuts in the last month, he should make another big impact, this time at the NHL level.
Vasili Ponomaryov
Carolina's young Russian was a force right out of the gate, with a team-leading two points in a 5-3 win over Team USA in his first game of the competition. The 18-year-old Ponomaryov finished the tournament with three points in seven games played, impressing mostly with his mature defensive game on Russia's fourth line that helped his team make the Bronze Medal Game, where it lost to Team Finland.
The expectation is Ponomaryov will compete for an NHL spot, but his inexperience and having missed some of camp due to the tournament may do more harm than good for this season in particular. Though the 19-year-old center showed his impressive two-way ability, he will likely be relegated back to the Quebec Major Junior Hockey League for another season before he truly has a shot to crack the Hurricanes' roster.
Noel Gunler
Perhaps the most underrated tournament performance, Gunler averaged a point-per-game, including four goals in his five tournament matches. The 2020 second-round pick showed off his touted sniping ability that the Hurricanes hope will translate well at the NHL level.
Unfortunately, Gunler and Team Sweden saw their tournament end in the first matchup of the elimination bracket, losing 3-2 to the eventual bronze medal winners Team Finland. Gunler's impressive performance was cut short, but he may have shown enough to warrant a flyer on the active roster for the upcoming NHL season.
Zion Nybeck
Gunler's teammate and fellow Hurricanes' prospect was quiet for most of the World Juniors this year, recording just one point in his five games played. Consigned to fourth-line minutes, the 5-foot-8 forward struggled to get a lot of playing time but still showcased his motor and did some dirty work that did not show up on the box score.
Like Ponomaryov, the 18-year-old may need another couple of years in juniors before the Canes call him up. Fortunately for him, he has a chance to improve on his showing next year at the 2022 World Juniors should he make it again.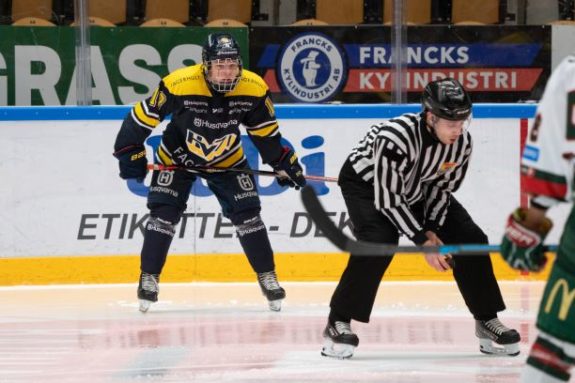 These four, along with many other aspirants, now move to compete for an active roster spot — or a taxi squad spot with the Hurricanes. With a more condensed schedule, the team may need these younger players now more than ever, and they may have another unique chance to again show the league that they belong at the next level.
---
---
Covering the Hurricanes for THW. University of Florida alum. Former sportswriter with The Alligator, ESPN Gainesville and Drafttek.