The Carolina Hurricanes missed the postseason by the slimmest of margins a few weeks ago, but have to feel good about their chances going forward with rookie of the year nominee Jeff Skinner on the roster.
After tallying 31 goals and 63 points in his rookie season, Skinner was named one of the three Calder Trophy finalists Tuesday along with San Jose's Logan Couture and the Islanders'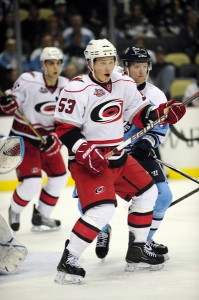 Michael Grabner.
The award is voted on by members of the Professional Hockey Writers Association.
The nomination was a foregone conclusion even before the regular season reached its end. Skinner led all rookies in points with 63 and finished second in goals (31).
Couture and Grabner both had excellent seasons, and there were a number of standout rookies – Cam Fowler and P.K. Subban come to mind – who would have been worthy of the final ballot.
Skinner, however, put on a show with none of the professional experience of his competition.
Grabner, 23, and Couture, 22, both spent at least two seasons in the AHL before joining their NHL clubs. Skinner came to the Hurricanes the first season after being drafted from the OHL's Kitchener Rangers. At 18, Skinner is considerably younger than his fellow nominees.
While numbers amongst rookies look good, Skinner might have the inside track due to his overall value to his club.
Couture finished second amongst all rookies in goals (32) and points (56), but his development was aided by playing on an excellent San Jose Sharks club, sharing time with names like Patrick Marleau, Joe Pavelski and Joe Thornton.
Grabner was sensational for the Islanders after being let go of by the Florida Panthers, leading the club in goals, but could do little to help his Islanders team from finishing second-to-last in the East.
For the Hurricanes, who have more than a little uncertainty at the forward position before next season, Skinner provides security. Eric Staal, Tuomo Ruutu, Drayson Bowman and Jerome Samson are the only other forwards signed for the 2011-12 season.
The Hurricanes came within a point of the postseason, and Skinner's stretch run helped to carry the team that far.  Carolina won nine of its final 13 games down the stretch. In those games, Skinner totaled 7 goals, 6 assists and a plus-6 rating.
The Hurricanes went 20-4-2 when Skinner found the net.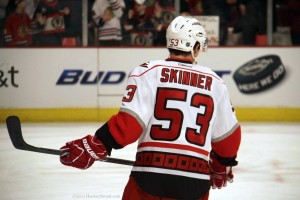 On the season, he finished second on the Hurricanes in goals and points behind Eric Staal, and second amongst forwards with 18 power play points. His 14.4 shooting percentage led all Hurricanes starters and is second amongst rookies behind Grabner's 14.9 percent.
Skinner isn't lacking support from the home crowd. The Carolina Hurricanes team website makes a good case for Skinner the day of his nomination. According to the site, Skinner is the youngest player in franchise history to score a goal, to register a point and to reach 30 goals in a season.
Skinner's age enabled him to land a number of team and NHL records during his rookie campaign. He became the 7th-youngest player in NHL history to score 30 goals (18 years, 325 days) in an April 6 game at Detroit, and the youngest All-Star in NHL history at 18 years, 259 days.
January's rookie of month, Skinner got the nod with 9 goals, 5 assists and plus-6 in 14 January games.
The past five winners of the award are Tyler Myers, Steve Mason, Patrick Kane, Evgeni Malkin and Alexander Ovechkin.
The NHL Awards take place in Las Vegas, Nevada on June 22.
James was a Penguins contributor at THW and SB Nation Pensburgh and owns the Pittsburgh sports blog Slew Footers.