In this translated interview originally appearing on the popular Russian site sports.ru, Igor Bobkov talked about his experience in the ECHL, remembered the 2011 WJC gold medal, and confirmed that he isn't thinking about getting back to Russia.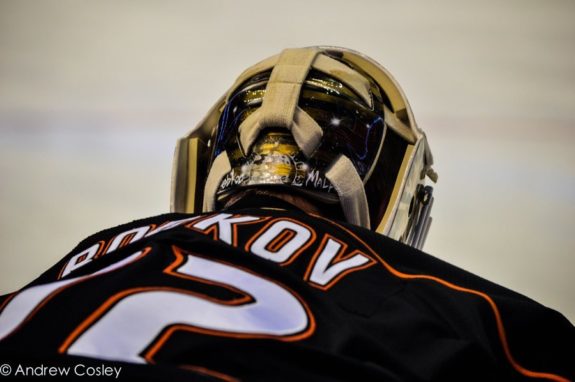 For the original sports.ru article by Andrey Osadchenko, click here.
– Last summer you signed a new two-way, one-year deal with the Ducks. Did you set as your goal to become the number one goalie of the AHL team?
– Of course, I wanted to play a full season in the AHL as number one goalie. But the situation changed and now I'm playing for the Utah Grizzlies of the ECHL.
– It looks like the current situation with Ducks goaltending doesn't surprise you, correct?
– I'm following the development of the situation. It looked like the Ducks didn't want to start the season with a young corp of goalies and they wanted to sign some veteran. I thought  they would be signing someone like Brodeur, and then they signed Bryzgalov. The goalies rotation started. Gibson was sent down to the AHL, and I've been assigned down to Utah.
– Being sent down to the ECHL has been a blow to your self-esteem?
– I'll be frank with you, I prefer constantly playing here, rather than warming the bench in the AHL.
– In January you played only four games, one in Norfolk and three in Utah.
– I played in Alaska on December 31st, then we had another couple of games and the coaches let play another goalie. Then I was called up to the AHL, I picked up a little injury and again didn't play. After that, Gibson got back once again, so I was sent down to Utah. After all this I played eight straight games.
– Frankly speaking, is the ECHL much inferior to the AHL?
– Hard to say. I am a goalie, it's harder to judge. A good shot is a good shot in any league. I am here to gather experience. In the latest two games I got 80 shots. I am satisfied. Of course the quality and the speed of play is different. When you move from the AHL to the NHL it looks like everything goes at double speed. The same can be said about going from the ECHL to the AHL. In the ECHL the quality is a little lower, but I wouldn't say that it's terrible. There are many guys who play at a good level, and who can play both in the AHL and in the NHL.
Igor Bobkov finished tied for ECHL lead in Feb with 7 wins. Here is a great interview he did with @TheMontyShow https://t.co/BrKOJyPrpR

— Utah Grizzlies (@UtahGrizz) March 4, 2015
– Does this mean that playing in the ECHL is good for a goalie?
– Well, warming the bench makes little sense anyway. You won't be useful for your team and you won't progress. The team wins and you understand that you did nothing for it. If you constantly play, you gather experience. And you, of course, grow as a player.
– Earlier this season you spent 10 days in the NHL team, as both Gibson and Labarbera were injured. Did you hope to have your NHL debut?
– Of course I was thinking about it. Who knows what can happen with the first goalie? I was ready, I practiced hard, talked with the coaches. I didn't go there with the thought of simply sitting on the bench for a while and going back.
– Do you have a plan to play in the NHL before you reach a certain age?
– I don't have an exact plan. I just want to play there as soon as possible.
– Don't you envy other NHL goalies, for example John Gibson or Andrei Vasilevskiy, who are two or three years younger than you?
– Well, everything is up to me, isn't it? I work hard, practice hard, try to improve my game. When my time will come, I'll get to play. I'm not playing [in the NHL], therefore it means that I'm not ready yet.
– Nabokov, Bryzgalov, Khudobin all had good NHL careers, but they also reached that level at 25-26 years, and played in the farm teams before. Do you try to walk in their footsteps or you're counting time on yourself?
– I feel I'm progressing. It's not just my feelings, it shows in videos, and the coaches keep on talking me about it. It's hard for a goalie to develop only by practicing. All needs to go through games. You gather experience, start feeling the importance of the games, learn what to do in the different moments. All this comes with experience.
[…]
– Regarding other '91-born Russian goalies, you and Eduard Reyzvikh were the best, and you even used to play with '90-born players. Then at the 2011 WJC the number one goalie was Dmitry Shikin. Emil Garipov, who was the third goalie at that WJC, perhaps had the best career of all of them thus far.
– Well, everyone has his path. Do you remember that Varlamov didn't make the WJC roster? And now everyone knows where he plays. Someone develops faster, someone else slower. I thought about it, of course. But it's not a problem, I'm still young, the best things are still in front of me.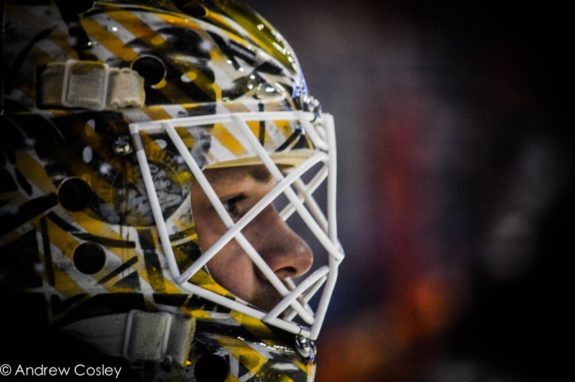 – In the MHL you were the second goalie, after Dmitry Voloshin, who is two years older. In London you were Mike Houser's backup and now you're in a similar situation with John Gibson. It looks like it's hard to you to be a backup.
– Maybe it's a psychological thing. I fell that someone is pushing from behind, and I don't overly like it. It's easier to me when I know that I'm the number one goalie. I have more confidence and playing is easier.
– Just like the WJC finals in the third period? If you didn't help the team, then Team Russia probably wouldn't have won the gold medal.
– Yes, exact. A good example.
[…]
– Did you follow the WJC this season?
– Yes, even more than last season's one, because Valeri Bragin was back with the team. I was sure that we would get to the finals and until the very end I was sure that we could tie the game.
– Did you see Bragin walking on the boards?
– Yes, I did. Nothing surprising.
– Bragin took part in four WJCs and all four times his team reached the finals. What is his secret?
– He is really that good as a coach. He can motivate his teams with just one look.
– In Utah probably everyone knows that you won the WJC.
– Someone didn't know. I remember that I was talking with someone about that tournament when a guy, who by the way is from Buffalo, and he said: "I remember when Russia played Canada, I watched the game at a bar, and those Russian defeated Canadians, I started crying from joy." So I asked him, "and who was on goal for those Russians?" So he looks at me, and starts yelling, "Holy moly, it was you!" Generally speaking, many people remember that game, but not many remember that I played.
– Tarasenko is having a great season this year. Are you proud to have played with him?
– Yes, I am. Sometimes when I am with the guys, we talk about one of his great goals, and they start asking "Did you play with him?" "Yes, I did." "For real?" "For real." I'm very glad for him, of course. He's having an unbelievable season.
– During practices he used to "take fun" of yourself too?
– No, he didn't "take fun" of me, he simply scored when I allowed him to do so (laughs.) I remember that I noticed his great shot since the first practice, especially his wrist shot. And at the following practices, during the WJC, it was evident: Tarasenko is on ice, wait for something to happen.
[…]
– You left Russia a couple of years ago, but today in the KHL young goalies are more trusted. Didn't you think about getting back home, even for just one year?
– My dream, of course, is to play in the NHL. And I want to be as close as possible to this dream. I want that they can constantly look at me. If something changes, then why not? Maybe I'll get back to Russia, but for now I am here.
A professional hockey writer and translator. Loves Russian culture, language, and hockey. Reachable on twitter @AlexSerenRosso