In this translated interview, originally appearing on the Russian portal Sovport.ru, Vladimir Tarasenko talked about 40-goal mark, other Blues players, commercial with Brett Hull.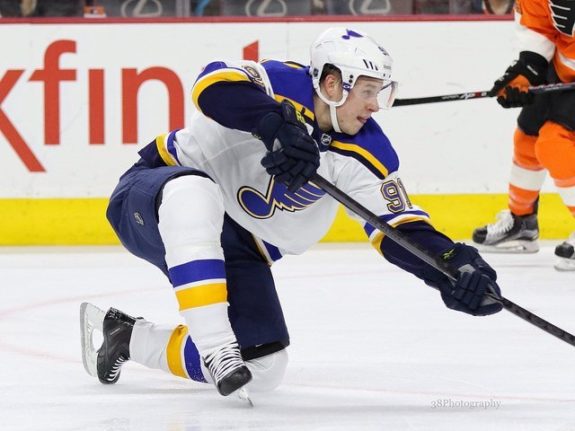 For the original Sovsport.ru article by Igor Makarenko, click here.
– You already scored 34 goals this year. Do you want to reach the 40-goal mark?
– Of course I want. I want to reach 50 even (laughs)! But not everything at once. You need to work a lot to achieve something. The most important thing is to help my team and play well. If we'll create other chances, goals will come. It's time now to prepare for the playoffs. No one remembers how many points I scored last year, but everyone remembers that we were defeated on the first round.
– The Blues had a good game against the Flames.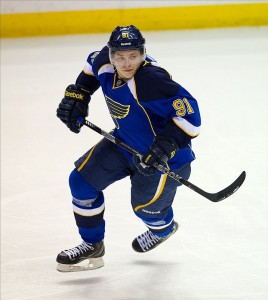 – They have a good team, we prepared well and manage to convert our scoring chances. Our goalie played very well. I want to congratulate with Brian Elliott. Right now we are first in the Western Conference and most of our success is due to his great play.
– How do you like playing with your former line mate Jori Lehtera?
– It's good that we are in the same team. Not everything is perfect, we still need some time. We have another ten games before the playoffs, we have time to adjust our play.
– Is it hard to be the lone Russian in a team? There is also Dmitrij Jaskin, do you talk with him?
– Yes, we talk together from time to time. There are some advantages in being alone, for example you have to learn the language faster. In St. Louis I am with my fiance. I have someone to spend time with, and I prefer being with her at home, rather than wasting energy outside. It's my first long season, support of my close people is very important.
– Who you talk to the most with in St. Louis?
– I have friends there. More than anyone else [Kevin] Shattenkirk and [Ryan] Reeves. There was also Chris Stewart, but he has been traded last year. Shattenkirk and I are room-mates during road trips, I think I talk with him the most.
– You starred in a TV commercial with Brett Hull. Why did you inflate a puck with a pump?
– I've been told that this is somewhat related to a football game. I frankly didn't understand well the history, the sense is that someone over-inflated or under-inflated the ball, and that had an influence on the game's result. In our commercial the situation was that we shot the puck and we didn't hit the net, then we inflate them and we score at each attempt.
Of course it has been a honor to me to hit the ice with Hull. He is very nice on me, just like everyone else within the Blues organization. Sometimes he gives me advice, and that is very useful.
– Are you in touch with other Team Russia players?
– Yes. I don't talk that often with Evgeny Kuznetsov, I talk more with Dmitry Orlov. I'm the godfather of [KHL player] Anton Burdasov's kid, and Artemi Panarin is playing great, he was my room mate at the 2011 WJC. We had a great team that year, and I'm glad that everyone is having a good season.
Read also: Tarasenko's Humility On Par With Scoring Ability.
A professional hockey writer and translator. Loves Russian culture, language, and hockey. Reachable on twitter @AlexSerenRosso