Ilya Bryzgalov has been recalled by the Edmonton Oilers following two AHL starts with the Oklahoma City Barons.
He struggled in his first start in OKC, shaking off some of the rust, but was solid in his second start posting the win in a 4-1 Barons victory over the Abbotsford Heat.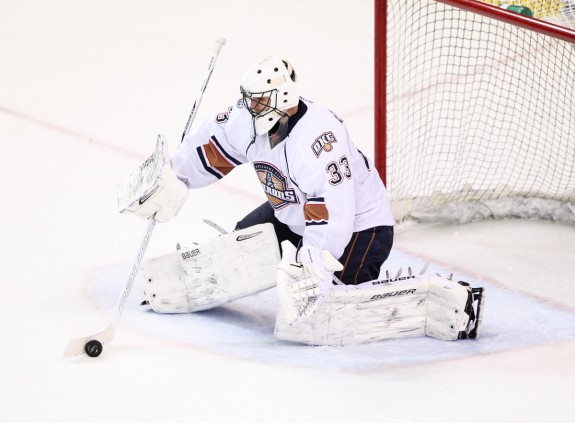 Many are interested to see what the Bryz has to say when he arrives in Oil Country, after all who can forget his thoughts on western Canada when the thought of playing in Winnipeg was proposed to him in 2011:
"You don't want to go to Winnipeg, right?" Bryzgalov said after the Coyotes lost to Detroit. "Not many people live there, not many Russian people there. Plus it's cold. There's no excitement except the hockey. No park, no entertaining for the families, for the kids. It's going to be tough life for your family." (Yahoo Sports)
Looks like his desire to return to the NHL outweighed his reluctance to travel north. Combine that with the Mr. Universe persona we all saw in Philadelphia, and it could be entertaining to say the least.
When Does He Play in Edmonton?
The question now will be, when does he get his first start in an Oilers uniform?
Best bet is this week, likely against the Florida Panthers. The Oilers play two this week, Tuesday night against the Columbus Blue Jackets and Thursday against the Panthers.
The issue currently is one the Oilers haven't faced this year; their goaltending has been good lately.
Incumbent starter Devan Dubnyk has found his game again and has been very good in his last few starts stopping 90 of 96 shots in his last three starts against Dallas, San Jose and Calgary.
Coming off a win in Calgary and a strong start, it would stand to reason that Dubnyk would be back in against Columbus with the 5-12-4 Panthers a logical opponent for Bryzgalov to get his first start against.
It gives Bryzgalov a few extra days of practice to get comfortable, and with Dubnyk's recent play there's no need to rush him in on Tuesday night.
Competition the Key?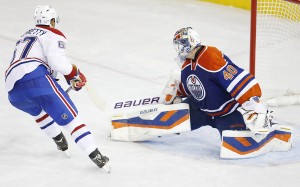 Whether it was his game just eventually rounding into form, or the threat of Bryzgalov, something has clicked for Dubnyk. He's a long way off from contending for a Vezina, but for the first time all year he has put some consistent starts together and is far from the reason the Oilers have lost.
Having Bryzgalov in town certainly comes with its share of question marks, however if his presence in the very least pushes Dubnyk to be at his best then the signing is worth it.
Bryzgalov also did not sign in Edmonton to be a spectator from the bench and will be itching to get between the pipes himself. With something to prove, if he can regain some of the form from his days as a Phoenix Coyote, the Oilers could turn one of their bigger weaknesses into a position of strength.
Realistically the signing of Bryzgalov is very low risk for the Oilers. If he plays well, or forces Dubnyk to, than it's a success. If he falters and plays poorly, then he is no worse than what they had in Jason LaBarbera.
Domino Effect
With Bryzgalov coming to Edmonton, there will be a trickle down effect on the Oilers goaltending depth chart. Current backup LaBarbera will likely be placed on waivers with the intention of sending him to OKC to start for the Barons. For the time being either Tyler Bunz or newly acquired prospect Laurent Brossoit will remain as his backup with the other headed to Stockton of the ECHL.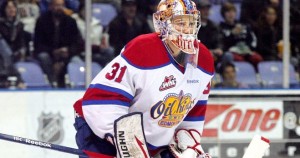 The other name in play is Richard Bachman who showed flashes of solid play in his few games with the Oilers before going down to injury. When he is healthy he will return to the Barons as well to pair with LaBarbera and both Bunz and Brossoit will man the Stockton crease.
While many were upset at losing warrior Ladislav Smid to the Calgary Flames to free up cap space, the real gem in this whole situation could be Laurent Brossoit. The Oilers have lacked any top shelf goaltending prospects for some time, with neither Olivier Roy or Bunz taking the mantle in recent years. Brossoit complied an 88-34-13 WHL record for the Edmonton Oil Kings including a trip to the Memorial Cup. He instantly becomes the top goaltending prospect and fills a need in their system.
_____________________________________________________________________________________
Follow Carl on twitter @maloney3383 and Google+ for more articles.  
Carl covers the Edmonton Oilers for THW as well as providing additional prospect coverage. Follow him on twitter @carlTHW, connect on Facebook or contact at carl.maloney@hotmail.com for questions, comments or if you're interested in him writing for you.