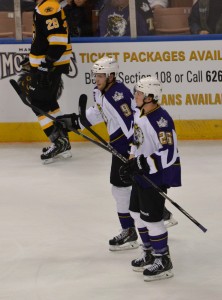 As a Kings fan, watching veteran forwards Anze Kopitar, Justin Williams, Mike Richards, Jeff Carter and Dustin Brown buzz around the net engenders confidence in both the present and future of the franchise, especially considering that only Williams is on the wrong side of 30. Kopitar, Richards, Carter and Brown are signed forever, as are franchise defenseman Drew Doughty and franchise goalie Jonathan Quick. With all the proven talent, you pretty much just need savvy, physical placeholders to eat the rest of the minutes and kill penalties and you're in good shape — right?
Wrong. Depth is critical in today's NHL, as is the potential of younger players to follow the natural order of things and eventually supplant the veterans as they decline or move on to other teams. Some franchises like Detroit, Boston and Chicago have been able to successfully navigate the balance between winning today while developing young potential for the future. Others such as Ottawa, Tampa Bay and Minnesota have bounced around a bit more in recent years while trying to fit the pieces of the jigsaw puzzle together consistently.
It's a short five years into the most successful era of Kings' hockey in franchise history, but General Manager Dean Lombardi has restocked the cupboards so well that not only are the front liners still young, but so are most of the lower line players as well, some with the potential to ascend through the ranks over the next few years. Even with all the veterans, Los Angeles remains the tenth-youngest team in the league.
With that said, the Kings could certainly use a third line that can control the puck, play with discipline, and put the puck in the net upon occasion, with the potential to develop into top-sixers over time. Enter Linden Vey, Tanner Pearson and Matt Frattin.
Linden Vey
With the recent lower body injury to Jeff Carter, both Tyler Toffoli and Linden Vey were called up from Manchester, the Kings' AHL affiliate. Toffoli has had tremendous early success, with four goals and four assists in eight games skating primarily on the second line. Pearson, who played with Toffoli and Linden Vey on Manchester's "White Line", is a two-way forward selected #96 overall in the 2009 entry draft. According to former Assistant General Manager Ron Hextall (now with the Flyers), he has all the tools to succeed in the NHL. "Linden is an extremely skilled player," said Hextall. "He's got a lot of gifts, his hands and his vision and he's got the 'turn up play' to the late guy. He really understands how to play the game."
In his first five games, Vey averaged 14:03 of ice time and dished out three assists. He's not looked to shoot the puck whatsoever, generating just one shot on net, but with 41 goals over two full AHL seasons, that part of his game will come over time.
With respect to top-six potential, check out his sick deke move that set up Jordan Nolan's goal against the Canucks:
Tanner Pearson
Another denizen of the aforementioned "White Line", Pearson was recalled November 13th due to a head injury to winger Kyle Clifford. He was picked by Los Angeles in the first round (30th overall) of the 2012 entry draft, chosen in large part due to his combination of good size (6'0″, 205 pounds) and a sniper's scoring touch. "He's a goal scorer," said Los Angeles Assistant General Manager Rob Blake. "One of those guys that when there might not be a lot going on in the game, and all of a sudden he gets the puck for a split second and it ends up in the net." Manchester Monarchs' head coach Mark Morris had a similar viewpoint, summing up his thoughts by saying, "I think that Tanner is extremely bright, he's a kid that I think is going to have a long career in this game. He has a ton of potential."
Pearson averaged just nine minutes of ice time in his first three games, but made the most of it with his first NHL goal in a 3-2 win over the New York Islanders. He has also blocked four shots, one more than stalwart power forward Dustin Brown has in 21 games.
Watch Pearson's quick wrister trickle past Islanders goaltender Kevin Poulin and into the net, tying the game in a furious third-period comeback by L.A.:
Matt Frattin
In some respects, Frattin may be the most intriguing of the three forwards, if for no other reason than the Kings traded former first-round selection Jonathan Bernier for a package that included the 25-year old forward. Frattin has shown flashes of potential in his first few NHL seasons, scoring seven goals and thirteen points in 25 games last season for the Maple Leafs. However, he has struggled both offensively and defensively this year, with just four points in 20 games and a team-worst +/- of -7. "I've got to shoot more and get more offensive opportunities," Frattin said. "I've got to keep playing fast and physical and be more consistent. I feel like I can put the puck in the back of the net if I start shooting."
Although his minutes and line slotting have varied this season, Frattin has the potential to develop into an offense-oriented NHL power forward, a rare commodity in the game. As it stands, he has added physicality to the Kings' lineup with 42 hits, third best amongst the forwards this year.
Speaking of hits, watch Frattin level Buffalo Sabres forward Cody McCormick and then hold his own against the 6'8″ behemoth Tyler Myers in the ensuing fight:
Turning potential into reality
With respect to the young players getting their first real taste of the NHL, Toffoli seems furthest ahead in terms of both potential and development, having become a fixture on the team's second line. But don't overlook Linden Vey, Tanner Pearson or even the slow-starting Matt Frattin. With the ice time they now receive and the on-ice lessons they are learning while playing important roles for a Stanley Cup contender, the future never looked brighter in Los Angeles.
Check out our partners at TiqIQ for the best deals on Los Angeles Kings tickets for all 2013-14 games.
Walter McLaughlin is a Los Angeles Kings correspondent for The Hockey Writers. He is an avid sports fan, having followed the Kings since living in L.A. in the mid-1970's, as well as suffering through Seattle sports teams' general futility. He has a Bachelor's degree in Finance and has worked in community banking for over 25 years, specializing in SBA loans. He is married and has two daughters.