Ilya Kovalchuk is into his third season in Russia since retiring from the NHL and leaving North America in 2013.
At the age of 30, Kovalchuk decided to return to the KHL, where he had a brief stint during the 2012 NHL lockout. He fell in love with playing in front of family and friends each night, which ultimately led to the final decision to retire from the NHL.
Some say Kovalchuk set the New Jersey Devils franchise back an additional five years or more until another successful season by retiring while he was still one of the most dominant players in the league. Others say Gary Bettman and the NHL drove away one of its premier superstars as a result of Bettman's third career lockout.
In any case, Ilya Kovalchuk has been gone for three years now, and he very likely isn't coming back at any time. So why not reflect on what was, and peer into how the Russian superstar is faring in his home country.
I had previously checked in on Ilya Kovalchuk about a year ago, as he was beginning his second KHL season. Take a look at that article here.
A Rough Start To the 2015-16 Year –
Kovalchuk's season got off to a disappointing start. In his third game, with a goal and an assist on the year, Kovalchuk suffered a lower body injury while attempting to deliver an open-ice hit on an opponent. It appeared that there was incidental knee-on-knee contact which resulted in Kovalchuk limping off the ice after the play. He would miss eight games with the injury, which could have potentially been much, much worse. However, knee injuries are one of the most difficult to return from, and Kovalchuk has not gotten back to his elite form yet.
Halfway Through the 2015-16 Season –
It's hard to believe that the KHL season is already half done, with around 30 of 60 regular season games for each team already being played. Currently sitting sixth in the West Conference, SKA has been taking a few steps back after finishing second place in each of the past two seasons since adding Kovalchuk on a  full-time basis. Because of his knee injury, Kovalchuk has appeared in 21 of the team's 29 games.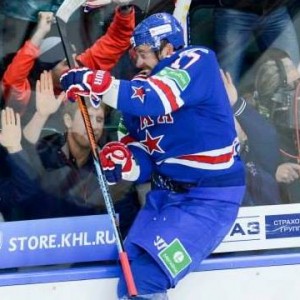 However, the former Rocket Richard Trophy winner has only four goals and 14 points in those, with his points per game dropping 35% from the 2014-15 campaign. Kovalchuk sits just fourth on his team in scoring, a rather disappointing effort from a man who should easily have become the best player in the NHL.
To put it into perspective, for all us North America hockey fans, Nigel Dawes, Linus Omark, Wojtek Wolski, and Cam Barker all have a much higher points per game than Kovalchuk does. Those four players have a combined 479 points in 1052 NHL games, compared to Kovalchuk's 816 points in 816 games. That is a 0.455 points per game player compared to 1.00 which is unanimously outscoring Kovalchuk's rate this season.
Whether it be his age creeping into the mid-30's, or a lingering knee injury holding him back, Ilya Kovalchuk is not performing up to expectations so far in the 2015-16 campaign.
Do you miss Ilya Kovalchuk, or is the NHL better off without him?
Let us know in the comments below!
Contributor for the Toronto Maple Leafs and Prospects. Scout with the Oakville Blades of the OJHL. For questions, concerns, or comments, contact me at devinslawson123@hotmail.com or on twitter @SlawsonTHW.