Remember Ilya Kovalchuk? The superstar who retired from the NHL so he could return home to Russia and play in the KHL?
Well, he may be eyeing a comeback to the NHL.
In July of 2013, Kovalchuk sent shockwaves through the hockey world when he announced he would leave the New Jersey Devils, and the NHL, three years into his infamous 15-year, $100 million contract.
He returned home to Russia to join SKA Saint Petersburg of the KHL. His contract with SKA ends in April of 2017. But, a report from Finland suggests that Kovalchuk has expressed interest to SKA of his desire to return to the NHL for the 2016-17 season.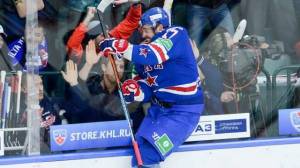 However, because Ilya Kovalchuk voluntarily signed retirement papers, he would need approval of his return by all 30 NHL teams in order to return. If that doesn't work out, Kovalchuk would also have the option to get approval solely from New Jersey, but would have to take a full year off from hockey to become a free agent.
Ilya Kovalchuk was drafted 1st overall by the Atlanta Thrashers in 2001, and also spent parts of four years in New Jersey. He scored 417 goals and 816 points in 816 career NHL games. In three seasons in the KHL, the 31-year old has 59 goals and 137 points in 135 games.
He is in the second year of his 4-year contract with SKA. Kovalchuk's reported reason for a possible return to the NHL seems to be due to the fact that the Russian Ruble has substantially fallen because of it's economic sanctions.
Contributor for the Toronto Maple Leafs and Prospects. Scout with the Oakville Blades of the OJHL. For questions, concerns, or comments, contact me at devinslawson123@hotmail.com or on twitter @SlawsonTHW.