Kirill Pilipenko THW Close-Up:
Team: #48, HC MVD, MHL
Date of Birth: 09/23/1996
Place of Birth: Ekaterinburg, Russia
Ht: 5' 10″     Wt:  195 lbs
Shoots: Left
Position: RW
NHL Draft Eligibility: 2015
THW Ranking (The Next Ones; Chris's List): not ranked
Other Rankings:
NHL CS Midterm: 106 Eu Skater
FC Mid term: Not ranked
***
***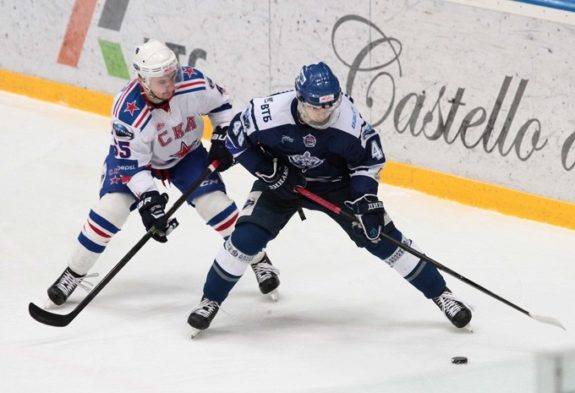 Small size, big skills
Kirill Pilipenko falls into the category of the undersized but highly skilled Russian forward. Gifted with smooth hands, excellent creativity and superb stick-handling abilities, Pilipenko makes the most of the space he can carve out by being able to find the back of the net, almost with ease. This ability to finish however, is not complimented by, for example, a physical game or strong showings in all three zones. Although he has put a lot of effort into building up his strength over the past few years, he still only tops out at around 195 lbs, and has not developed much of a physical presence. To make matters worse, unlike other smallish forwards like him, Pilipenko does not have the kind of explosiveness associated with smaller players.
Like Pavel Datsyuk, Nikolay Khabibulin and Alexey Yashin before him, Pilipenko was born and raised in Ekaterinburg in Russia. In 2012 he moved to Moscow to begin playing within the Dynamo He quickly earned a reputation as a goal scorer there, putting up impressive numbers for Dynamo's affiliate HC MVD in the MHL. Pilipenko had some strong showing with Team Russia as well, with five goals in as many games at the 2014 U18s and an excellent tournament at the WJAC with eight points in five contests.
Scout's Honour:
"Pilipenko's offensive skill is truly high-end, with the creativity and offensive IQ to make unique plays and create scoring chances in bunches. Pilipenko's skating is good, not great, and he's not too explosive for a smaller forward but can skate well. His all-around game also needs some fine tuning, as while he battles for the puck, his physical game isn't too impressive and his defensive game needs significant work." – Corey Pronman
Where He'll End Up In June:
It's hard to declare that Pilipenko will definitely get drafted next year, due to his limited exposure to scouting, small size, and the Russian factor. That said, there are some good reasons why an NHL team may be interested in a player with his skills and hands. Any pick earlier than the sixth round would be a surprise.
Statistics:
NHL ETA:
Risk/Reward Analysis:
Risk: 2.5/5   Reward: 4.00/5
NHL Potential:
Highest: 2nd line forward; Realistic: Utility forward who can provide secondary scoring
Strengths:
Puck skills
Excellent scoring touch
Very good shot
Good skater
Very good passing game
Flaws/Aspects He Needs to Work On:
Not a physical player
Defensive game
Needs to be tested against better competition
Fantasy Potential:
Offensive: 7.0/10    Defensive: 4.0/10
Video(s):
** THW's The Next Ones prospect profile template design architect: Chris Ralph
A professional hockey writer and translator. Loves Russian culture, language, and hockey. Reachable on twitter @AlexSerenRosso