Let me just start with this before everyone gets all upset: Thomas Vanek could definitely be doing more for the Minnesota Wild. I'm not arguing that. All I'm trying to say is that Vanek really isn't as bad as many people seem to think he is.
Vanek to the Rescue?
This summer, when the Minnesota Wild acquired Thomas Vanek, most Wild fans seemed to think the former Montreal Canadien was the cure to all of their offensive woes. The former Minnesota Golden Gopher spent nine years of his career playing for the Buffalo Sabres, having 20+ goal-scoring seasons eight out of those nine seasons. In eighteen games with the Montreal Canadiens, he scored six goals. Clearly Vanek was brought to the Minnesota Wild with the expectation that he was going to score 20-30 goals this season and propel the team offensively. As all Minnesota fans are aware, this has not been the case so far this year.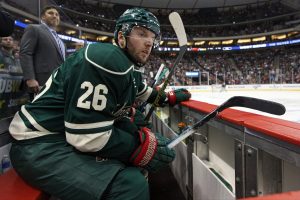 There was a bit of concern about Vanek after the 2014 postseason, when he vastly underperformed in the playoffs with the Canadiens. After that, many wondered if the Minnesota Wild organization would change its mind about signing Vanek to a long-term deal if he wasn't going to perform, especially considering his age. Nonetheless, Thomas Vanek is now a part of the Minnesota Wild and a good number of people don't seem to happy about that.
More Than Goals
Okay, so Thomas Vanek has one goal so far this season. That's not exactly what the Wild were hoping for and this is exactly what we were all afraid of when Vanek was signed this summer. Some of us even wondered if he was going to be the next Dany Heatley. At the start of the season, it was looking like that was going to be the case. Now some people think hockey is all about who scores the most goals, and yes, that is a big part of it. But some of the most important players are the guys that make those passes that lead to goals, the players that do the not-so-pretty work "behind the scenes."  These guys never seem to get any credit for  what they do and Thomas Vanek is one of these guys. Vanek currently leads Minnesota in assists, with 10 and is fourth on the team in points. Vanek isn't a complete waste of a roster spot and he's obviously contributing to the team, even if it's not by scoring 20 goals. Plus who knows – Mike Yeo could come up with some magical line combination and Vanek could break out and score 20 goals in the last two months of the season. As with any new player, finding the right line mates is an essential part of goal scoring success.
Clearly Thomas Vanek isn't the most incredible player on the team right now. He's not the superstar the Minnesota Wild were hoping they would get, but he's not bringing the team down, in my opinion. He's obviously contributing to the team in some way, and that's still better than nothing. He deserves a chance to prove that he still has something to offer and that he's worth $19 million.
There's still almost five months left in the season; Anything could happen in that amount of time. Mikko Koivu could even score another goal with that much time left.
Alli covers the Minnesota Wild and has been a contributing writer with THW since August 2014. She is currently a journalism and sports management student at the University of Minnesota. For all of your Minnesota Wild news and updates, follow her on twitter: @allibaker23