After a 7-1 drubbing at the hands of the Chicago Blackhawks, after the team left the ice escorted by a chorus of boos from their faithful, it's no wonder the last place Oilers are rumored to be having a fire-sale, with very few untouchables. David Perron is thought to be the first guy who's going to be moved. GM Craig MacTavish wants a center, and it looks like he'll do whatever it takes to get one. It begs the question as to why in the world anyone on this team believed that they had enough depth at center to justify not making more offseason moves. Was a mid-season trade always on the horizon?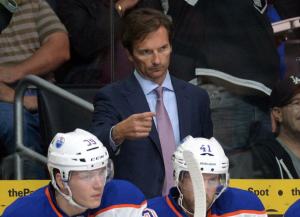 In Defense of Dallas Eakins
When a hockey team goes south, the guy who takes the fall is usually the coach, because you can't fire the whole team. But since 2009, the Oilers have had five different head coaches, and the exact same on-ice results. So it's no surprise that Dallas Eakins wasn't fired two minutes after the loss to Chicago. In fact, he got a vote of confidence from the GM. Not that it has much weight in this day and age, as coaches get fired no matter what the GM says to calm the masses. But if I may be so bold as to say that the coach isn't the problem here. Granted, he is the one giving Justin Schultz ample ice time despite the fact that he's overall pretty terrible. But, how much interference is he getting from above? The management group in Edmonton is very hands on, that much we know.
With this current group of players, with the way this team is constructed, what would a new coach really accomplish? Say they bring in Dan Bylsma for example. He may get a few wins to start, because that's what happens when there's a coaching shake-up, but the Oilers will eventually revert back to the norm, because no amount of coaching is going to make the goaltenders more talented, make the defensemen skate faster and be more mobile, or create a legitimate number two centerman. Eakins is not innocent, because he still makes decisions, and questionable ones at that. But really, what could Scotty Bowman even do with this group? Some fans may not want to accept it, because blaming the coach is the easiest course of action. But the problems run much deeper.
Is a Trade the Answer?
It's interesting that MacTavish is now willing to trade just about everyone off the roster that was created partly by him, and mainly by Kevin Lowe, who is still in a management position, and still very much in power. Would Lowe step forward and admit the way this team has been constructed has been a disaster from start to finish? The Oilers are strong on the wing, and skilled up front, but they have no goaltending depth, and their defence is slow. Building from the net out is clearly not a philosophy adopted by this team. Not everyone has an elite goalie, you might say. Perhaps, but the good teams have competent goalies, even if they aren't elite, and have elite defensemen to make up for it. The teams who compete year in and year out have strength in at least three of the four crucial categories: Center ice, goaltending, defence, and forward depth. Can you say which of those areas the Oilers are particularly strong in?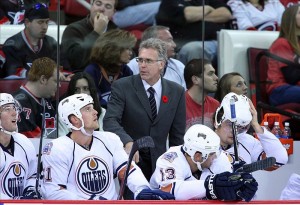 Craig MacTavish, you can fire Dallas Eakins. You can trade David Perron and Jordan Eberle. You can continue to put bandaids on a bullet wound. But until you look in the mirror, both you and Kevin Lowe, nothing will actually change. But hey let's go even further up than that, to ownership. When you see a packed building every night, when you see merchandise flying off the shelves, when you see a profit at the end of the year, it's hard to justify any kind of big shake-up. But before you trade everyone and get a new coach, you need to clean house in upper management. Lowe and MacTavish are out, new blood is in. No Oiler alumni. No one with ties to the organization. Someone who isn't afraid to do what it takes to build a winner.
It's up the players to work hard. It's up to the coaching staff to build a system that works. But there's only so much you can do with the product that's given to you. Does this mean they have to tear down the roster? Well so much needs to be fixed, they may have to start a re-build on the re-build. But there are good pieces. It's not all bad. But until there is new management, nothing will change. The team is frustrated. There's no unity. There is no push-back. It starts at the top. Look at a successful franchise, and look at their management. Stop worrying about being loyal to the stars of Oilers past. They did a lot for the team back then, but they are doing nothing but destroying it now.
Marcy, a former hockey player, is a hockey correspondent on CTV News and TSN radio. She began her career as a Sports Journalist in 2009 and has been part of The Hockey Writers since 2010, where she is currently a senior writer and editor.