A quiet news day in hockey gives us a chance to have a look at one of hockey's toughest men – Bob Baun, the hard-hitting defenceman of the Toronto Maple Leafs.
1964 overtime goal will be the stuff of legends some day
Baun, who most everyone knows now, played in last spring's Stanley Cup final's sixth and seventh games after suffering a cracked ankle.  The injury was sustained when he blocked a shot in the third period of Game Six.  He was removed from the ice on a stretcher and looked done for the rest of the series.  However, the game went into overtime and Baun miraculously appeared on the Toronto bench.  He got onto the ice just in time to stop a Detroit clearing attempt. He fired a bouncing, skipping shot which eluded his future team mate Terry Sawchuk in the Detroit goal to give Toronto the win and force a seventh and deciding game back in Toronto.  The Leafs, of course, won that seventh game going away, 4-0.
Hull astonished Baun kept playing
This past weekend, history seemed to repeat itself as far as Baun is concerned.  Once gain the fearless Toronto defender found himself blocking a shot.  This time, though, it was no shinny player firing it puck, it was none other than Bobby Hull, owner of the hardest shot in hockey.  The puck ricocheted off Baun's ankle and although in obviously pain, the guy they call Boomer continued to play as if nothing had happened.  Hull was incredulous at seeing Baun continue in the game, almost as if nothing had happened.
After the game, the swelling was so bad, Baun was unable to put on his shoe, and he was seen hopping around the Leaf dressing room on one shoed foot, the other remaining bare. Leaf president Stafford Smythe, who was unaware of the incident, commented: "Baun probably has a broken leg but it won't keep him out of the game in Boston."
Bob did suit up in Boston and helped the Leafs to a 3-1 win over the Bruins.  Tainer Bobby Haggert had high praise for Baun's toughness and indifference to pain,
High praise from Haggert
"That Bobby Baun is a  marvel.  He shouldn't have been playing Sunday night.  We had an ice-pack strapped to his bruised right ankle for 24 hours before game time.  So right away he steps into Reggie Fleming with a check that rattled Reggie's wishbone.  Next he stops a shot with the same foot.  Instead of crying 'uncle' he stays out there, doesn't miss a shift and hands Fleming two more bruising checks."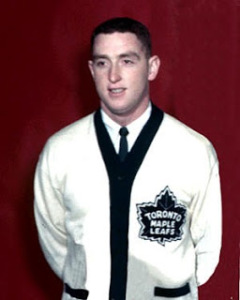 Terry Sawhcuk chimed in on Baun's ability: "Baun is a much better skater than I thought.  I had him tabbed as strictly a tough guy who had to get you set up.  But he can go find you and do a half dozen other important things on defence."
Two Memorial Cups with Marlies
So exactly who is this 28-year-old stocky blue liner who has spent his entire NHL career with Toronto.  He was born in Lanigan, Saskatchewan on September 9, 1936.  He stands only 5 ft., 9 inches tall, and weighs in at just 175 pounds, but those who have had the misfortune to experience one of his crushing body checks swear he's bigger.  He played his junior hockey with the Toronto Marlboros, winning the Memorial Cup in 1955 and 1956.  He played most of his first professional season with Rochester of the American Hockey League in 1956-57, but also appeared in 20 games for the Leafs,.  The very next season he was up with Toronto for good.
Bob isn't known as an offensive player, although he can pop the odd goal.  He has played mainly defence in his career but has also seen brief duty on the forward line, and enjoyed his best goal scoring year in 1956-60 when he potted eight, to go along with nine helpers for 17 points.
Team mates rely on Bob's business acumen
"Boomer" is popular with his team mates and is often sought out for advice on contractual issues.  He has the reputation among the players as having a "good head for business".  He was one of the Leafs young players that was most interested when Ted Lindsay attempted to form a players union in the 1950s.
Bob Baun is a winner, of that there is no doubt.  His arrival in Toronto coincided with Toronto's rebirth as one of the NHL's elite teams, and he has been an integral part of the Stanley Cup-winning lineup for the past three years.  Many experts believe that Toronto's defence, considered the NHL's best unit, is the key to their success.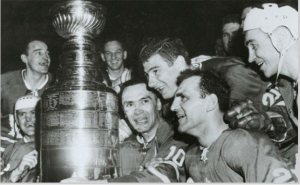 Baun and his partner Carl Brewer have that perfect blend of brawn and finesse and should continue to give the Leafs outstanding blue line work for years to come.