4713.  The number of miles Villehart Kuusamo traveled from Ylitornio, Finland, to Salt Lake City, Utah.  As astonishing as that number is, it is even more remarkable to think that there are less people in Ylitornio than the amount of miles in between those two destinations.  It is, indeed, quite the trek, and it was taken this past season by the young goaltender who was taking the first steps toward a career in North America.  In 2011, Kuusamo left his small town in order to go to the Beehive State capital with the hopes and dreams of making an impact upon a new team, a new country and a new continent.  By the end of the 2011-12 season, it is wise to assume that the trip was worth it.
The young goalie's odyssey started before he was even born.  Before he was to arrive, his mother and father were unsure about what they were to name their son, a topic which sparked much debate among the expectant parents.  Mrs. Kuusamo liked the name Elmeri, a name her husband did not enjoy.  Mr. Kuusamo wanted the name Ville, a name close to his own name, Veli, but his wife felt that to be too common.  They were about to agree on Ville-Elmeri; hyphenated boys' names like that are very frequent in Finland.  Mrs. Kuusamo, however, changed her mind after remembering a book she enjoyed.  In the novel, one of the main characters was a German knight named Willehard.  She simply changed the first and last letters, turning the name into a more Finnish-sounding one, all the while keeping the "Ville" that her husband enjoyed.  So, on Tuesday, July 27, 1993, Villehart Elmeri Kuusamo entered the world, his name appeasing both of his parents' wishes.
In 1997, at the age of four, Kuusamo began skating and playing hockey in his hometown. Although quite a small town, Ylitornio is the home to Etelä-Portimo, also known as Et-Po 72 due to its founding year; the team plays in the Suomi-sarja, the third-highest league in Finland. It was not until six years later in 2003, when Kuusamo was ten years old, that he decided instead to become a goaltender.  He always wanted to be the goaltender in practice, citing that it appeared fun and, showing much maturity on his part, he realized that the goalie was one of the most important players on the ice.  From 2003 to 2008, Kuusamo played minor hockey in Ylitornio, biding his time until he could make it to the higher junior teams.  Many times, his teammates were older than himself, showing that he had the potential to play against others with much more experience.
By 2008, the then 15-year-old goalie was ready to prove and assert himself.  That season, Kuusamo joined Et-Po 72's under-18 team, which played in the junior B III-divisioona, the third-highest junior league in Finland.  Despite his youth and inexperience at such a level, his coaches had enough faith in him to give him the #1 job.  Kuusamo's statistics that season were not accurately recorded but as it is in some Finnish under-18 leagues.  As well, Kuusamo was given the chance to cross the border to play two games in Sweden with Övertorneå HF J18; he played in two games against the under-18 team of Luleå Hockey.
In 2009-10, Kuusamo returned to Finland to a very busy season.  He played on two junior teams, the under-18s and the under-21s; he was also given the opportunity to play on the top representation team for Et-Po 72.  In nine games with the under-18 team, Kuusamo recorded a 3.94 goals-against average and an .886% save percentage, quite impressive for a 15-year-old goaltender.  In five games with the under-21 team, who were playing in the fourth-highest hockey league in all of Finland at the time, Kuusamo did not record what could be considered the best goals-against average but he did have a rather decent .758% save percentage, incredible for his age.  The under-21 team, who were out of the playoffs already, was later relegated to the fifth-highest league in Finland.  Upon the end of the junior season, Kuusamo was called up to Et-Po 72's men's team, which plays in the Suomi-sarja, Finland's third-highest professional league.  He played only one game and, while his goals-against average for it is not known, Kuusamo must have faced a considerable number of shots, recording an impressive .851% save percentage in that contest.
During the 2010 offseason, the 6′, 176-pound goalie pushed himself harder than ever before, willing to prove that he belonged in higher leagues among older, more experienced players.  He had proven that he had the talent and the capability but all he needed was the opportunity.  Kuusamo practiced twice a day, both on-ice and dryland, all the while awaiting tryouts from other teams.  The first one he went to was with TPS Turku, a team that developed past and present NHL goalies such as Miikka Kiprusoff, Antero Niittymäki, Jani Hurme and Fredrik Norrena; in addition, they developed players such as Mikko and Saku Koivu, Kimmo Timonen, Jere Lehtinen and the late Kārlis Skrastiņš.  They did not sign him, though, opting not to sign any goaltenders who came on a tryout basis.  As well, Kuusamo attended a tryout in Oulu for the Mestis team Kiekko-Laser but it was too expensive for him to play there.  He decided to return home to Ylitornio to play in the system of Et-Po 72 again.  Perhaps it was for the better that he did not go to Kiekko-Laser; on December 5, 2011, the team went bankrupt and dissolved.
After not making either TPS or Kiekko-Laser, before starting another season with Et-Po 72, Kuusamo stayed busy.  He worked out five times per week with Et-Po 72's men's team and, even more outstandingly, he found time to attend the well-known Gold in the Net hockey school.  He gave his all and he was rewarded by being named the recipient of the "diehard trophy," which is given to the goaltender who works the hardest and does not give up. Kuusamo was then given a surprise from his father, one that completely changed everything for his son.  His father got him sessions with Finnish goaltending legend Jorma Valtonen, who was then the goaltending coach for the KHL team Sibir Novosibirsk.  Valtonen allowed Kuusamo to practice with the team's two goalies at the time, the late Stefan Liv and Russian netminder Yuri Klyuchnikov.  (It must be noted that Valtonen is currently the goalie coach for the junior team of Lokomotiv Yaroslavl', and his assignment to that junior team, saved him from possibly being killed in the plane crash of September 7, 2011.)
Before Kuusamo returned to junior hockey, he was given the opportunity to play in two preseason games for the men's team of Et-Po 72.  Both of the games took place in Sweden.  The first game was against Kiruna IF, a contest Et-Po 72 won 4-3; the other was against Kalix Ungdoms HC and they lost 5-1.  After those games, Kuusamo was sent back to the under-18 team.  The squad was immediately thrust into qualification for the I-divisioona, the top division of Finnish junior hockey.  Undeterred, Kuusamo stood up to the challenge.  He recorded an even 8.00 goals-against average in ten qualification matches and, despite his GAA, he faced many shots and he registered an .863% save percentage.  Promotion, however, was not in the cards for Et-Po 72's under-18 team and they were relegated to the III-divisioona once again.  He played 12 games for the under-18s, registering a 6.01 goals-against average and an .865% save percentage.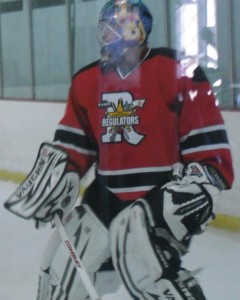 Kuusamo also got the opportunity to play for the under-21 team, the A squad of Et-Po 72's junior teams.  In nine games, he registered a 6.38 goals-against average and an .840% save percentage.  Upon the completion of that tenure, Kuusamo thought long and hard about what he was going to do for the next season.  He would be too old to rejoin the under-18s, as his eighteenth birthday was coming up in July of 2011.  To add, the under-21 team folded so all the players had to find employment elsewhere.
During the summer of 2011, Kuusamo did not attend any tryouts; rather, he decided to get a part-time job so that he could make some money for himself.  He did not, however, keep himself completely away from hockey.  He was invited by Gold in the Net to help coach at a camp for younger goaltenders, something that he could not pass up if he tried.  Not only did it give him the chance to pay it forward based on his own success at that camp the year before, but it also gave him the chance to practice twice a day. Kuusamo also looked for a new team and, before the end of the summer, he found an offer he could not refuse.  The offer came from the Northwest Regulators, a team in the Southwest Youth Hockey League based in Salt Lake City, Utah.
By the time September 2011 came around, Kuusamo was on his way to Salt Lake City to start playing for the Regulators.  Upon his arrival, he realized that he was not going to be the only Finnish goalie there.  He was joined by Aleksi Kiviranta, another 1993-born netminder from his homeland.  Kiviranta, however, graduated early to the Western States Hockey League to play for the Ogden Mustangs, a team less than an hour away.  Kuusamo was immediately given the faith of his new team's coaching staff, especially his new goalie coach Sylvain R. Limoges; he was quickly chosen as the #1 goalie for the midget AA team.  On some occasions, he also practiced with the midget AAA team but his allegiance to the midget AA program and his new teammates overruled; that being said, he remained with the AAA squad.
With the midget AA team, Kuusamo played in the most games he had ever participated in during a single season, appearing in 33 games over the course of the year.  He was rewarded both statistically and with accolades.  Kuusamo recorded some of the best statistics of his career; while his win-loss record is not immediately known, he did record a 3.41 goals-against average, a .901% save percentage and five shutouts.  He was rewarded by being named the team's most valuable player and he was also named the "Player's Player," an award given to the MVP as chosen by his teammates.  He was also named a tournament all-star twice. Kuusamo then helped the Regulators win the SWYHL Midget AA championship.  His first season in North America was a resounding success.
While Kuusamo was making a name for himself on the ice, he was also endearing himself to his new community off the ice, as well.  He began attending Mount Vernon Academy, a strict private school in nearby Murray, as a member of the school's international program.  Kuusamo took great pride in his studies, putting up good grades in his courses, and he will be obtaining his high school diploma very soon.
*
While pursuing his hockey career, Kuusamo found himself doing well in a different incarnation of the sport.  He also began to become a rather talented and accomplished ball hockey goaltender.  In 2009, he joined a ball hockey team called Peräpohjolan Poropojat (the Reindeer Boys) and he has played with them ever since.  That same year, he helped them win the Finnish national ball hockey championship.  In 2010, his team participated in the Euro Cup for ball hockey, which took place in Slovakia.  Kuusamo registered a .924% save percentage, the third-highest at the tournament, quite impressive for a 17-year-old goalie.  During the summer of 2011, they were Finland's representative at the Street and Ball Hockey World Championships that also took place in Slovakia.  Kuusamo was the youngest player at the tournament but that did not stop him from playing in five games, three against Canada and two against Germany. This summer, the Euro Cup will be held in Austria and it is likely that he will be the #1 goalie for Finland at that tournament.
*
Going into the 2012-13 season, Kuusamo has several possibilities open to him.  There are some teams in Utah in the WSHL with connections to the Northwest Regulators; that league is a definite possibility.  He could also go to other American junior A leagues, such as the USHL, NAHL and others.  Maybe a team in the Canadian Hockey League can nab him up in the 2012 CHL Import Draft.  Anywhere he goes, Villehart Kuusamo will definitely do well.  His first season in North America has already shown that to be a definite.