Late First Round Steal
It's no secret that the Red Wings are devilishly good at building through every round of the draft. Even though Ken Holland is known best for finding gems in the later rounds, it was the first round in the 2013 NHL Entry Draft where Holland may have found Detroit's Next Big Thing. Anthony Mantha, the only 50-goal scorer in the 2013 draft, is the latest in the Red Wings' strong offensive talent pool. After the emergence of Tomas Jurco, Tomas Tatar, Gustav Nyquist, and Riley Sheahan during the 2013-2014 season, Mantha has good reason to be excited about being part of the Detroit Red Wings organization.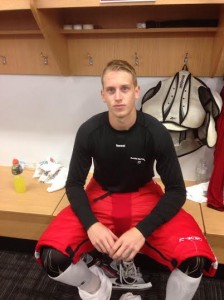 The Hockey Writers had the opportunity to speak to Mantha at the 2013 Detroit Red Wings Development Camp in Traverse City, Michigan last summer. When asked about the possibility of  playing alongside this great group of young forwards, Mantha expressed great excitement, saying "It's a great opportunity for me, just being drafted over here, it's a great moment. Playing with those guys I used to play against, that right now are helping [the Red Wings]. We'll be a great offensive team."
Burning Out Lamps
At that time, Mantha had no idea just how good 2013-2014 was going to be for himself and the young forwards in Detroit. Mantha remarked that his big goal for 2013-14 was quite simply to have "a great year next year in juniors." A look at his stats sheet tells fans that Mantha is as good at setting goals as he is at scoring them.
During his 2013-14 season with the Val-d'Or Foreurs of the QMJHL, Mantha saw his 50 goal season bested by a 57 goal campaign, while playing ten fewer games. Additionally, his previous career-high 39 assists jumped to 63, again in ten fewer games. In total, his point production exploded by 74% while playing less games. His playoff performance was particularly stellar, notching 18 goals in 17 games, while adding 7 assists, for a total of 25 points.  These are incredible numbers by any standard, but it is important to remember that there is a big difference between "The Q" and the National Hockey League. While it would be wholly unrealistic to predict him getting close to these  numbers right away in the NHL, Mantha's size and great shot should greatly ease the transition to Detroit.
More so than most other players interviewed at Development Camp, the jump to the NHL seemed to be present in Mantha's mind, something Red Wings fans should be excited about. Another stated goal for his future is "to come back here [in 2014] with positive thinking, trying to impress, making the big team right away."
While that is a great goal for the big-goal scoring winger, he will face some stiff competition from the likes of Teemu Pulkkinen, Mitch Callahan, as well as the crop of  young forwards who graduated from Grand Rapids in 2013-2014. Mantha realizes this, and reported that if he does not make the Red Wings right away, he will continue to hone his skills in the AHL with the Grand Rapids Griffins.  Since he is not subject to waivers, Mantha should see at least some playing time in the NHL in 2014-2015, even if he does not make the team right away. However the tryout goes, Ken Holland has stated that Mantha will have just as good a chance as anyone to don the Winged Wheel in 2014-15.
"If Anthony Mantha is ready and he beats somebody out, he'll play in the National Hockey League." – Ken Holland

— Detroit Red Wings (@DetroitRedWings) April 29, 2014
Filling Out and Moving Up
At a towering 6′ 5", Anthony Mantha is consistently one of the biggest players on the ice at any given time. Weighing in a 205 lbs, however, leaves some room to add muscle. The NHL is full of big, heavier bodies who are looking to knock a goal scorer like Mantha off the puck whenever possible. Mantha says this is an area that he would like to improve on, and he notes that the Red Wings-sponsored nutrition classes at the 2013 Development Camp have given him so good ideas on how to gain that muscle in a healthy way. If he can make good on this goal, Mantha will make the jump to the NHL much less painful on himself by being able to give more hits than he may otherwise take.
Mantha compares his ideal style of play to that of Eric Staal. "He's a big guy, tall guy, he can score goals, he has PP time, and he also plays on the PK. That's my type of guy."  The Red Wings would be thrilled if Mantha can develop into that type of player at the NHL level, as the team's only true veteran power forward, Johan Franzen, is a polarizing figure in Detroit due to his declining production and perceived lack of enthusiasm.
Enthusiasm does not seem to be a problem at all with Mantha. A fast skater and a gracious locker room presence, Mantha appears to have all the tools in his arsenal to have a successful career in hockey. Also important, he knows that good things don't happen over night.
"It's really a process of growing up right now," Mantha says. No matter at what level he plays next season, or if his time is split between Joe Louis Arena in downtown Detroit and Van Andel Arena in Grand Rapids, he is growing up in a system known for developing and growing talent.
The 2013 NHL Draft will go down as a success for the Red Wings. Ken Holland landed another special player, after trading two spots down on the draft board. Iron Anthony Mantha's career is certainly alive, and Red Wings fans everywhere should care about his exciting future.