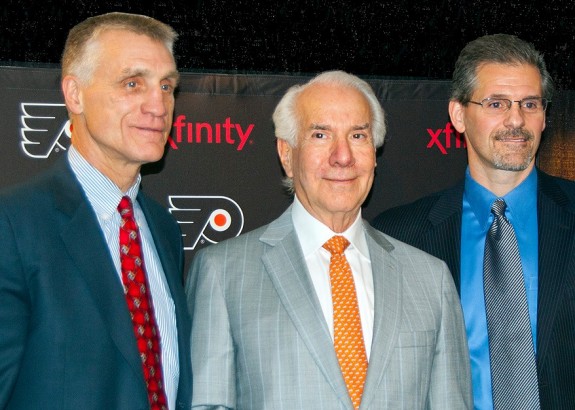 It's a big day in Philadelphia.  Ron Hextall has just been named the new GM of the Philadelphia Flyers and Paul Holmgren was named President of the team.  Listening to the press conference, it's clear Hextall has a plan and will likely begin making moves in the very near future to further develop this team into a Stanley Cup contender.  Here are a few moves to ponder before the offseason hustle and bustle officially begins.
Salary Cap Struggles
Paul Holmgren has put the Philadelphia Flyers in a precarious position regarding the salary cap.  According to Capgeek.com, the Flyers will have around $6.5M to work with this offseason.  There is still a possibility of signing Kimmo Timonen and a definite need to sign a backup goalie, so that number will be much lower.  Personally speaking, I would want Timonen back at a max $3M.
I'm still a firm believer that Adam Hall should be a top priority for the Flyers to get under contract.  He's money on faceoffs with a 59.6% this season and is a workhorse on the penalty kill.  Guys like Adam Hall are very cheap and  have low-risk/high-reward benefits.
[Related: Philadelphia Flyers Schedule]
Trade Bait
Elliotte Friedman in his 30 Thoughts speculated Vincent Lecavalier could be traded to Nashville.  Vinny had a rough go this season with being juggled on every line, injury issues, and lack of production.  If what Homer said was true, Lecavalier would be a great trading piece for Philadelphia now that Laviolette is the new head coach of Nashville.  The Flyers and Predators have been great trading partners in the past and Nashville is desperately looking for talented forwards for Laviolette's system.
Flyers fans shouldn't get their hopes up about someone being interested in Scott Hartnell at his price and contract length.  However, there is one player that never gets talked about who I believe has immense trade value: Matt Read.  Frankly speaking, Matt Read is a productive forward, but it's difficult to see him getting much better.  A 40-point player is about where I see his potential and he's coming off a fantastic year.  It probably wouldn't be a terrible idea to entertain the notion of trading Read while his value is very high.
Luke and Brayden Schenn are two other players that could very well find themselves wearing a different jersey come next year.  Both had relatively high expectations; both were given opportunities to perform well; both had mediocre seasons.  There is always a need around the NHL for young defenseman and Luke Schenn would be of interest to many teams.  Brayden Schenn is still young and has great potential.  It'd be a smart play to package both brothers in a deal for either a better defenseman or a serviceable first line left winger – the two biggest needs for this Flyers team.
Free Agency
For whatever reason, the Flyers always seem to be big players in the free agent market.  With the needs at defense and left wing, this year's free agency period is no different.  If the Flyers are able to move a significant amount of cap space, players like Thomas Vanek and Matt Niskanen can be had for the right price (assuming they don't re-sign with their respective teams).  Moulson would likely be a better fit than Vanek since he will be a cheaper commodity.  But you also can't rule out offer sheets.
If there's any team who isn't afraid to throw offer sheets at players, it's the Philadelphia Flyers.  They've tried to sign Ryan Kesler and Shea Weber to no avail, but if the contract disputes between PK Subban and the Montreal Canadiens keep dragging, don't be shocked to see Hextall make a play for the superstar defenseman.
NHL Entry Draft
At the press conference this afternoon, Ron Hextall had this to say:
"I like young players, and I like draft picks.  My vision is to build this team and continue to make this team better through the draft.  That doesn't mean we won't make trades, it doesn't mean at some point, if it's a good enough player and we've got to trade a young player we may look at that.  But it's not a vision of mine to trade young players for older players. It would have to be a really strong deal for us."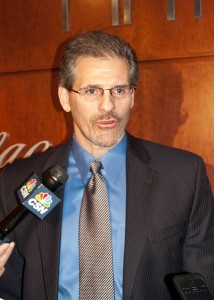 That's good news for fans who have seen the organization trade away many top picks over the past decade.  Of late, Paul Holmgren has done a great job of keeping high picks and an
even better job at drafting
.
News broke a few days ago that the Florida Panthers are highly considering trading their first overall pick.  It'd behoove the Flyers to come a knockin'.
Aaron Ekblad is going to be a bonafide talent on the blueline for many years to come.  The Flyers have the pieces to move to get the first overall pick and Ekblad could step in right away.  The asking price isn't going to be cheap, but for the Flyers it's probably worth it.
If a deal for 1st overall doesn't get done, players like Lecavalier, both Schenns, Read, etc., can be moved to stockpile draft picks in 2014 and 2015.
Whatever happens, there is one thing that is almost certain: this offseason is going to be a doozy.
Follow Shawn on Twitter: @ShawnTHW