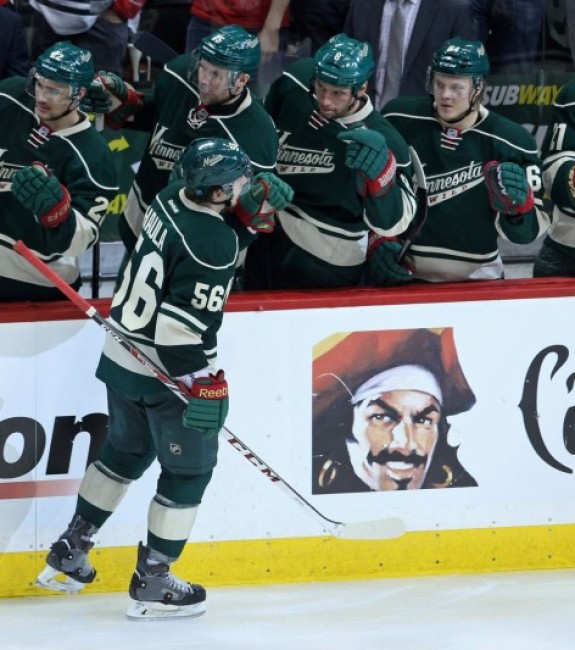 "Do-or-die" scenarios in the playoffs are funny. A team that handles them well only creates more of them. A team facing those must-win scenarios, like the Minnesota Wild have, hope that their trajectory will be closer to that of Chicago, who went down 2-0 in Round 1 against St. Louis and then won six straight, eradicating the must-win pressure from most of their games.
Minnesota is not Chicago though and must-win games only beget more must-win games for them. It has made for some exciting, emotional hockey — Mikael Granlund's one-man-show of an OT winner in Game 3 (see below), Nino Niederreiter's Game 7 OT winner — but there's reason to worry that these exciting games could be wearing down on the team and making it difficult for them to make a long run into the playoffs.
Anatomy of a Must-Win
They went down 2-0 to Colorado, facing a do-or-die at home in Game 3. They won two straight, playing incredibly tough and outshooting Colorado 78-34. They faced elimination in Game 6 and won. They faced elimination in Game 7 and won.
Four of their seven opening round games could be classified under the "must-win" category (Games 3, 4, 6, and 7) and they won all of those games.
In the second round it feels a little bit like Groundhog Day, as the Wild faced a similar must-win scenario in Game 3, returning home down 2-0 in the series. No, a loss in Game 3 doesn't mean elimination, but a 3-0 deficit means they face elimination in Game 4. Even a Game 4 win doesn't help their chances much as they'd have to return to Chicago for Game 5, still facing elimination. That's aside from a 3-0 series deficit being nearly insurmountable, though not impossible.
Tuesday night the Wild, once again, came up with a win when facing the must-win scenario, netting four third period goals to rout Chicago 4-0.
The Wild had two goals from Mikael Granlund and one each from Erik Haula and Zach Parise. Those three have been fantastic in the must-win games, as has Niederreiter, who had an assist, a pair of shots, and an all-around strong performance.
Did Game 3 Change Anything?
So, the titular question: Did Game 3 change anything for Minnesota? Yes and no.
It didn't relieve any of the pressure they are facing, but it also kept hope alive going into Game 4 in Minnesota, where they remain unbeaten in the postseason. Game 4 is another must-win for them.
But therein lies the problem for Minnesota. How long can a team keep going in the playoffs with the emotional pressure of constant must-win games? Friday is their 11th game of the postseason and arguably their sixth must-win game.
They're playing from behind in each series, creating lots of pressure on team leaders and ensuring that, if they are to continue on in the playoffs, that they'll be having some long, bruising series. This team has risen to the challenge repeatedly during the playoffs, but there are going to be some emotionally exhausted players on this team by the end, especially considering how many of their players have very little to no playoff experience. (This is the first postseason appearance for Niederreiter and Granlund, as well as rookies Haula and Justin Fontaine, all of which have played a crucial role in the team's success.)
The Wild's run has been fun to watch. They're kind of the Bad News Bears of the playoffs this year. But losses early in the series and difficulty winning on the road — especially when they will not have home ice advantage against anyone — is going to make a deep run increasingly difficult.
Dustin Nelson writes about news and the Minnesota Wild for The Hockey Writers.