James Reimer has been a good soldier for the Toronto Maple Leafs during his tenure with the team. However, that tenure might be coming to an end.
Reimer was drafted by Toronto in the fourth round (99th overall) of the 2006 NHL Draft. He didn't debut with the Leafs until the 2010-11 season when the Leafs were dilapidated by injuries to their goaltenders, Jonas Gustavsson and J.S. Giguere. Reimer would go on to play 37 games that season, the most of any Leaf goalie that year. He finished the season with a 20-10-5 record with .921 save percentage and a goals against average of 2.60.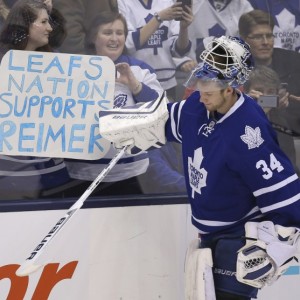 After falling down to the backup position for the 2011-12 season, Reimer once again took the reins in the 2012-13 season. Playing 33 games in the lockout-shortened season, he had a record of 19-8-5 with a .924 SV% and a GAA of 2.46. That helped the Leafs make it to the playoffs for the first time since the 2003-04 season.
Despite that success, it was after that season in which things started to go downhill for Reimer. In the ensuing off-season, the Leafs acquired Jonathan Bernier and he instantly became the Leafs starting goalie.In the past two seasons, Reimer has still yet to play more than 40 games in a single season. He has posted losing records both seasons.
What's Next?
This all leads to this season. Reimer is entering the final year of a two-year contract and will be an unrestricted free agent at the end of the season.
With the Leafs in a rebuild, will the Leafs want to keep a goalie that carries a $2.3 million cap hit to backup? They have three young prospects, one of which could easily be a cheap backup for a rebuilding team. Will Reimer want to stick around as a backup, or would he rather search for a another team in which he can get a better chance to be a starter?
There isn't another player on the Toronto Maple Leafs roster that has more reason to be angry at what the team has done to him than Reimer. If he is, he doesn't even remotely show it and if he does leave the Leafs, Toronto will be losing a lot of heart.