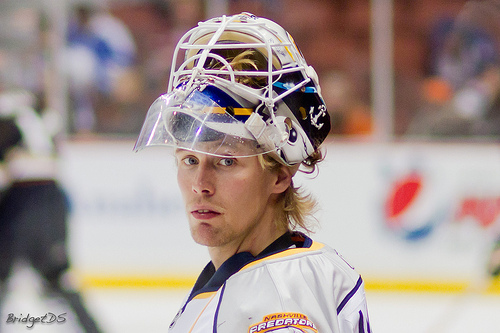 After a strong playoff run in 2010-2011 that saw the Tampa Bay Lightning lose to the Boston Bruins in the Eastern Conference Semi-Finals, the team took a step back by not making the playoffs in the 2011-2012 season. While the casual observer will look at the goal tending as the Lightning's biggest issue, there are several factors that played into the team's lack of success. Finishing a league worst 30th in Goals Against certainly won't help win any games, but Special Teams were also a huge area of concern as the Lightning finished 25th and 26th on the PP and PK respectively.
GM Steve Yzermen has addressed several areas in the off season by adding some key pieces to the puzzle. Goaltender Anders Lindback,  D-Men Matt Carle & Sami Salo, as well as winger Benoit Pouliot highlight the list. However, there is no doubting that the most important addition of the group is going to the former Predator's backup goalie. Drafted in the 7th round by the Predators in 2008, the 6 foot 6 goalie came into the NHL in 2010-2011. He has since served as the backup to Star goaltender Pekka Rinne, and will now look to establish himself as a legitimate #1 Goalie in the Eastern Conference.
After playing in only 16 games with the Preds last season, the hulking netminder is looking to capitalize on a great opportunity. He will be given every chance to win the starting job out of camp and seems poised to do just that. In his 38 career games played, Lindback has 16wins & 13 losses, to go along with a .252 Goals Against Average, and a .914 Save Percentage. He has also posted 2 career shutouts. On paper these numbers seem like a big upgrade to former bolts starter Mathieu Garon. In 48 games played during the 2011-2012 season the 34 year old netminder had 23 wins, to go along with a 2.85 GAA and .901 Save Percentage, with 1 shutout.
The added depth on defense should also help the goaltending situation in Tampa, however nobody is mistaking either Salo or Carle as defensive stalwarts. In order for the Defensive unit to help make life easier for their goaltender, the Lightning will need strong performances from their top 2 D-men Victor Hedmen and Eric Brewer. Hedmen seems ready to go back to work judging by his latest tweet below.
https://twitter.com/heds77/status/288825443153494016
While it seems as though the 2003-2004 Stanley Cup Champions are ready to get back into contention, only time will tell. It may be difficult for the club to gel, and for their goalie to excel in a shortened 48 game season. However if Lindback could get hot early, that alone may be enough to propel the Lightning back into playoff contention.
As a Life long Montreal Canadiens fan with a solid background in writing, Santino has worked for several online Hockey media outlets in the past.