Yes, at long last the lockout is over, and finally, we can get down to brass tacks – namely, what the 2013 season holds for the New York Rangers. A few specific topics that come to mind include the following.
Marián Gáborík, Rick Nash, and the Strategy of Line Combinations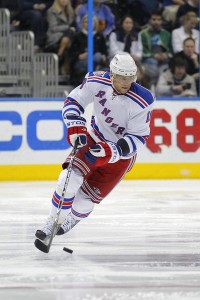 With coach John Tortorella confirming on Monday that Marián Gáborík , who underwent shoulder surgery last June to repair a torn labrum, is ready to go, the Gáborík focus can shift to the season ahead for the winger.
The acquisition of Rick Nash may take some scoring pressure off of (and some attention away from) the Slovakian Rocket, but even if there were five Nashes, it wouldn't change Gáborík's role or responsibilities on the team. He's not here to backcheck, block shots, or provide secondary scoring, and if he plays all 48 games of the shortened season, fewer than 20 goals has to be considered less than acceptable.
The key to his production level (other than staying healthy, of course) may well end up being where he is inserted in the lineup.
While many have raved about the offensive potential of a Nash-Brad Richards-Gáborík first line, I'm not a proponent of it. The reason for that is simple: if your top three players are all on the same line, it's a hell of a lot easier for the opposition to defend against them than it is if you split them up.
A few months back I speculated about the potential of a Nash-Brian Boyle-Chris Kreider line, and while I took some flack for relegating Ryan Callahan and Derek Stepan to the 3rd line (I positioned Nash-Boyle-Kreider and Carl Hagelin-Richards-Gáborík as the top two lines), I still think that having those six players on your top two lines makes them awfully hard to defend against.
Additionally, having players of the caliber of Callahan and Stepan – who could be joined by either Taylor Pyatt or Slovakian prospect Marek Hrivik, whom it has been speculated will receive an invite to training camp – illustrates tremendous depth, not to mention that those guys can certainly be difficult to defend against also.
In short, the more you are able to space out your talent, the better your chances of winning.
The Defense Rests?
Should Michael Del Zotto remain unsigned to begin the season? With Matt Gilroy also expected to be invited up from the Connecticut Whale for training camp, it will be interesting to see what the Rangers' defense looks like out of the gate.
Last season's ultimate shutdown pairing of Dan Girardi and Ryan McDonagh is a given, while on the second pairing, Del Zotto's absence would make Anton Stralman the most likely partner for Marc Staal. And the third pairing? Based on the current roster, that would be Steve Eminger and Stu Bickel, but the potential addition of Gilroy to the mix makes things more interesting.
Gilroy is certainly more offensively adept than either Eminger or Bickel, but his defensive abilities are questionable; Eminger is arguably more reliable in his own zone. Does that make Bickel the odd man out? It seems that the answers to these questions are wholly reliant on what happens in training camp: whoever impresses the most with his effort, dedication, and all-around game is likely to get the nod.
"We Want The Cup"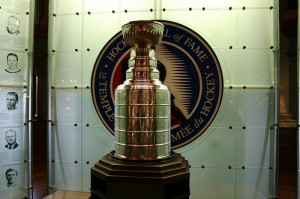 While a shortened season is, to my mind at least, preferable to no season at all, it's also a bit of a letdown considering that 2012-13 was looking like the season of the New York Rangers. Will it still be? And even if it is, will it mean as much?
Many proclaimed the New Jersey Devils' 1995 Stanley Cup championship was less meaningful due to the lockout-shortened season that year. But it's worth noting that these Rangers – provided they are able to resign a few key players whose contracts are about to expire, most notably Stepan, Hagelin and McDonagh – are built more for long term success than their 1994 incarnation, which was assembled more along the lines of "win now, worry about the future for the next 15 years". This isn't to say that '94 wasn't amazing (it was) or that I didn't dance in the streets of Manhattan with thousands of other fans (I did), but we also paid for that Cup win for a long time afterward.
These days, it seems GM Glen Sather has opted to do things "the right way" – by building through the draft, shrewd trades, and restrained free agent contracts, as opposed to trying to buy greatness outright – and that's why the Rangers are in the position they're in.
Eighty-two games would have been preferable to forty-eight, but right now, it's still good to be a Ranger fan, and there is little reason to think it won't stay that way for a while.
Amy Ernano is a lifelong New York Rangers' fan and believes that hockey is more than a game winning goal or a highlight on a sports show: behind every stat there is a story. She previously worked as a staff writer for Blue Line Station. You can follow Amy on Twitter at @AmyErnano