With the lockout unofficially over, many Ducks faithful's will see a solid core of young skaters summoned from the Ducks AHL affiliate, the Norfolk Admirals, to fill a void in the Ducks lineup and further bolster their star-studded roster. This article will assist Ducks fans in getting to know some "Ducklings" they may get a peek at during their abbreviated season.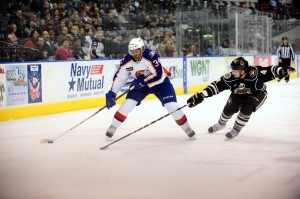 It's no secret that many top young guns that succeed in the National League are currently stationed with its AHL affiliate.  Devante Smith-Pelly is no different.  D. S. P. started the season off not producing like many fans thought he would; however; the 20-year-old has begun to demonstrate why he was the Ducks leader among rookies in games played while leading Ducks greenhorns in scoring. "Devo" as he is known to his teammates was productive in December scoring 3 out of his 5 goals during the month. The 220-pound power forward showed he could do more than throw his weight around scoring two pivotal goals December 15th. One goal clinched the Admirals an O.T. birth while his other tally was a shootout winner. Anaheim fans may see this familiar face soon. Devante Smith-Pelly's roomy in Norfolk, Emerson Etem, may also keep him company in SoCal. Etem admitted "he was gripping the stick a little too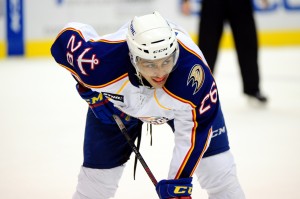 tight" in the beginning of the year until he lit up offensively against the Binghamton Senators November 2nd  scoring two goals. Since November 2ndEtem has not let up scoring 9 goals total. The Long Beach native has three 2-goal nights. Norfolk's head bench boss said, "You can see why he scored 107 points in Juniors." The 107 points Yawney mentioned was with the WHL's Medicine Hat Tigers just a year ago. Competiveness runs in Etem's blood as his parents were Olympic rowers and that's how they met.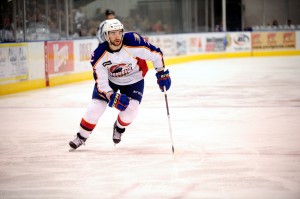 Kyle Palmieri needs no formal introduction. Ducks fans saw his face 18 time last year tickling the twine 4 times in those 18 games. Like always Palmieri has opposing netminders looking like Swiss cheese scoring 11 goals in 32 games with Norfolk. In December, Palmieri managed 4 goals in a 10 game span. Palmieri is an offensive powerhouse who can solve any equation that is thrown his way including the power play. Palmieri has been credited with 5 power play goals in 32 games with Norfolk.  You can see why this two-time AHL All-Star scored his 1st pro goal in his NHL debut. If there is one player that will deserve a look this season, it is 21-year-old center Peter Holland.The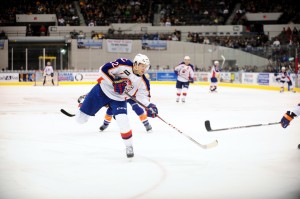 Toronto native hasn't tapped the brakes yet leading the way for  Admirals in scoring. "Petey" as he is known to his teammates has 30 points in 33 games played so far. Along with his offensive flair the 6'2" center stands up for his team. Last weekend Holland dropped his mitts against Syracuse's Richard Panik. The Syracuse forward was "taunting our bench" stated Norfolk Head Coach Trent Yawney. Holland took the initiative to aid his team. Moments after the fight, Kyle Palmieri silenced the Syracuse bench dead locking the game at 3 apiece. When it comes to blue-liners, first year North American pro Sami Vatanenmay keep Cam Fowler company on the blue line this season. This offensive-minded defenseman trumps fellow Norfolk defenders with 21 points.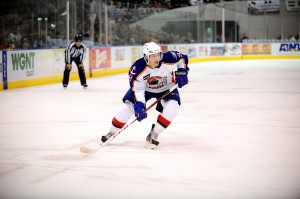 Sami possess a slap shot that leaves goalies questioning if it was fired by a cannon.  The Finnish-born defenseman was named the Finnish Elite League's Defenseman of the Year last season with Jyvaskyla.  Vatanen's offensive mind also helped Jyvaskyla capture the Finnish Elite League title last season. For 21, Sami is way beyond his years. Last summer the Ducks selected Hampus Lindholm with their 6thoverall pick. Hampus has competed in 19 contests with the Admirals thus far this season.  Hampus has 5 points for the season; however; he has had trouble staying healthy. Lindholm suffered from an upper body injury in early December. After his recovery, he was selected to represent his country, Sweden, in the 2012 WJC's. The tide turned again as Hampus was diagnosed with a concussion which washed him away from competing in the WJC's. Once Hampus recovers, he should be a force to be reckoned with. Barely legal enough to drive, Hampus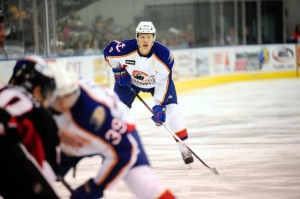 has shown that he can play on North American ice and can keep up with grown men. Lindholm is a franchise player for the Ducks and will be on a top defensive pairing in Anaheim sometime soon. Anaheim's Head Coach Bruce Boudreau was in attendance last weekend at Scope, the home of the Norfolk Admirals.  Ducks fans should ponder this thought. Was Boudreau in Norfolk to pick and choose what Ducklings he wants to take away from the farm once the doors to the Honda Center are unlocked for Ducks Hockey?  We'll have to wait and see what happens next.   Follow Ted on Twitter @bauerhockeydude