When was the last time the Buffalo Sabres took a major gamble? Not like signing Ville Leino as a free agent or trading away Zack Kassian for Cody Hodgson, but more like the last time the Sabres went all-in, which was back in 2007. They lost two key players: Chris Drury and Daniel Briere. Since then the team has not been willing to mix things up. Five years later it's time for them to finally rock the boat.
One of the players the Sabres are rumoured to be pursuing is Bobby Ryan of the Anaheim Ducks. While the Sabres have many great prospects/players to offer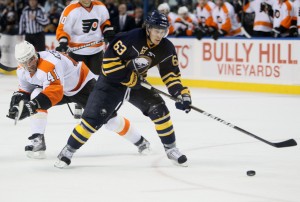 up, they will be bidding against two powerhouses: the Philadelphia Flyers and Boston Bruins. A sure way to ensure Ryan is wearing Blue and Gold next season, is to give the Ducks a player they couldn't say no to. That player would be Tyler Ennis.
While Sabres GM Darcy Regier has said he will not include Ennis is the deal and many fans are unwilling to think of trading away Ennis, wouldn't it be worth it for a statistically better player?
Ryan was selected 2nd overall in the 2005 draft. He's played for the Ducks the past four seasons and has scored 30+ goals and recorded 50+ points in all four seasons. He was also a member of the 2010 U.S Olympic team that won silver. At 6 foot 2 and 212 pounds he is also much taller than the 5 foot 9, 157 pound Ennis.
The smaller Ennis was selected 26th overall in the 2008 draft hs only played two NHL seasons, but has never scored more than 20 goals. In fact Ennis has only scored 38 NHL goals.
The Sabres would be trading away a player who had half of a solid season to get a player who has had 4 very solid seasons in the league. Right now the market for Ennis is very large, but theres no gaurentee he'll pan out. If the Sabres could get an established young player such as Ryan it could be the deal that rocks the boat and ignites the team.
For a team that finished 17th in goals for with 211, adding goal scoring should be at the top of Darcy Regier list. So far the Sabres have lost a goal scoring in Derek Roy and have added toughness. But it's time to start replacing that goal scoring a few extra goals can make the difference between making or missing the playoffs. Wouldn't it make sense to replace 20 goals with 31?
If it meant bringing in Bobby Ryan, would you be willing to part ways with Tyler Ennis?