With the now infamous injury to Sami Salo the Vancouver Canucks have been forced to shuffle their blue line this past week. Aaron Rome returned from his own injury and Alexander Sulzer has been forced back into the lineup to make up for Salo's absence.
Last night's 4-2 loss to the Anaheim Ducks showed how much the Canucks miss Sami Salo.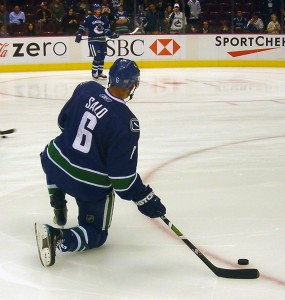 The team as a whole was flat but the loss was highlighted by both Sulzer and Rome giving the puck away repeatedly which led to several great Ducks scoring chances and goals. With Salo out, and given his injury history, the Canucks need to look for a more permanent answer to their blue line.
They need depth. With Salo's injury, Rome was matched up with Alex Edler as the team's second pairing. It is hard to imagine a team that Aaron Rome would find himself in the top four on. So why is he there now?
Is it time that the Canucks recall Chris Tanev from Chicago and give him a second shot?
Tanev impressed the Canucks when he was called up last season and the buzz was that Vancouver may have found a diamond in the rough. He is incredibly calm under pressure and can move the puck and get the offense moving.
He appeared in 29 regular season games last year and while he only chipped in with one point he also was steady enough to end up with an even plus/minus rating. Most notably he was inserted into the lineup in the playoffs, including three games in the Stanley Cup Finals where he was very impressive.
Tanev started this season with the Canucks and was a bit inconsistent to start the season. Of course, the same could be said about the team as a whole at the beginning of the year. That inconsistency got him only three games and demotion when Ryan Kesler came back from injury.
He was sent down partially because he was still under an entry level contract and would not need to go on waivers, and secondly to give him more consistent ice time.
With Chicago he has suffered a couple of injuries but has bounced back to play well. So far, in 25 games he has 12 assists and is plus five. While that is not the stuff of future Norris Trophy winners it might be good enough for Vancouver.
They don't need Tanev to score. What they need is some steady play on the back end with a guy who has shown his ability to get the puck out of his end with ease.
If Tanev comes up who sits?
It seems that the Canucks have a rotating cast of characters at the back end of their blue line. Last night Andrew Alberts was a healthy scratch. Alberts is not the flashiest guy out there but since joining the Canucks in 2010 he has shown that he is a dependable, serviceable player. The Canucks need him for depth as he has played well in big spots.
Keith Ballard continues to be an enigma with the Canucks. Strapped with a hefty salary Ballard simply does not mesh with head coach Alain Vigneault. Ballard is often a healthy scratch, even when it doesn't seem like he is playing poorly. You would think that the Canucks would love to move Ballard if they were willing to find someone to take on his salary. It would not be surprising to see his name pop up in trade rumors.
That leaves Sulzer and Rome.
Rome, for some reason, has caught the eye of Vigneault. While he often does not pass the eye test Vigneault uses him a lot. He has even spent some time manning the point on the second power play unit. Rome is not terrible and you can't crucify him for last night's terrible performance, but he is not a consistent defensemen and not someone who should be in the top four on this good of a team.
Sulzer is the guy that the Canucks have been using as filler this year. He has appeared in 12 games this season and is expendable. While not terrible he does not have the upside as Tanev does and should be the odd man out if Tanev were to be recalled.
With Sami Salo injured the time is now to get Tanev back in Vancouver. He has the potential to be a solid defenseman who will help them when the playoffs get here.
Andrew writes about the WHL and NHL Draft Prospects. He also covers the Seattle Thunderbirds for 710 ESPN Seattle and spent two years with Sportsnet. Follow him on Twitter @andyeide.