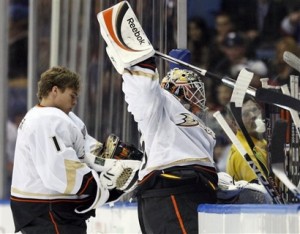 With Jean-Sebastian Giguere in a major slump Jonas Hiller has seen three straight starts. Could it be that Giguere's window of glory in Anaheim is in its final moments? Giguere has posted 1-5-2 record with a 3.68 goals against average in his last nine starts.  With such terrible number the Ducks have had no option but to turn to Hiller, who is carrying the team forward.
In Hiller's trio of starts the Ducks have won two of the three. Thumping the Coyotes 7-3, Losing to the Blackhawks 3-2, and a close 4-3 over the slumping Colorado Avalanche. After the win over the Av's Hiller leads the team in wins (13) and has a 2.18 GAA with four shutouts.
Hiller has long been known as an amazing backup, and has always filled the crease well in Giguere's absence but the question is arising is it time for Hiller to be number one? Giguere could be a welcomed addition to some teams in need of a goaltender with time closing in on the trade deadline. A Giguere trade this season is unlikely but come the next time Giguere comes looking for an extension he could be left looking for a new home.
Yes, Giguere is a Conn Smythe caliber Stanley Cup champion, but all season Hiller has looked more focused than his teammate. The question must soon become how long the Ducks will find it suitable to deal with Giguere's seasonal slumps. The last two of which Hiller has saved the Ducks in.
While Giguere pines away on the bench, searching for a way to break his puck stopping issues Hiller is stealing the show, and the starting job.
Most likely, Giguere will keep his job, but the groundwork is likely being laid that one day, in the future, Jonas Hiller will replace and be the starting goaltender for the Anaheim Ducks.
The Ducks won't let another great backup goalie slip away like they with Ilya Bryzgalov. If Jiggy wants to show he's still worth keeping around, and is still capable of winning cups maybe the next time he sees ice time he should play like he has some focus and experience in stopping pucks.
What are your thoughts? Is Giguere still the man in Anaheim? Or is the clock ticking, preparing for Hiller's time?