Back in 2012, the Boston Bruins drafted then-18-year-old Malcolm Subban, a netminder out of Toronto, Ontario who many were calling the best North American goaltender in the class (John Gibson was also a member of the 2012 draft class, so those people were wrong, but we'll get to that). Subban was coming off his second season with the Belleville Bulls of the OHL, during which he posted a .923 save percentage and 2.50 goals-against average in 39 games.
From the day he was drafted, the Bruins had high aspirations for Subban. Just one season removed from their 2011 Stanley Cup run, the Bruins had a promising young team, and many believed that Malcolm Subban had the potential to become a franchise netminder in Boston down the road.
Five years later, Subban has made just two appearances in the NHL, both of which went very poorly, and has struggled to find consistency at the AHL level. So, we're five years removed from being drafted, and Subban doesn't seem any closer to cracking the NHL roster, which leads to the inevitable question: Is Subban a bust?
A Rocky Road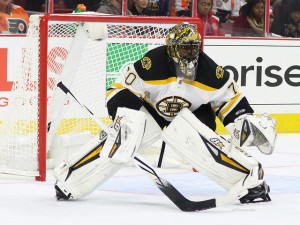 Malcolm Subban's professional career has been a roller-coaster ride. In his first season in the AHL, Subban posted a 2.31 goals-against average, good enough for fifth in the AHL and the best among rookies, accompanied by a .920 save percentage in 33 games. It was a successful season for the rookie, who appeared to be on track as far as NHL progression goes.
He posted similar numbers in his second season, finishing with a .921 save percentage and 2.44 goals-against average in 35 AHL games. However, the young netminder gave the Bruins a bit to worry about in his NHL debut, which he made in February of that season.
In his first taste of NHL action, Subban was ousted halfway through the game after giving up three goals on six shots. His poor NHL debut was worrisome, but not quite panic-worthy. Everybody has an off-night, and plenty of goalies struggle at first when they make the jump to the NHL level. That being said, it certainly wasn't an encouraging sign for the Bruins.
The next season, 2015-16, would prove to be the hardest of Subban's career. The third-year goaltender got off to a very tough start with Providence and failed to post an above-.900 save percentage in any of his first six games. Despite his rocky start, Subban found his game at the end of the 2015 calendar year and caught fire early on in 2016.
Things finally seemed to be turning around for Subban, who posted a .935 save percentage in January of 2016. But then, Subban's progression was derailed by a freak accident in February.
The Injury
After falling in a shootout to Albany to kick off the month of February, Subban and the baby Bruins made the trip north the next day to take on Portland. By that time, Subban had shaken off his early-season struggles and had worked his save percentage up to .911.
Little did he know that his numbers heading into the game would become his season totals. During warmups in Portland, Subban was struck in the neck by a puck, fracturing his larynx. He was brought to Maine Medical Center, where he spent the night, before being transported to Mass General Hospital the next day.
The injury kept Subban out of commission for the remainder of the season. By the time the playoffs rolled around, he was back on the ice, working towards his return. However, Providence was eliminated in late April before Subban was could suit up for a game.
The freak injury was frustrating for Subban, especially since he had built up quite a bit of momentum in the month leading up to it.
"It was terrible," Subban said, per the Boston Herald. "At the start, I couldn't talk even if I wanted to. Later they just encouraged me not to talk, but at the start I couldn't talk at all. It was frustrating."

"I just wanted to get back. I had a really good January, and that's when hockey is the most fun, when you're winning and the team's winning. That definitely was a little setback."
This season, Subban returned to Providence and once again failed to stand out at the minor-league level. He posted a .917 save percentage and 2.41 goals-against average in 32 games for Providence while being vastly outplayed by goaltending partner Zane McIntyre. Subban also squandered his second opportunity at the NHL level, once again being chased midway through the second period after giving up three goals on sixteen shots.
Bust?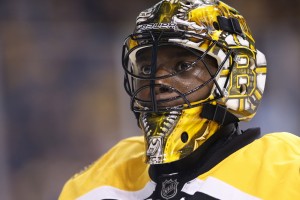 So, with the 2016-17 season wrapping up, we return to our essential question: Is Subban a bust?
Here's my take: Subban isn't a bust yet, but he's awfully close. Here's why:
Subban's first two seasons in Providence were decent. His 2015-16 season was a bit worrisome as far as statistics go, but his season was also cut short due to a pretty traumatic injury, which happened to come in the midst of the best string of performances in his career.
In Providence, Subban has shown flashes of the goalie that the Bruins expected him to become. However, he's also showed some vulnerability, and those issues were exposed at a whole new level in his first two NHL starts. From the looks of it, Boston's goaltending future seems to McIntyre's to lose.
That being said, I think it's just a bit too early to count Subban out. Plain and simple, being a goaltender is weird. Some netminders need a little bit more time to develop, and Subban may be on that path. The way I see it, Subban deserves another half-season before we make a final judgment. The neck injury last season certainly acted as a setback, and Subban showed some signs of development this season.
But, his time is running out. If the 23-year-old doesn't show some tremendous signs of development by the midway point of next season, then it's probably fair to drop the "bust" label on him.