If the they didn't have bad luck, they'd have no luck at all.
The Calgary Flames' lackluster start out of the gate to their 2015-2016 NHL season – posting a Western Conference worst 1-4-0 record – has, as typical in any Canadian hockey market, triggered some alarm bells throughout the fan base, who undoubtedly preferred last seasons narrative to begin the season compared to this years far cloudier and cynically driven one.
Unfortunate injuries down the middle to Lance Bouma and Joe Colborne, paired with slow starts from perennial "go to guys" Sean Monahan and captain Mark Giordano – who is fresh off a six-year $40.5 million contract extension – definitely sit atop the list of 'whats gone wrong' so far for the Flames in this very young 2015-16 NHL season.
It will get better
As painstaking as this start has been, and don't get me wrong, losing four of five while averaging only two goals a game definitely qualifies as a miserable start to a hockey season – especially when it's coming on the heels of a year where the number of ups far outweighed the number of downs. But any Flames fan who is letting even the faintest whispers that the sky is falling influence their outlook on the team moving forward needs only to remember just how early into the season we currently are.
This will end. Well let's rephrase that: this almost certainly will end.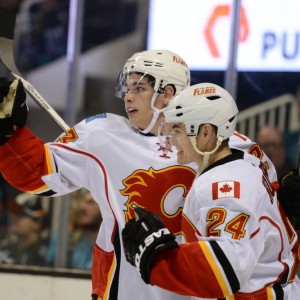 If history serves as any indication of the future, then it is just a matter of time before the Flames' slumping stars get their game back on track. And when that happens, the wins will take care of themselves.
Lets not forget that only three years into his NHL career Sean Monahan has already amassed an eye-opening 53 goals, including his team leading 31 last year – so much for a sophomore jinx.
And if it were not for a season ending injury last winter, Mark Giordano would have almost certainly been the consensus Norris Trophy champion.
Silver Lining
If there were any real question marks coming into the 2015 season, few, if any, were centred around a potential slip in production for Monahan or Giordano.
A more realistic worry, however, was whether Johnny Gaudreau would take a step back after his electric rookie campaign that saw him earn a finalist nomination for the Calder Trophy.
Gaudreau's red-hot play to start this season, where he has been a point a game player, speaks volumes towards the five-foot-seven forward proving his success as a rookie was no aberration, but rather, a sign of whats to come moving forward.
This success, paired with the offseason addition of potential star Dougie Hamilton on the backend and former 3rd overall pick Sam Bennett, who is getting his bearings in his first NHL regular season action, are all areas that should silence any murmurings – no matter how slight – regarding the teams disappointing play during the first month of the season.
The current lineup is not only stronger on paper than the team that advanced to the Conference Semi-Finals last year, but a years worth of experience, paired with a taste of playoff hockey, has hopefully instilled a sense of maturity throughout this young lineup. Making the task of persevering through these difficult stretches of the season a far less daunting task.
Follow @patrickwallen92