Edmonton grabbed their first win of the season Monday night over a very good Tampa Bay Lightning team, leaving the Carolina Hurricanes as the only team in the NHL who has not yet tallied a win. While they don't have the dubious honor of being the last team to win a game this season, things look bleak in Alberta. The team has a minus-13 goal differential. They have allowed the opposition to score five or more goals in four of their six games, for a total of 27 goals against, an average of 4.33 goals against per game.
That's not a good start for any team. It's especially bad news for a team who has not been very gifted defensively in recent years and trailed the opposition after the first period 36 times last season. As Greg Wyshnyski points out, they only rallied to win in that scenario seven times and got a single point three times for a .194 winning percentage last year when trailing after the first period.
But, this early in the season, the question is: Is there reason for hope?
There Is No Hope
The Oilers have a Corsi For% at 5-on-5 of 53.29%. That's solid. It's a positive number for starters and it's not scraping the bottom of the barrel in the league. Last year they finished at 44.65% for third worst in the NHL and haven't had positive possession numbers in any of the last six seasons.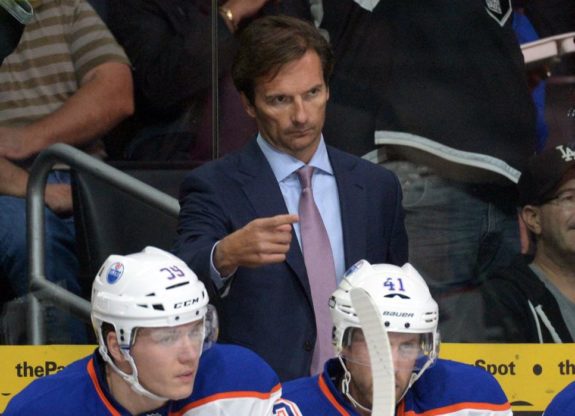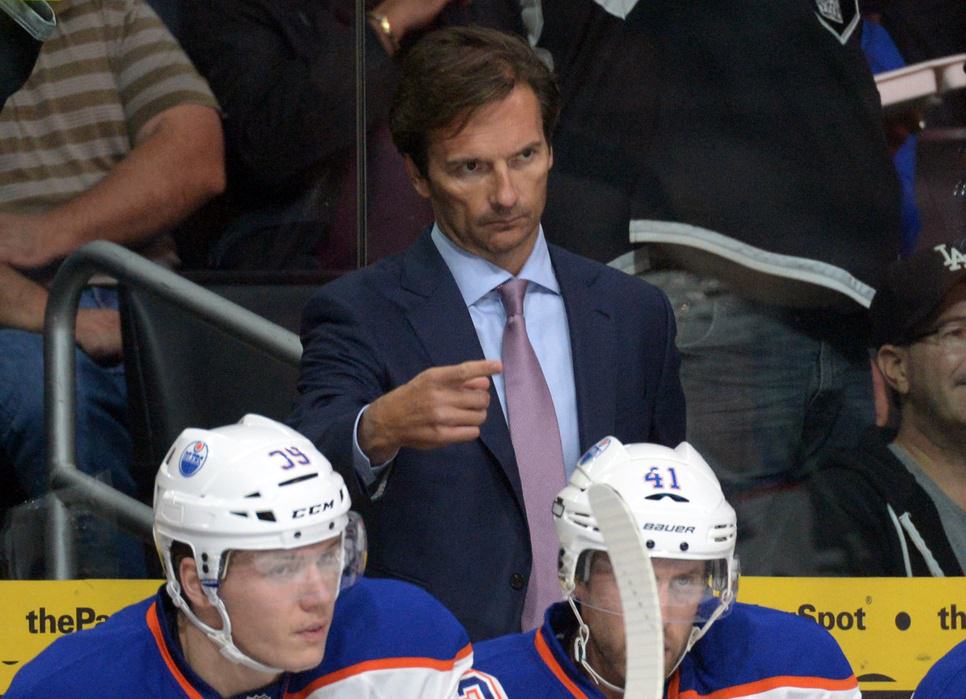 However, it's the breakdown of this seemingly great number that's a little curious. The Oilers don't control possession, like their overall numbers indicate, until they're trailing. Here's the Corsi For in different scoring situations so far this season. (Stats via War on Ice.)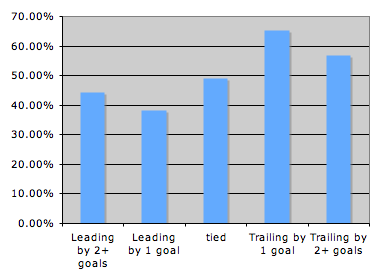 They're playing quite well when they're losing is the problem here and they've been losing enough that their overall possession numbers look pretty good. Leading by 2+ goals their Corsi For is 44.44%, 16th in the league. Leading by 1, a pretty important lead to be able to maintain, their Corsi For is 38.18%, 25th in the NHL. (The number of teams in that range when they have a one-goal lead is a testament to how early season stats sit at the extremes and need to be taken with a grain of salt.) When the game is tied, they're at 48.89%, 19th in the league.
But, when they're down one their Corsi For is a pretty impressive 65.31%, 3rd best in the NHL. When trailing by two or more, they're at 56.67%, which ranks 11th in the league.
To contextualize a bit, here's a look at the amount of time they've spent at different goal differentials so far this season with the y axis being minutes spent at those differentials.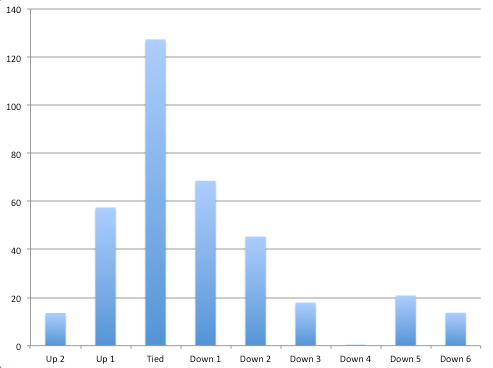 It's probably a positive, in terms of their overall possession numbers, if you're looking for a silver lining, that they've been down most of the season and able to maintain some strong numbers in those situations. However, you generally want to be up by two goals more often than you're down by six, which hasn't been the case so far this season.
What do we attribute this oddity to? Early season stats? Yeah. Definitely. But also a somewhat alarming trend for the team. They only seem to be pulling it together when they're losing. Is that the other team collapsing and playing a more defensively focused game? Probably in part, which would mean again that Edmonton's possession numbers aren't truly as good as they seem.
There Is Some Hope
The Oilers are currently riding a PDO of 91.57, worst in the NHL. That won't stay that low. Some shots are going to start going their way and Ben Scrivens' save percentage of .862 will rise (or they'll get another goalie who will perform better).
So there's that.
There's also some hope to be gleaned from their Corsi numbers. The truth is that the team's overall Corsi For is positive, even though they've been playing from behind an awful lot. But as we know from Boys on the Bus, Corsi Close can be a good indicator at this point in the season, maybe one of the best indicators, of how a team will perform. (With the important note that there aren't any truly accurate predicators this early in the season.) Edmonton's Corsi Close is 51.3%. They aren't astounding anyone with that number, but it's positive, so maybe that's a little astounding.
They've also won the possession battle in a couple of games. They had the edge on Vancouver with 51% Corsi For and then again Monday night against the Lightning with 53% Corsi For.
It's not been pretty in Edmonton so far, but there's a little reason for hope and that things could be trending in the right direction, especially with Taylor Hall playing on pace to have the best scoring season of his career and Ryan Nugent-Hopkins returning to the lineup on Monday and scoring the game-winning goal.
On the other hand, they've played four pretty miserable games out of the six played and can't seem to make themselves into a threat when it counts most or stop the opposition from having their way with the defense. Again, it's early, but it's a trend to keep an eye on as you're taking in Edmonton's overall possession numbers and trying to figure out just what is going wrong with this team.