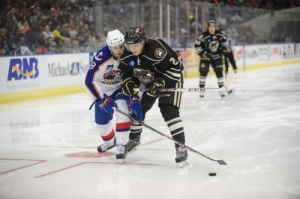 Prior to the Norfolk Admirals clinching a playoff berth last season, the Anaheim Ducks inked their 2012 second round draft pick Nic Kerdiles to an entry-level contract. They assigned the University of Wisconsin alumnus to AHL Norfolk. Their hope was his 71 point college career which spanned two seasons would carry over to the pro ranks and help aide the Admirals to their first Calder Cup playoff appearance as an Anaheim Ducks affiliate.
Kerdiles netted 4 points in 10 playoff games which helped Norfolk dispatch the Manchester Monarchs from the playoffs.  However, Norfolk fell short the next round against the St. John's Ice Caps who sunk the Admirals season in game 6 of the Eastern Conference Semi Finals.
This season Kerdiles embarks on his first full rookie season. He is already making an impact by engaging in a fight with Manchester Monarchs' Scott Sabourin in a recent game in which he added an assist and fell a goal shy of a "Gordie Howe hat trick." According to the Irvine, California native that's something he wouldn't have done in the AHL last year, "To earn a spot at the next level you have to be able to fight. I'm not the guy that's going to square up against anybody, but if anybody runs my teammate I'm going to be one of the first guys to confront him."
The left-handed shot admitted he feels a bit more confident than he did in the playoffs. Kerdiles commented on his comfort level after a 3-2 Norfolk Admirals win against the Manchester Monarchs on October 17th saying, "I'm playing a little bit more confident tonight and the result of that is that I had a couple good plays and kept my game simple and it turned out to be a good game."
Every summer players return to their off-season homes and hit the gym and take to the ice to improve their game. Kerdiles talked about the things he tweaked and enhanced this summer, "My strength is the number one thing because at this level to defend guys on your skates and protect the puck so I worked on my strength a lot and my skills, my hand work, and my shot as well."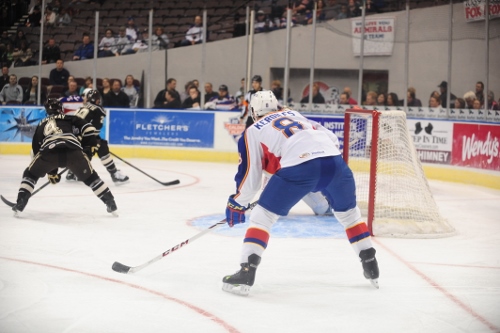 Prior to training camp NHL teams fly in their prospects  and have a development camp which is a chance for prospects to display their talents before the main camp that starts in September. Kerdiles attended the rookie camp this summer and gave his take on how it went, "The development camp was really good for me. I came in confident and that's why I was so successful there. I showed the guys up top that I could play at the next level."
Unlike rookie camp when main camp opens all the players report including established NHL veterans. Anaheim has a surplus of bona fide NHL superstars including Ryan Getzlaf, Corey Perry, Ryan Kesler, and  Wisconsin Badger Alumnus Dany Heatley (1999-2001) so it's easy for a young forward like Kerdiles to pick up good hockey habits from such a star-studded roster. "I know Heatley  a little bit because of Wisconsin. He was a mentor to me and walked me through the process. He told me to take it easy and learn because it's going to be a big learning experience. He also encouraged me to work my butt off and see what happens. Just playing with those guys and being around them all day taught me some things," noted Kerdiles.
Kerdiles hopes to build on his strong playoff performance in his first full pro season and noted confidence is key, "Just play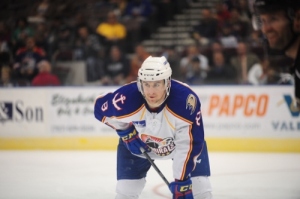 confident that's the number one thing. If I play confident and do the little things I was taught to do, I'll be successful."
Even Norfolk's Head Coach Jarrod Skalde thinks the 20-year-old is playing with more confidence after a recent game where Kerdiles assisted on a goal saying, "There's so much to learn for these guys to be pros. Nic's learning everyday in practice and every game. I thought he was really good tonight. I thought it was his best game."
Just like the beaches in Anaheim, the future for Kerdiles is bright.