Pep Talk is a semi-regular series where current Blues playing trends are discussed in a constructive way. Find more musings about your St. Louis Blues by following Mike Poepping on Twitter: @pep30
The St. Louis Blues have begun their 2014-15 campaign a little differently than most would've guessed, playing sporadic offensively depending on the night (and state) they were in. However, outside of their questionable shot selection and lack of spatial awareness at key times in the opposing zone, there are a lot of positives to take away from the teams' first couple of weeks this season, even in these regards.
So far @StLouisBlues dominating the @LAKings outshooting them 36-15,but the @JonathanQuick32 Show in Full Effect !

— Kevin Weekes (@KevinWeekes) October 17, 2014
Positives to Take Away from the First 5 Games
1. The Blues have a larger margin of victory than they do defeat.  The club has won both of its games by a large 10-2 total margin, and even when they have lost they have fought through adversity and made it interesting. The team currently has a plus-3 goal differential on the season despite their .500 record (2-2-1), showing that though they may not be winning every game, they are closer to being a powerhouse than some may think. An interesting fact that may not have been said about this team a few seasons ago.
2. The team has 5 players currently averaging at least a point a game. Though their shot selection may be questionable, the St. Louis Blues are still finding ways to score intermittently. Jaden Schwartz, Vladimir Tarasenko, Paul Stastny, Kevin Shattenkirk, and David Backes all have a 1-point per game or better average in this young season, which shows that our core is focused on the long road ahead. Newcomer Jori Lehtera is at almost a point a game as well, and fans can expect him to stay around that mark for the better part of this year.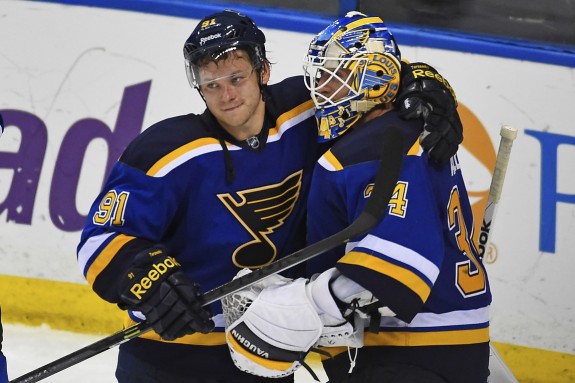 3. They are building great chemistry now, to reap it later. Though the team may not be firing on all cylinders just yet, they are handling the musical chair-like line changes from coach Ken Hitchcock very well given the circumstances. Early team injuries/sicknesses (Carl Gunnarsson, Paul Stastny, and Jori Lehtera) have forced Hitchcock to shuffle guys around, and in true Hitch fashion he has taken that task to the extreme, but the team seems to be fighting through the differences in play, and are still making some things happen.  
What to Work On: Shot Selection and Spatial Awareness
This Blues' team has shown that while they are going to be one of the top teams in the league by year's end, they still have some growing to do. This is actually a welcome surprise however, as this should keep the team focused throughout the year and not allow them to become complacent, a great motivator to have in the extremely tough Western Conference. The first things on the agenda would have to be the team's questionable shot selections (and passed up shot opportunities) and the team's lack of true spatial awareness, or their ability to find open areas of ice away from the opposition's defense in high scoring areas. As you can see in the video below, the Blues players are not moving enough without the puck to truly support the puck carrier, and low quality chances/shots are the direct result.   Coach Ken Hitchcock has already harped on playing a North to South game instead of an East to West one, but the team seems slow to respond to his request. They are currently focused on getting that new chemistry to click, and it has cost the team quite a few scoring chances already. Their current style of play (trying to make the last second pretty pass to an open man backdoor for an easy tap in) is being read in advance by the opposing teams, who are expertly filling lanes and knocking those passes away to negate any shot on goal, or scoring chance. In addition, when the Blues are finally deciding to put the puck towards the net, they are having trouble getting shots through and aren't getting high quality scoring chances as a result (as shown in the video above).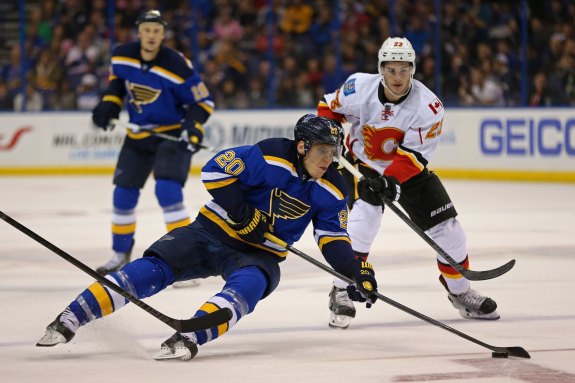 The team will need to rely on its leaders, like TJ Oshie (who is currently pointless on the year, and a minus-1), Alexander Steen, and David Backes to change their shot selection strategy, and to start helping other teammates find open shooting lanes to get more pucks on net. In addition, they will need to look for holes in the goaltending so that when they are able to get their shots through the goalie is forced to make a difficult save, instead of getting hit right in the breadbasket for an easy one with no rebound. This is a Blues' team trend that fans may notice happening entirely too often, and it continues to negate any momentum or scoring chances that would've resulted from that good rush. You could shoot 10,000 pucks at a goalie's chest, and if he's of NHL-caliber, none of those shots are getting through.  
FACT: Barret Jackman is currently tied with @OSH74 and @otterN9NE in shooting percentage this season. #SnipeShow #stlblues #JAXJAXJAX — Jax Facts (@JaxFacts5) October 21, 2014
Currently the Blues sit 5th overall with 34.2 shots per game which seems great, but when adding in all of the other attempts that were blocked and the 66 missed shots, fans can see that the Blues aren't yet effective in this regard. They will need to keep their head up and know what they need to do with the puck before it touches their stick to rectify this problem, and to ensure high quality shots get to the net. But don't worry your heads just yet fans, because there is hope on the horizon.
How to Move Forward, Gaining Goals Translates to Wins
The St. Louis Blues have always seemed to have a problem with getting shots through traffic and on net, but last year showed they were at a tipping point. If the team can manage to improve their shot selection by seizing shot lanes and finding open pieces of net through screened goalies, they should see a similar goals per game average as last season, which saw them finish 7th overall in that category (at 2.92 per game). Improving the shot selection will be a direct result of handling the other major issue with the team right now, their spatial awareness.
Having great spatial awareness is a part of having a high hockey IQ, which many current Blues stars have (and a good example is Alexander Steen in the video below). This year the problem has lay with trying to support unfamiliar teammates, which draw the players closer to one another, making them easier to defend. If the Blues can trust their teammates and slide into those gaps in coverage, already knowing they will have a quick shot, pass, or rebound once they get the puck, they will be able to see more open net from high scoring areas, and should be able to convert quite regularly. The main point is to get away from opposing players to give Blues' attackers more time to allow plays to set up so that the aforementioned shots can be quick, accurate, and deadly.
The bottom line is that the Blues are in a great spot this season, and no fan should be worried about anything yet. Considering the team has a lot of new faces, a revamped playing style, and are already battling some injuries so a 2-2-1 start is pretty good. Especially when looking at how much the Blues have controlled each game's tempo, showing that they are ready for a breakout year.
These mountains are much more desirable to overcome in October and November, than they would be in February and March, so as long as the team continues to get comfortable with one another, and focus on the next shift ahead, they will be lighting the lamp and winning games often from here on out.
Like what you've just read? Follow me on Twitter: @pep30