Being outraged on the internet is really a way of life for some people. If there's something to get mad over, you can be sure there are those who will express the expected anger. Sometimes it's justified, and sometimes people are just looking for something to debate over. And everyone is perfectly entitled to their opinion. There are no rules to being a fan. In fact it's nice to see the passionate outcry of a loyal long-suffering fanbase every now and then. Which brings us to the tale of Leon Draisaitl.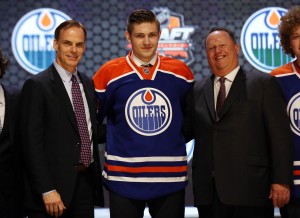 Does the World Junior Championship Matter?
When news broke that the Oilers elected not to send Leon Draisaitl to the World Junior Championship, there was predicted backlash. After all, he wasn't exactly getting big minutes in the NHL, he was struggling and lets face it, the team is terrible. Why not send the kid to play for his country against the best young talent in the world? The World Juniors are a great experience. Most young players love to have that opportunity. Would a kid playing in the NHL prefer to go to that tournament, however? Maybe if they play for a contender. No offence to Germany, Draisaitl's native land, but they were never in medal contention. Even his presence wouldn't have changed that.
Then the news broke that the Oilers had in fact asked Draisaitl if he wanted to go, and he said no. Makes sense, because either way he would have lost games. Why not lose games at the highest level? So we can relax because the Oilers would have allowed him to play at the tournament, but he didn't want to go. It's his right. Perhaps now then we can put the World Junior Championship debate to rest. But today was Draisaitl day, as we also learned the Oilers had sent the kid back to his Junior team in Prince Albert. The decision begged the question, why not send him down before burning a year of his entry level contract?
Did the Oilers Risk Draisaitl's Development?
When the Oilers kept Leon Draisaitl beyond the nine game cut-off, it came with a lot of questions. The Oilers have a reputation of mismanaging prospects, and it looked as though history was repeating itself. Many believed that Draisaitl's development would have been best served in Junior, rather than trying to find his way in a toxic, losing environment. We may never know the exact reason for keeping the kid around. Maybe they really just wanted to give him a chance to prove himself. He wasn't lost at the NHL level. He was holding his own. Perhaps management really believed he would be best served to stay in the NHL. But the fans weren't convinced.
The Oilers had no depth at center. They still don't now, but they had even less at the start of the season. Draisaitl is a big kid, and he plays center. Maybe they needed him more than he needed them. We can say that it's typical Oilers to pull something like that, but maybe it's making a story where there isn't one. The team has been reluctant to send Draisaitl back to Junior because his team is bad. Maybe the Oilers would rather he learns to lose in the NHL than suffer in Junior. However, there have been rumors that a trade could be in the works that would send Draisaitl to the Kelowna Rockets, a team who is contending. If management knows the trade will happen, it would certainly ease their minds that he's going to a competitive team.
Everything's Going to be Okay
Some people are going to defend the Oilers, others are going to burn them in effigy. The move happened now because Draisaitl has played 39 games. If he played 40, he would become an unrestricted free agent in 2021 rather than 2022. But the Oilers avoided that. So really, it's not so bad. Sure he's going to be an RFA sooner than he should be, but chances are the Oilers will be able to sign him to the famous bridge deal. Still, it's frustrating to many, that they just didn't send him sooner. But, the reality is, he got to experience the NHL, and now he's going back where he should be. It's not the best case scenario, but it's not the worst either.
Throwing the Oilers under the bus for their poor decision making is fun to do (because it's so easy really). And perhaps in this case, it may be justified. But for Draisaitl, it's going to be okay. He will further his development in Junior, hopefully on a better team, and has 39 games of NHL experience in his back pocket. The Oilers may have made a mistake. And if they did, they made up for it now. That may not appease the fans but the kid will be fine. I'm sure there will soon be something else to get outraged over. This is the Oilers we're talking about.
Marcy, a former hockey player, is a hockey correspondent on CTV News and TSN radio. She began her career as a Sports Journalist in 2009 and has been part of The Hockey Writers since 2010, where she is currently a senior writer and editor.